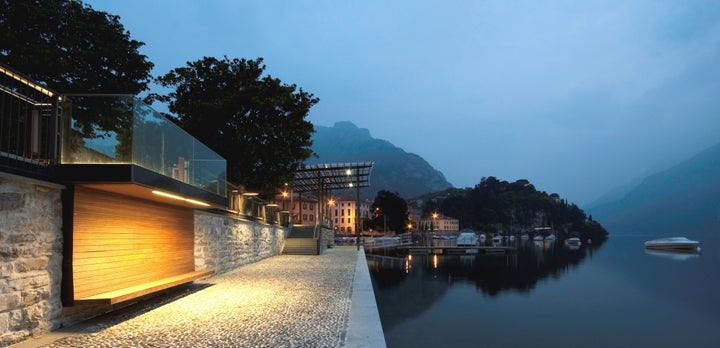 When I mention to people I live on Lake Como everybody says "Oh, near George Clooney?".
Way back in 2002, Clooney had bought Villa Oleandra in Laglio, on the western branch of the lake but according to the national Italian news channel TG24 he sold it last year. Nonetheless, people still associate George and Lake Como.
I live on the eastern branch of Lake Como. Lake Como is shaped like an upside-down Y. Como is at the southwestern tip and Lecco is at the southeastern tip. At the middle point, we find Bellagio.
The most popular cities are Como, Lecco, Varenna and Bellagio but all along the shores in between, there are lovely little towns and villages.
Here are 5 towns of Lake Como's eastern branch I think you should take the time to visit:
The town of Malgrate has just gone through a designer revamp. The old lungolago promenade has been replaced by a new, stylish waterfront walkway with fountains and reflection pools designed by Italian architect Stefano Santambrogio. There is a long promenade with benches and places to sit to contemplate the beautiful, surrounding natural backdrop. It has also become a new hotspot for the evening aperitif especially nice at sunset when there is a golden glow reflecting off Lecco just across the way.
Lierna is an absolute jewel. It's a tiny village 15 km north of Lecco just after Mandello del Lario and Olcio. It is a perfect honeymoon getaway, especially if you want to stay away from big cities and resorts. Easily accessible by train or by car, it's a great location as a base for visiting the other nearby towns. The town has a few restaurants, all of very high quality. Sottovento is a lovely, romantic restaurant right on the lake. There's a secluded little beach lido at Riva Bianca and the oldest part of Lierna, il borgo di Castello, has narrow medieval lanes like the Via Scura. There aren't any big hotels in Lierna but there are B&Bs and some apartment rentals. Perfect for the quiet, small town, Italian village experience.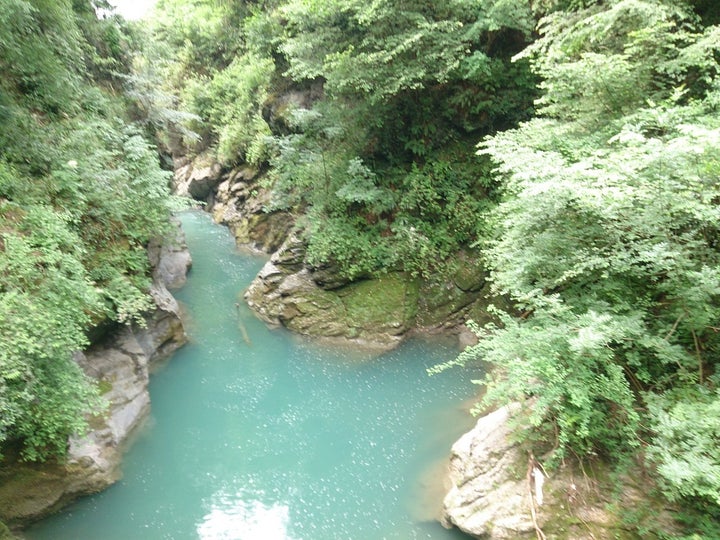 L'Orido di Bellano is a must see! One of Italy's most beautiful natural gorges is right here above our lake shore. A natural waterfall and gorge carved into the rocky mountainside of the pre-alps. It is said to be in the making for over 15 million years. It's a natural gorge carved by glacial waters. Catwalks and walkways have been built for visitors to walk inside the gorge. It is a little scary at first, but it is well built and secure. Curiosity and wonder override any initial fear and you are drawn into the cavernous corridor. It's not a UNESCO heritage site but I certainly think it should be considered.
There's a nearby tower built in the early 1800's called "Cà del Diavol" the "Devil's House" aptly named for its frescoes depicting the devil.
In town, the area known as Borgo Antico, the old village, is a lovely little center for shopping and dining. There are nice little boutiques, artisan workshops and wine cellars. A nice excursion suitable for everyone; singles, couples and families alike.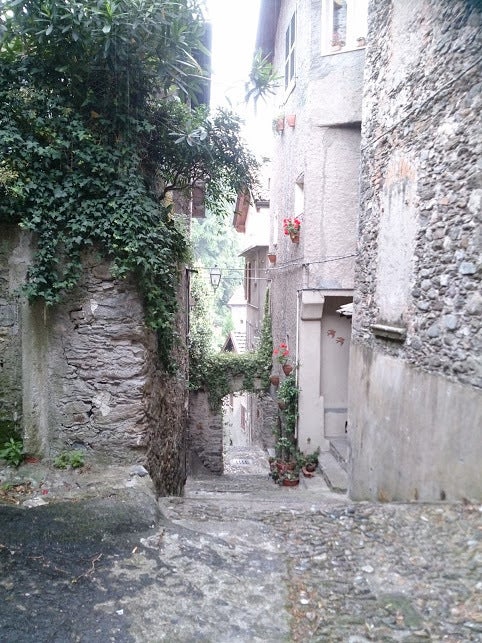 The perfect place for archeology buffs and the curious, quiet tourist. According to the municipality website, Corenno-Plinio was originally an ancient Celtic settlement. In the late 1300's after feudal lords freed servants from servitude, they remained, building a protective castle and church for worship. The castle walls and towers are still standing today as is the church. The town itself is quiet and the castle and church are the only attractions. You must walk down narrow, stone alleyways (not recommended for families with children and strollers) often right past resident homes, so discretion and respect is of utmost importance. There are tours run by volunteers but there is no fixed schedule, you should consult the town website. Corenno Plinio is a recommended stop if you are already on your way from Bellano to Colico.
Just south of Colico is a curved peninsula where the Abbey of Santa Maria di Piona overlooks both Lake Como and the alcove Lake Piona. It is an active monastery where the monks work in silence. The abbey is surrounded by lush land, which the monks cultivate producing medicinal herbs, cosmetic creams, honey and liqueurs distilled using traditional, antique recipes. The abbey and church can be visited and products are on sale daily 9am-12pm and 2:30pm -5pm. A guided tour with a monk can be booked in advance for groups of 15 or more. The entrance and tours are free but donations are greatly appreciated.
Colico is known as kite surfer paradise. Even if you are not on the kite surfer circuit, the town center lungolago promenade and Piazza Garibaldi is a great place to chill out and relax. You'll find boutiques, cafes and pubs. Along the lakeside are beach gardens where you can put your blanket down and get some rays or have a lakeside picnic.
Next time you decide to visit Lake Como, in addition to the traditional itinerary, consider going a bit off the beaten track and visit one or more of the above-mentioned towns. You will have a unique experience and you will be able to appreciate the area in a completely new way.
Celia lives on Lake Como, Italy. She shares her discoveries of her travels and experiences in Italy and beyond, giving readers an insider's view of what to do, where to go and how to do it in style. More: www.travelpostrepeat.com
Support HuffPost
The Stakes Have Never Been Higher
Related
Popular in the Community