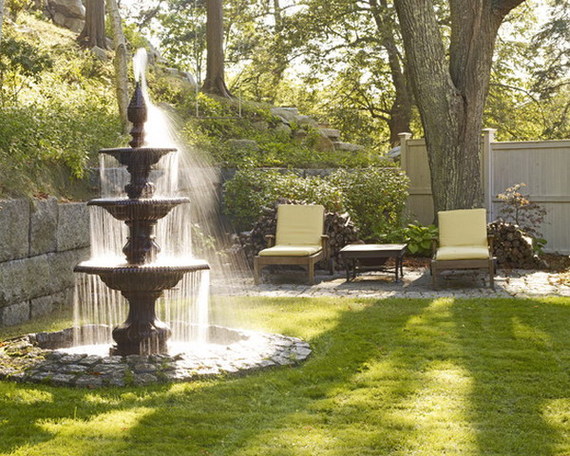 We all stay so much concerned about interior decoration to make our cosy nest more beautiful. But your backyard is very important place when it comes to summer. Who doesn't like to hangout in their yard to enjoy the bright blue sky and warmer temperature? Whether it is a barbecue party or a simple family get together your outdoor works like a perfect venue for all. When summer is just around the corner your backyard or your terrace can give you so much relaxation. So why don't you give these places a summer makeover with some easy but interesting outdoor decoration ideas.
When it comes to outdoor decoration people tend to think about greenery, flowers, and vases. But you can add many more to it if you want. If you go through Pinterest then you will find many decoration enthusiasts with many more innovative outdoor decorating ideas discovered by them. So you will not be able to put any excuse of not getting any fresh ideas. If you still need few nice and easy ideas then here is a little help for you:
Attract birds with bird bath: Chirping birds can add some additional attraction to your backyard or outdoor garden. If you are not sure how to attract them then a bird bath can do the trick for you. You can always buy readymade concrete bird bath for outdoor decoration. But you need to take care of the depth and size of those bird baths. If they are too deep then little birds will not care to take a dip in there. You can apply some simple ideas here instead. You can collect some platters and plates from your kitchen and paint them to use them as beautiful bird bath. You can even build them.They will enhance the beauty of your outdoor garden and will attract many types of birds to make it even more attractive.
Go for vertical garden if you don't have much space: Many people complain that they don't have enough space outside to grow plants. Not having a wide space doesn't mean that you will not be able to have a garden. If you are facing similar situation then you can go for vertical garden. As he name indicates, this garden is aligned vertically along with a wall or a fence. This way your bare wall will be groomed beautiful with various plants and flowers and you can fulfill your dream of having garden. Just choose your plants and pots with great care so that they look perfect against your wall or fence. You can grow edible plants like mint, basil, radishes, parsley in your vertical garden. You can also grow plants like fern, acacia cognata, pothos, lipstick plant, wedding vine and many more plants to just beautify your outdoor wall.
Outdoor waterfall fountain: If you want to add life to your backyard then a waterfall fountain is apt for you. Who doesn't like an eye-catching soft splash of running water installed in a garden or in the backyard? There are different types of waterfall fountains are available in the market. You can use a small hanging fountain in your garden which also works as a bird bath. If you are having a larger space then you can go for rock waterfall fountain. Ceramic pot fountains are perfect small but attractive waterfall arrangement. Always check your budget before going for a larger one. If you do not have any budget to buy these you can also find DIY outdoor fountain ideas very easily if you search web.
Choosing outdoor lights: Lights can add an extra charm to your yard. You can do some mix and matches while choosing outdoor lights. Various options are available for you to choose from. Pendent lighting, chandeliers, flood lighting, ceiling lighting, and wall sconces are different kinds of outdoor lighting options. You just need to place the right kind at the right place to do the magic. Landscape lightings are perfect to place in your garden area, trees, and pathways. Pendent lights are good to install in your driveway. String lights look good in your patios and gardens, and porches. If you want to give it a personal touch, then you can also try some 'do it yourself' outdoor lighting ideas easily available over the web.
Sitting arrangement: You can either build them or can buy some readymade furniture for your outdoor sitting arrangement. If you are going to buy them you should go for natural raw materials for your furniture. Vintage bamboo sofa and rattan furniture are perfect to fulfill your outdoor furniture requirements. Also buy comfortable and durable cushions for sofa and chairs matching with outdoor ambiance.
These are few simple things you can do to decorate your outdoor space this summer and it will work for you throughout the year. It will enhance the overall beauty of your home along with its outdoor area.
Support HuffPost
A No-B.S. Guide To Life
Related
Popular in the Community