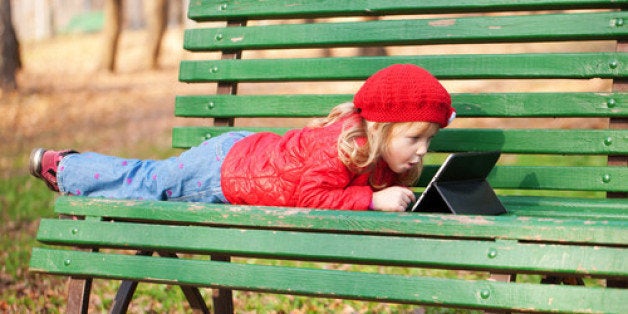 Last year, kindergarten brought many firsts for our family. First alarm clock wake-ups. First tardy bells. First "official" attendance policy (we played hooky all the time in preschool). First best friends. First mandatory daily lap running, accompanied by first grumbles from our oldest daughter, Sydney. And most significantly, first homework assignments.
In kindergarten, the homework assignments were fun projects like decorating a pumpkin at Halloween based on a favorite literary character, or presenting 100 items in a creative way to commemorate the 100th Day of School. The assignments didn't really feel like homework, and with deadlines two to three weeks out, there was plenty of time to complete them without pressure.
Now, it appears we've hit the Big Time. First grade comes with nightly reading, weekly vocabulary tests and frequent math assignments.
I already miss the days of preschool. Luckily, our daughter doesn't yet; each day is still new and fun. But at some point in the future, homework won't be new, and certainly may not be viewed as fun. So while her opinion of school is still ultra-positive, now seems like the best time to tackle good study habits.
If Sydney's like me, she'll want to finish her homework as soon as she walks in the door. If she takes after her dad, she may wind up frantically finishing her homework somewhere between getting dressed for school and brushing her teeth. Breakfast will be a granola bar in the car on the way.
Here are five tricks to teach your kids how to avoid the "procrastination bug" and get things done now that school is back in session:
1. Prioritize Work Before Play
Your kids walk in the door from school and all they want to do is flop down on the couch and turn on their iPad or watch their favorite show. But completing their work first will make the rest of their afternoon more relaxing and enjoyable. Help your kids get in the habit of finishing their responsibilities before any other activity. No video games. No TV. No trampolines. No toys. No distractions.
Most kids are involved in extracurricular activities that can make Plan A above difficult. If you can arrange for a couple of hours between the end of school and clubs/practices/games, that will give them the window they need to complete their chores, homework and studying early, or at least finish a majority of their tasks. The hope is that this habit of getting work done before playing will stick, and help them successfully prioritize their schedules into adulthood. It will also prevent the late nights and cranky mornings.
What about the occasional play date, family outing or special occasion? If they're used to getting their work done first, a little flexibility on schedules is fine. Just as in life, they'll learn there are always exceptions to the rule. And that these types of exceptions are OK.
2. Create a To-Do Notebook
Create a "To-Do Notebook" for your child. Any pad of paper, or even a little whiteboard, will do. Have them write down the list of things they must do that day on the left -- family contributions, homework, studying, etc., and any projects with longer deadlines on the right. It's also helpful to estimate how long your kids think these tasks will take. Place these estimates in parenthesis next to each item. Why? Because when they look back on these estimates later, they'll see that it typically takes less time than they thought it would.
At the beginning of the year, younger children will need help with their lists, but you can expect them to be self-sufficient by mid-year.
Here's an example of the list Sydney and I created together after her first day of school: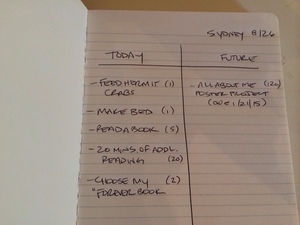 It's helpful to have everything in one place. Nothing makes homework harder to do than not being able to find it. Before kindergarten last year, I bought a homework caddy for our daughter to keep her school papers and homework organized. There's a calendar, a clear pocket for their daily schedule and several pouches for the various subjects they have.
You certainly don't have to buy anything as long as you set up a desk or work area where they can neatly store their schedules, schoolwork and books.
4. Follow the Two-Minute Rule
Professional organizers will tell you that any task you can do in two minutes or less should be done right away. Putting it off for later will only take up more time. Teach them this two-minute rule at an early age. From the moment they can understand the notion of time, they're ready to learn this timesaving rule.
5. Break Down Big Projects Into Smaller Tasks
Big projects often seem so daunting. When kids don't know where to start, they'll often just put it off for another time.
Help your children break complex projects into smaller tasks that can be accomplished in a short period of time. They'll see their progress toward the end goal, and that can motivate them to finish in advance of their deadline.
What other tricks have worked to motivate your kids to get their work done?