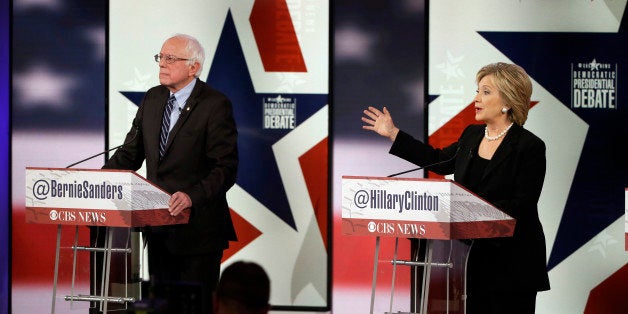 Within hours of the deadly terrorist attacks in Paris, CBS News announced it would re-focus Saturday's Democratic presidential debate on issues of terrorism, national security and foreign relations. Given the horrors we just witnessed, that's understandable. But before jumping on the "tough on terrorism" bandwagon, candidates should reflect on the lessons learned in the 14 years since the 9/11 terror attacks, and consider what actually works to counter this global problem - and what doesn't.

1. We can't kill our way to victory.
While there's clearly a role for the U.S. military in responding to terrorism, counterterrorism policy that relies too heavily on warfare and not enough on addressing the root causes of terrorism is bound to fail. As President Obama said in July: "Countering violent extremism is not simply a military effort. Ideologies are not defeated with guns, they're defeated by better ideas -- a more attractive and compelling vision." There are no easy solutions, but helping countries address the causes of terrorism - including government's human rights abuses and the rise of right-wing extremism in their countries - is critical to making us safer. Simply killing more suspects won't do the job, but it will fuel terrorist recruitment.

2. Suppressing human rights creates more terrorists.
In the wake of the September 11 attacks on the United States, a panicked U.S. government rounded up thousands of suspects, both at home and abroad, and denied them basic rights. Those at home were detained based on minor visa violations as "persons of interest" to authorities. Overseas, suspects were abused during interrogations, sent to CIA "black sites" where they were tortured, and eventually sent to the detention center at Guantanamo Bay in an attempt to circumvent the requirements of the U.S. Constitution. That backfired: not only did the Supreme Court eventually step in, but to this day, al Qaeda and ISIS invoke Guantanamo, Abu Ghraib, and US torture of Muslims in their recruitment propoganda. That network of global recruitment is what's made these terrorists so difficult to defeat. We should not be adding fuel to their fire - and we should likewise making every effort to encourage our allies to treat suspects fairly and humanely.

3. We lose critical counterterrorism cooperation from our allies when we don't respect human rights and the rule of law.
We've seen allies refuse to share intelligence with us out of concerns about the United States' secret drone program, and refuse to turn over terror suspects out of concern that they'll be sent to Guantanamo Bay. The United States should instead be modeling lawful behavior and reminding our allies that valuable U.S. cooperation depends on their adherence to the rule of law as well.

4. Refugees are fleeing the same terrorism we're fighting, so it's in our interest to help them and not demonize them.
In the wake of the Paris attacks, we've already seen politicians in the U.S. and abroad suggest this is cause for denying admission to Syrian refugees. In fact, the opposite is true: refugees to the U.S. are more carefully vetted than any other immigrant population, and offering them assistance and asylum no only helps desperate families in need, but supports the stability of our allies in the region as well as our own standing in the Middle East, which has greatly eroded since 9/11.

5. The US can't afford to alienate Muslims.
The post-9/11 mistakes and abuses understandably led many Muslims to mistrust U.S. authorities. We can't afford for that to continue: if law enforcement and the military want an effective policy to counter ISIS and al Qaeda, it will need to work with and support Muslim communities, both at home and abroad. Muslims currently suffer more from Islamic extremist terrorism than any other religious or ethnic group, especially in the Middle East. As they craft their counterterrorism policies, the presidential candidates need to keep in mind that, other than the actual terrorists, we're all on the same side, and will be most effective if we fight terrorism together.
Calling all HuffPost superfans!
Sign up for membership to become a founding member and help shape HuffPost's next chapter