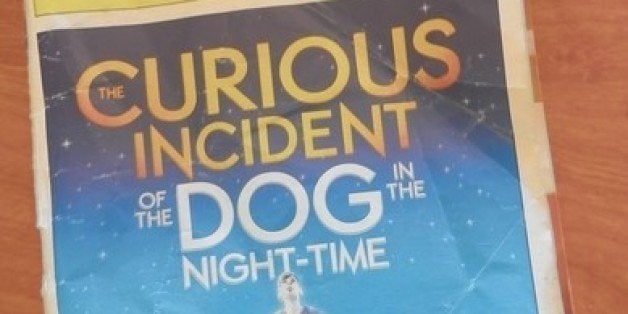 On Sunday night, Broadway will hand out Tony Awards. The Curious Incident of the Dog in the Night-time is nominated for best play. Gary and I saw it on our recent visit to New York. During the first act, I shifted nervously in my seat. The play had scenes that were painfully familiar. At intermission, I looked at Gary. "Should we leave now?"
We decided to stay. A lot can happen in the second act.
There were a lot of truths in the portrayal of Christopher, a teenage boy with autistic behaviors who tries to solve a murder mystery. Although my daughter, Ariela, did not have autism, we had a lot in common with the family in the play. Without giving too much away, here are just a few of the play's insights that I related to.
1. Motivation. With great difficulty, Christopher navigated trains and subways, because he wanted to find his mother. Ariela had just started to use a new communication device, a complicated system that required patience and practice to learn. When her doctor told her she needed surgery, she used her device to tell him she was afraid. Then, when she was in pre-op with the IV inserted in her arm, she looked up at her surgeon. "This isn't going to be easy," she said with her synthesized voice. She wanted him to know that.
2. Teachers. One teacher can change a life. Christopher was fortunate to have one gifted teacher in his corner. Ariela had many teachers who misunderstood her, dismissed her or neglected her. In all of her years of school, from pre-K through grade 12, I can count on one hand the teachers who supported her, believed in her, and nourished her. They were the ones who wouldn't stop until they could find a way for her to learn.
3. Animals. Sometimes it's easier to connect with a pet than with another person. Christopher had a pet mouse. Ariela connected with horses. She loved to ride. Two therapeutic riding programs in our area wouldn't take her. "She's too medically fragile," they said. But Joell Dunlap at Square Peg Foundation accepted Ariela without condition.
4. Fighting. Parents of children with special needs have a lot to fight about. When there are no roadmaps, there are no right answers. Like Christopher's parents, some of our biggest fights were about who did what and how much for our daughter. Those were hurtful battles. It took us years to begin to acknowledge that we both did the best we could do.
5. Controls. We all have our own ways to control the overwhelming stimuli in our environment. Some meditate, some medicate, some move to the country. Ariela closed her eyes and put her head down. Christopher turned to mathematics. I believe the last time I studied the Pythagorean Theorem was in the ninth grade. In The Curious Incident of the Dog in the Night-time, I saw its beauty.
There's a lot more packed into this two-hour production, but I don't want to spoil it for you. I just read that The Curious Incident of the Dog in the Night-time will be on tour next year. I hope it comes to a theater near you. Go see it for yourself, and don't leave at intermission. It gets better.