With Thanksgiving having just passed, many of us are looking for ways to keep the great spirit of gratitude going! After all, we all want to feel as good and do as much good as is humanly possible. To that end, no one can deny the transformative global and personal benefits of gratitude. The question is what do we do? How do we ride out this high?
Those questions got me thinking about my clients and the gratitude work that I help them take on; work I've done myself – journaling, list writing, collages, etc. The more that I pondered, the more that I seemed to fixate on one in particular - gratitude letter writing. You see, a lot of our work together revolves around helping people see themselves better, more lovingly and as perfectly them; just as they are meant to be. That often means, seeing everyone and everything as having contributed gloriously to our amazingness. It means reframing every person and every event in our lives, as having offered us something positive (no matter how seemingly small), for which we can be grateful in some way. It also means, acknowledging and holding in gratitude the many "good" things that happened and "good" people who helped us. Collectively, it means being indiscriminately grateful for all that has created us as we are. For we are each all that we need to be, perfect in our own right; working on some stuff, sure. Yet, uniquely and infinitely valuable.
So why not do some gratitude letter writing, I thought.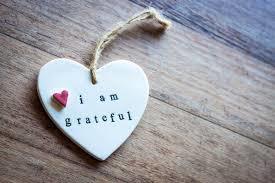 Many studies have confirmed its benefits. A recent, and particularly interesting one came out of Indiana University, focusing on people who were seeking out mental health counseling. It showed that gratitude letter writing helps people become more mentally healthy by shifting our focus from toxic emotions such as envy and resentment to more positive ones. According to the study, the letters didn't even need to be sent out to have a positive impact. They simply had to be written to have a mood-altering effect. The change may not have been immediately evident, yet it was drastic when measured four weeks later and was still growing in positive impact as long as 12 weeks after. That's a 3-month gratitude high! Researchers followed the study up with fMRI scans and found that gratitude letter writing may have lasting effects on the medial prefrontal cortex of the brain as well, which is associated with learning and decision-making.[1] That's a proven improvement in the life of the letter-writer.
Of course, let's not forget the obvious joy it brings the recipient as well. Another study showed that 80% of people surveyed, appreciate receiving thank you notes from others.[2] This explains why and how gratitude can be so contagious. You express your gratitude for an act of kindness. The recipient of your expression of gratitude feels gratitude for your expression. So on and so on we go, slowly but surely mood-altering the masses in positive and productive ways.
I was inspired. I pulled out some "Thank You" cards that I had piled up in the cabinet and got to writing. After all, 72% of folks believe that paper thank you notes are more meaningful than electronic ones.[2]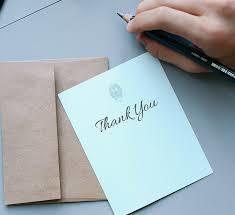 So, why not make the extra effort and scribble down a word or two in ink for a change. I wrote 11 notes that fit into five basic categories of people that have played instrumental roles in my life. They were all people who have supported me, inspired me, motivated me, guided me, challenged me, and seen me for who I am and who I could be!
The process was so restorative, that I figured I'd share it with you. Hopefully, you too will be moved to extend your feelings of gratitude beyond our recently passed Thanksgiving holiday and into a lifestyle that expresses and inspires thankfulness.
Here are my 5 Types of Thank You Notes that You Will Be Happy You Wrote:
1. To Your Parents/Guardians
For the way that they kept you safe, the things that they taught you, the ways that they shaped you and the experiences that they cultivated
2. To Your Siblings/Cousins
For the support that they've lent, the truths that they've told, the cries that they've shouldered, the history that you share and the ways that they know you
For the laughs that you've shared, the metaphorical ledges that they've talked you down from, the fun they've talked you into, the secrets they've held onto
4. To Your Mentors/Teachers/Employers
For the ways they believed in you, the things that they did to push you forward, the challenges, the opportunities and the lessons
5. To Your Romantic Partner(s) Past or Present
For the health of the relationship, the intimacy and the unity, the love they showed, the trust they offered and the many joys you shared
Feel free to write multiple letters to multiple people in each category if you should so desire. That's what I found myself doing once I took inventory of my many blessings. Trust me, it's an amazing experience. Your eyes may water as you write your thoughts. You may blow a few bucks on stamps and you may even have to text a few folks to get their updated mailing addresses. Still, the warmth that comes over your heart far outweighs the time, energy and small change you'll need to invest.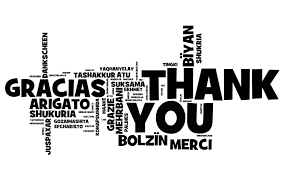 [1] Wong, J., & Brown, J. (2017, June 6). How Gratitude Changes You and Your Brain. Retrieved November 26, 2017, from https://greatergood.berkeley.edu/article/item/how_gratitude_changes_you_and_your_brain
[2] Pilon, A. (2014, December 29). Thank You Notes Survey: Paper Notes Considered More Meaningful. Retrieved November 27, 2017, from https://aytm.com/blogmarket-pulse-research/thank-you-notes-survey/
Calling all HuffPost superfans!
Sign up for membership to become a founding member and help shape HuffPost's next chapter
This post was published on the now-closed HuffPost Contributor platform. Contributors control their own work and posted freely to our site. If you need to flag this entry as abusive,
send us an email
.