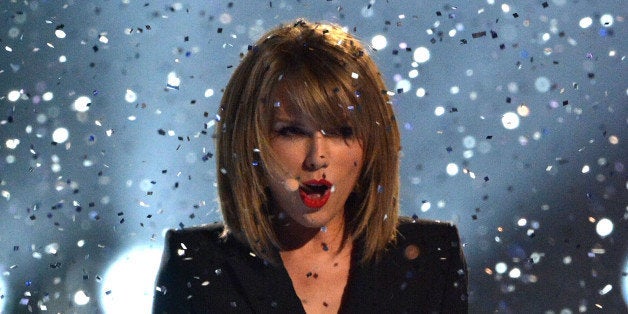 When I found out she would be performing this summer in my hometown, all I could really do is shrug. I have nothing against Taylor (except for the fact that she's dated both Harry Styles and Jake Gyllenhaal, two of my dream men). I guess I just never really joined the "Swiftie" movement. Sometimes when I would catch myself jamming in the car to "Shake It Off" or "Blank Space," I would justify it by admitting that these songs were popular and catchy.
As it turns out, there is so much more to Taylor Swift than the overplayed chart-toppers that she is known for. Instead of shaming her for musically trashing her exes, we should instead look at the unacknowledged heroes of her albums. Swift's songs cover misfortunes that every young woman can relate to, from getting over an unrequited love to being afraid to transition to a new phase in life.
Taylor Swift recognizes these struggles and uses her music to overcome them. While some of these songs may not be what is constantly blaring on every radio station across the country, they help define Swift as a whole. Like it or not, Taylor Swift is an icon. She may have a long list of ex-lovers, but she also has a repertoire of songs that can relate to an entire generation of girls.
In an effort to recognize Swift's hidden musical gems, I have compiled a list of five songs that showcase her genius. These songs are unappreciated and overlooked, and they can help you through your darkest of times.
1. "Mean"
Album: Speak Now
Lyrics to remember: Someday I'll be big enough so you can't hit me / And all you're ever gonna be is mean / Why you gotta be so mean?
Let's be honest here, when was the last time you straight up called someone mean? There are probably 100 other derogatory words you could use instead of mean. While the lyrics of this song may seem simple, the underlying message tells a lot. Swift admits that there are always going to be people who will try to tear you down. The best revenge? Work hard and be successful while staying humble and classy.
2. "Change"
Album: Fearless
Lyrics to remember: Tonight we stand, get off our knees / Fight for what we've worked for all these years / And the battle was long, it's the fight of our lives / But we'll stand up champions tonight
This song was chosen as one of the featured tracks for the 2008 Summer Olympics, and there's a good reason why. The theme of "Change" is perseverance. A huge part of life is having to fight for what you want. Nothing in life comes easily. Swift welcomes this adversity by shining a dash of hope: the difficulties you are facing now are not permanent. Stick it out and things will, in the end, work in your favor.
3. "Long Live"
Album: Speak Now
Lyrics to remember: Long live all the mountains we moved / I had the time of my life fighting dragons with you / One day, we will be remembered
Swift's coming-of-age song details the fear that arises when you have to face the uncertainty of moving on to a new chapter in life. For me, transitioning to college was something I dreaded every second leading up to move-in day. "Long Live" acknowledges that this ambiguity can be scary; no one wants to forget the comfort of the past. You have to hold on to your fondest memories while also accepting the fact that you will make new memories in your new stage of life.
4. "The Story of Us"
Album: Speak Now
Lyrics to remember: Now I'm standing alone in a crowded room and we're not speaking / And I'm dying to know is it killing you like it's killing me?
This song is honestly so underappreciated. Swift tells the tale of the most uncomfortable experience ever: seeing your ex in public right after your break up. This encounter makes you question everything and actually long for that ex, even though you broke up for a reason. You have to stay strong, keep your head held high, and put a definitive "The End" to that chapter of the relationship.
5. "Clean"
Album: 1989
Lyrics to remember: Rain came pouring down when I was drowning / That's when I could finally breathe / And by morning gone was any trace of you / I think I am finally clean
Did you really think I would write an article about Taylor Swift songs and not include something about a breakup? "Clean" is different than Swift's other breakup masterpieces because it's a song about cleansing. The idea here is simple: I'm moving on, and I'm over him. There is no more longing for that relationship. Swift proves to girls that you don't need a man to define who you are. Find yourself instead of finding a man. Treat yo self, girl!
In the future will you see me screaming front row at a Taylor Swift concert? Probably not. However, the next time I'm dealing with a heartbreak or a case of the haters, don't be surprised if you find me with my hand in a bag of Cheetos while rocking out to T Swizzle.