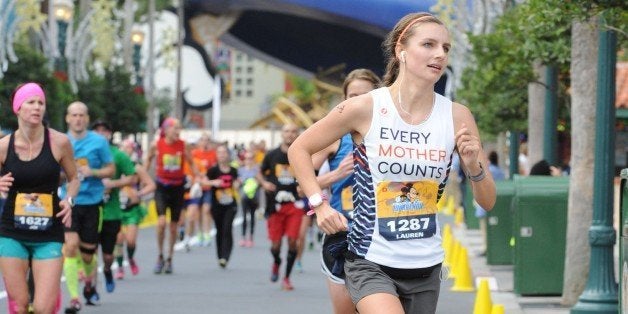 As a three‐time marathoner, I've logged a lot of miles. While I can't say every mile was enjoyable, I love running because it has so many rewards. Of course some benefits are more obvious than others. I love to run because it helps me sleep better.
It makes me happy. It helps me maintain a healthy weight. But there are some unexpected benefits, too.
For National Women's Health Week, here are five things you may not have known that you can gain from putting on your sneakers and hitting the pavement, path, or treadmill:
New Friends. Most people think that running is a solitary sport. No way! There is a huge running community filled with people who are looking for a running buddy.
Check out meetup.com or ask your local running store to find a running group near you. I've met some great people thanks through running groups. I am on the Dashing
Whippets a New York City based running club as well as the Every Mother Counts
Ambassador Running Team.
Fall in love with brunch. Most races begin in the early morning. After your race, you and your new running buddies can go to your favorite spot and grab a guilt free meal. It's the best way to celebrate your efforts.
Run-cations (A vacation where you run). Chances are you don't want to run the same route every day or the same race every year. So you have to go somewhere to run and race. You may travel to the next town over or find yourself in Disney World or even Tokyo. There are world class running events happening all over globe. Some of my favorite run‐cations have been to run the Disney World Marathon and the Cox Providence Marathon in Rhode Island.
Giving back. Almost every race out there is raising funds or awareness for a cause.
It is a great way to give back to the community and stay informed about issues at home and around the globe.
Be an inspiration. You may not know it, but by making the decision to live a healthy and active lifestyle you are motivating others. If a co‐worker notices that you have lost some weight, they might want to start running. If a friend see's a race medal on the kitchen table, they may join you on the next one. Setting an example for your friends and family does more good then you know. Plus, you may find a new running buddy.
REAL LIFE. REAL NEWS. REAL VOICES.
Help us tell more of the stories that matter from voices that too often remain unheard.