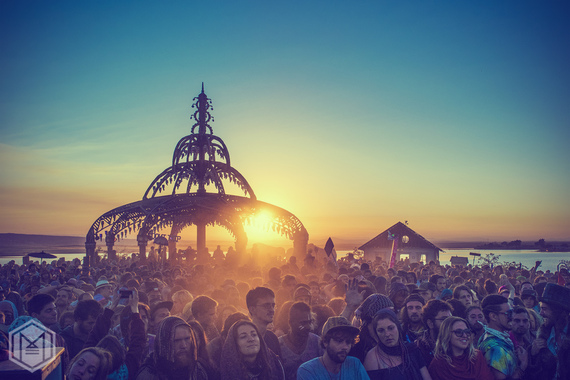 Symbiosis Gathering 2015 // Photo by Miles Najera
Music festivals have become a platform for change, sharing forward-thinking and innovative ideas on sustainability, healthy living, philosophy, evolution, politics, psychonautics, and more. While these educational aspects have become an integral part of transformational events, it is the music that gathers, acting as the nucleus of the festival culture. The covalent bonds of human experience provide the perfect petri dish for ideas to flourish and actualize. Though every transformational festival shares these foundations, many possess particular attributes that stray from the standard music festival paradigm. Though there are an exorbitant amount to choose from, here is my list of five unique U.S. festivals and the twists that distinguish them from one another.
1. Symbiosis Gathering - The Lake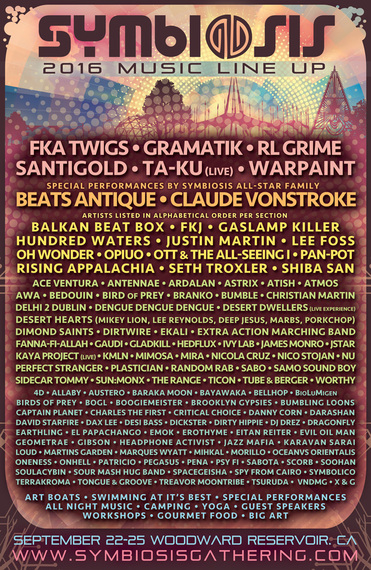 Symbiosis is quickly becoming one of the most talked about live music events of the year and it is easy to see why. What makes this event special is the Woodward Reservoir which offers 2,900 acres of lake to splish, splash, dance and float. Happening only a few weekends after Burning Man, several of the art installations that survive the Burn find themselves on display here. Another twist which Symbiosis has that Burning Man does not, is the opportunity for floating art boats which are often equipped with a sound system and dancefloor.
2. Enchanted Forest Gathering - Alcohol Free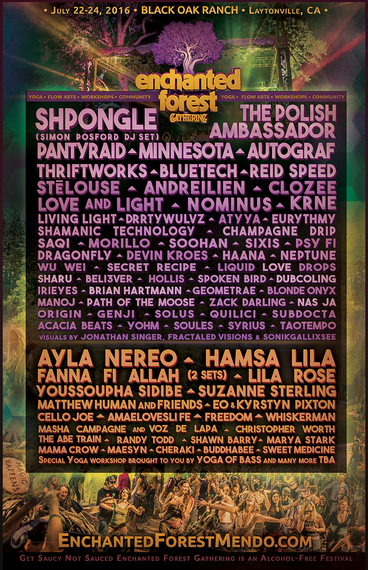 The historical venue of Black Oak Ranch has seen hugely influential artists such as Wavy Gravy, Jerry Garcia, Joan Baez, and Ken Kesey's Merry Band of Pranksters, making this musical hallowed ground. Alcohol has become a fixture at most musical events which is what makes Enchanted Forest Gathering a pioneer in the concept of alcohol-free festivals. The organizer's reasoning behind this is so that the attendees can focus solely on the festival itself, drawing their energy from the magic that surrounds them. A novel idea for those who understand the destructive nature of alcohol abuse but slightly disconcerting for those who enjoy drinking responsibly. Either way, with such a stellar lineup and beautiful locale this event has the power to enchant its patrons sans inebriation.
3. The Divide Music Festival - Adventure Sports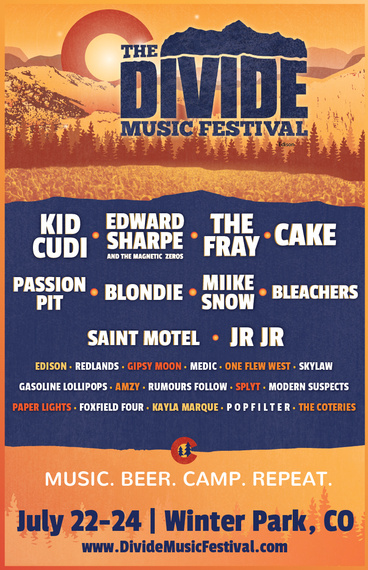 Though it is best known for its winter sports, summertime in Winter Park, Colorado reveals lush valleys, gushing rivers, towering peaks, majestic landscapes and the great Continental Divide that attracts outdoor enthusiasts from all walks of life. Combining the natural beauty of Colorado with the vibratory magic of music draws a crowd that is not only festival friendly but adventure friendly as well. What makes Divide special is its focus on adventure sports and activities for attendees to experience during the festival. In addition to yoga, this event allows patrons to partake in downhill, single-track mountain biking, hiking, swimming, rafting, climbing, fly-fishing, and more! "Music is certainly the main entree," explains festival producer, Jason Ornstein, "however, The Divide has many appetizers to satisfy the appetite of the outdoor adventure seeker."
4. Unify Fest - Tribal Ceremonies and Multiculturalism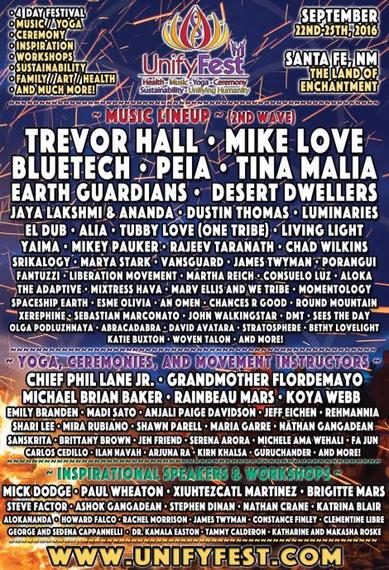 While all transformational music festivals possess an underlying air of spirituality, the first annual Unify Fest focuses on amalgamating the traditions and rituals of both ancient and modern tribes from varying cultures. The goal of this event is to bridge the gap between multicultural indigenous ceremonial practices and innovative sustainability techniques to help build a more conscientious model for festivals and communities alike. It is not just a festival about celebration, but also a festival about taking action.
5. The Pirate Party - Pirate Themed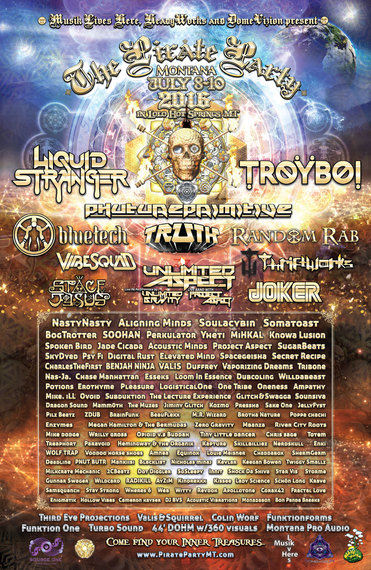 For those of you who are lovers of the carefree, raucous, rum-swilling, lives of buccaneers, Pirate Party in Montana might just be your parrrrrfect festival. Already in its 8th year, this event possesses all the comforting rituals of our favorite transformational festivals but with a pirate-y twist. Pirate Party offers a full programming schedule of yoga classes, workshops, arts and crafts, hiking trails, a 22-hole disc golf course and daytime pool parties. Nothing brings out your inner child more than a costume party and combining that child-like bliss with a bass-rattling lineup pouring out of Funktion One speakers is sure to fulfill all your swashbuckling needs.
REAL LIFE. REAL NEWS. REAL VOICES.
Help us tell more of the stories that matter from voices that too often remain unheard.