I've never been one for conferences.
The name tags, the Twitter streams, the Z-list celebrities, the forced five-minute conversations, sizing up other attendees to see what you can get from them.
So when I had the opportunity to join a group of international thought-leaders for a four-day summit, I was skeptical. I heard the words "thought leader" and "summit," and my brain immediately went to "conference."
I was proven wrong almost immediately. HATCH, an off-the-grid creativity symposium held annually at Moonlight Basin in Big Sky, Montana, is the opposite of a conference. It's a global network of dreamers and thinkers whose connections only strengthen when the event is over. It's a place where ideas are sparked and a community that turns them into powerful realities.
Yarrow Kraner, a radical idealist and connector of extraordinary humans, created HATCH in 2004. Back then, phrases like "intentional gathering" and "innovation superhighway" were considered revolutionary, and intellectual vacations like Summit Series and Adult Summer Camp didn't exist. HATCH had the market cornered -- and it was so much more than an intellectual vacation on an innovation superhighway.
"Back then, many of the terms we used were not buzzwords," Kraner tells me with a smile when I needle him for the phrasing he uses to describe his brainchild. "When we founded HATCH, it was just us and TED."
In the years that followed, Kraner assembled an unstoppable network of artists, entrepreneurs and activists. Various amalgamations come together in Montana each year to exchange ideas, insights and inspirations. Partnerships are born and programs are launched, and the network grows and strengthens with each passing event.
"We want HATCH to represent a true cross-section of humanity," Kraner explains, adding that he handpicks attendees for each event in an effort to maximize the potential for valuable connections. "I search for people who are pushing the envelope, taking risks, and working hard to make scalable positive change."
His motivation is simple, pure, and beautifully earnest: to use HATCH to hatch a better world. "We support those trying to create solutions to better humanity," he says, "because we are in a no-joke race between consciousness and catastrophe."
Earlier this year, Kraner ventured from the mountains of Montana to the jungles of Panama to host his inaugural HATCH Latin America event at Kalu Yala, the sustainable community where I spent much of this past year living and working.
There, I had deep conversations with astronauts and environmentalists. I learned about water policy and arts education. I answered hard questions like "what am I asking for from life?" I played in drum circles and invented products. I prototyped solutions for addressing climate change in remote parts of the world. I had idea orgasm after idea orgasm. By the end of the event, I wanted to scamper up the nearest banana tree and scream "I can do anything because of HATCH!" like a howler monkey.
Other attendees share my sentiments. "Hunting for the right tribe is important," says Mark Goerner, a regular HATCHer and an accomplished concept designer, most notably for Minority Report. "A group defined by not by geography and social geology, but by tone, temperament and direction. Taking the energy to attempt new, challenging and thoughtful projects with these people may be the recipe that has the highest chance of impacting the world."
With the 16th HATCH experience kicking off in Big Sky, Montana, this week, I decided to revisit some of the ideas hatched during my own jungle experience. Below are five innovative, world-bettering collaborations moving forward, as the saying goes, #becauseofHATCH.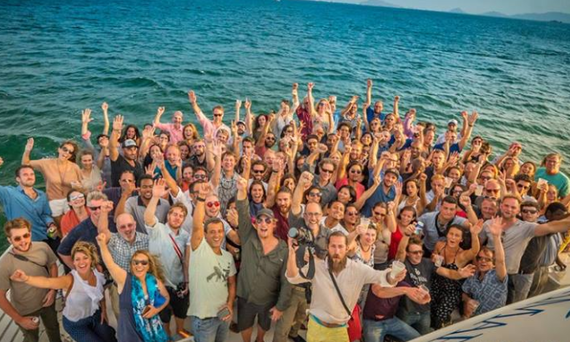 Urban design that inspires action. Artist Susan Israel teamed up with architect Elias Cattan to design renderings that turn landfill into its natural river state while creating public open spaces throughout the greater Boston area. "We are helping to develop a framework for how to use climate change resiliency land planning as a process that can remediate several problems at once, and leave us with better places than before," Israel explains.
Entertainment that empowers minorities. Comedian Esteban Gast and Emmy award-winning TV host Pili Montilla are in the process of creating "Los Nuevos Americanos," a college performance series aimed at empowering young Latinos. "We have long recognized the need for more Latino role models," Gast says. "We want to use our platform as entertainers for positive social impact."
International education with local benefits. I paired up with Panamanian entrepreneur, economist and designer Diwi Valiente to create the Diwi Valiente Media Lab Scholarship at Kalu Yala. Through the money we raised in our scholarship fund, three local Panamanian students were given the opportunity to attend my summer media lab program, which trains young people to tell stories about sustainability, at a reduced tuition rate.
A tool that promotes transparency. Through his work at HATCH, Goerner is developing an app called Eqogo, which connects people and businesses to consciously-made products. "This idea in particular came to light through an exercise scripted by the HATCH team, and fed later by others' enthusiasm for the idea," he says.
Music with an important message. Renowned beatboxing musician Butterscotch worked with fellow HATCHer Mary John Frank to create a music video for her single "Accept Who I Am," which emphasizes the power of self-love. "Whenever I perform this song at shows, I always have people come up to me and say how touched they were because they know how it feels to be depressed, oppressed and suicidal," Butterscotch says. "I wanted this video to reach as many people as possible who have been through the same thing as me and know that they are not alone."
Learn more about HATCH here.
Related
Popular in the Community