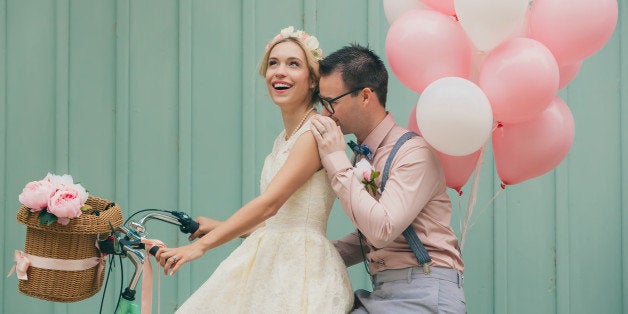 Do-it-yourself endeavors can go from Pinterest-ready to Pinterest fail in the blink of an eye, which often deters couples from incorporating DIY aspects at their wedding for fear of wasting time and money. However, creating something personal for one of the most important occasions of your life can have extra benefits you may not even have considered.
Whether you're browsing Pinterest or avidly reading wedding blogs, inspiration can come from anywhere. However, it's up to you to tweak those ideas into something that is unique to you and your partner's personalities. While every couple may have a lovely topper adorning their cake, no one else will feature your adorable pups on their desserts! These details bring an extra special touch to your Big Day that you'll remember for years to come.
Weddings can be a source of anxiety for some guests that may not know many of the attendees, so DIY projects serve as great ice breakers to get people chatting. The standard "how do you know the happy couple?" and "what a lovely ceremony" could certainly suffice but starting up a conversation over the personalized centerpieces would be an even better solution to getting the banter flowing.
When a DIY craft turns out just how you hoped it would, you'll be antsy for everyone to see it on the Big Day! There really is no better feeling than walking into your reception to see all of your hard work come together for a beautiful event design. Every late night spent painting books and assembling centerpieces will certainly have been worth it!
Save Your Pennies (if done right!)
The last thing you want is for your project to end up costing more than a readymade store-bought version - all you get out of that is a headache and lots of wasted hot glue! Be smart about what you decide to DIY and do your research so you know what each task entails before plunging in headfirst.
The good news is that, in most cases, you'll see the cost efficiency of DIY! For example, outsourcing your save-the-dates, invitations or programs can add up rather quickly. However, purchasing a pre-made template and putting everything together yourself can save you tons, giving you a little extra wiggle room in your budget for that floral upgrade you've been eyeing.
Your wedding celebrates the union of you and your partner - why not integrate some of your personalities into the day? Handmade touches add to the personal feel of the day and your guests will appreciate the effort you put into your meaningful projects. Not to mention, you'll get to repurpose all of these special pieces into your home after the Big Day!
DIY crafts may seem like quite the undertaking, but they are certainly worth the effort if you are committed to the end result! While you may feel more comfortable leaving some of the bigger aspects to the professionals (like your flowers!), there's no harm in giving DIY a shot on some smaller projects - you just need a bit of creativity, a touch of inspiration, and a lot of glitter.
Linda is the founder of burlap+blue, a space dedicated to helping women live life more creatively. She is inspired by creativity, good books and the everyday. She lives with her husband and kids in Richmond, VA. Read more on her blog, shop her new Printables Shop, and connect with her on Twitter and Instagram.
Related