I was a teenager in the 1980s and for that, I am thankful on many levels: For my music (REM, David Bowie, Thompson Twins, Duran Duran, INXS, etc.) my movies (anything John Hughes touched), my malls, my MTV, my shoulder pads and my gold "LORI" name plate necklace that told everyone who I was.
I am also thankful for what we did not have back in the day -- modern-day conveniences that would have gotten me into even deeper trouble than I was usually in.

I gotta admit, I didn't give my parents the easiest time. I wasn't bad, like Juvie bad, but I wasn't especially good. For example, I would sneak out of the house to meet up with my friends by walking out the front door... loudly. I got caught shoplifting in 8th grade, I got caught changing my report card grades, I got caught in multiple fender benders with my dad's car.
Plain and simple, I was pretty bad... at being bad.
With today's technology there's no way I would have ever gotten away with anything.
1. Texting
Back in the '80s, our version of texting was called "note passing." Girlfriends passed notes back and forth all the time; we passed notes with our boyfriends, notes about the party Friday night because Billy's parents would be out of town and "Will you go with me?" (where?!?) notes spritzed in Colors by Benetton perfume. Those ones put my stomach in knots when they were passed.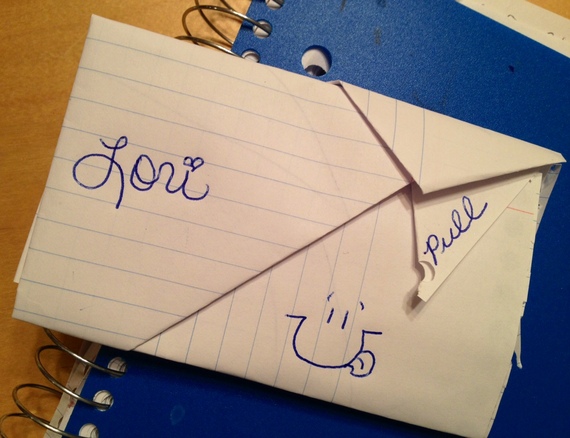 Today with texting, I would have been SCREWED. My parents would have known everything from how Michelle went to third base with the homecoming king to directions to the big kegger in the woods this weekend. With my sloppy style and complete inability to cover my tracks, Mom would have totally put the kibosh on that kegger.
2. GPS
Again with the technology! If I had GPS in my car to track my every move, I guess I would have thought it was Knight Ridercool and kind of creepy. So much for the old, "You tell your parents you're spending the night at my house and I'll tell my parents I'm spending the night at yours," or "We're going to Rocky Horror, see you around 2:30 a.m." when in reality, I was on the beach with my friends entertaining a group of boys who were visiting from out of town over spring break.
3. Driver's license
Here's a random one: In Tampa, Florida in the mid-80's, we took Driver's Education in school. Driver's Ed was taught by the retired high school wrestling coaches. I don't think either coach had any "coaching" in driving or in education, but they taught the class.
They did, of course, enjoy wrestling, and liked that I could chat with them about André the Giant, "Macho Man" Randy Savage and Hulk Hogan. Unfortunately, this knowledge did not benefit my driving skills. As a repetitive orange "cone killer" unable to parallel park, I was two points shy of passing my license test.

After a lengthy conversation that started with wrestling and ended with "Wheel of Fortune," Coach signed my slip with the sage advice, "Don't tell nobody." I took it to the DMV that afternoon and got my driver's license.
4. Report cards.
I had a boyfriend who taught me how easy it was to change "F" into "B" with two little precise pen moves. "D"s could also be manipulated into less convincing "B"s. I loved English and Musical Theatre class, but I was not the best student, and had issues in anything math or science-related. Oh, and foreign languages, too... not so good. Not a problem!
Report cards were mailed to the house. At no other time of the year did I take any sort of interest in the mail, but come report card time, I was like a spy on a covert mission -- operation intercept report card. I became obsessed with getting the mail, asking what was in the mail and wondering had the mail come yet and I missed it?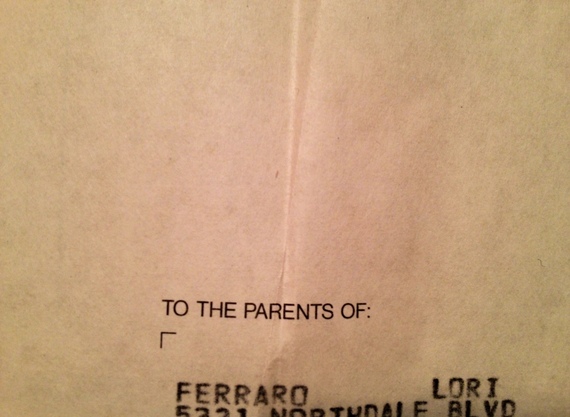 Today, parents can go online and closely monitor their children's progress. They can email the guidance counselors, see test scores, homework assignments and yes, report card grades. Technology.
5. Hair.
Because no style today could be half as as good as this:
Even though I got in my fair share of trouble, I look back with such love on my big, fat '80s upbringing. I'm hopelessly nostalgic and thankful that today's technology did not exist, leading me to be on a lifetime of permanent double restriction with no phone or TV privileges.
And I have to admit... I'm kinda grateful that when the time comes, I'll be able to check out my sons' report card grades online and sneak peeks at their text messages.
Lori's passion for '80s music can be seen on Drawn to the '80s, where her 5-year-old son draws the hits of the greatest decade in music.
REAL LIFE. REAL NEWS. REAL VOICES.
Help us tell more of the stories that matter from voices that too often remain unheard.