There is value in every experience, but you have to choose to find it. I'm going to share some recent lessons I learned through a man I dated and thought I would marry. In order to keep his identity private, I've changed his name to Teech.
1. Don't Take Things Personally
Upon finding out about the cheating, one of the first things most of my friends would say is, "This is not your fault. It's not about you." Actually, that was second to expressing their shock and telling me what a donkey's bum Teech is. You get the point though.
It took me a while to truly accept this knowledge, as a myriad of thoughts ran through my head. If only I were prettier, more fit or kinder. If only I hadn't given into that argument the other night. Or my personal favorite, if only I had trusted my flippin' gut!
In the 'The Four Agreements' by Don Miguel Ruiz, one of the agreements is: Don't take anything personally. Ruiz goes on to explain, "What others say and do is a projection of their own reality, their own dream. When you are immune to the opinions and actions of others, you won't be the victim of needless suffering.
You are not a victim, my dear. Yes, he betrayed you. Yes, it was wrong. You can choose to remain in a space of pain and suffering or you can choose to learn and drive on. Part of this means releasing the anger that accompanies that level of mistrust. Teech cheated multiple times, but I also chose to take him back multiple times. A couple of those times, he chose to be intimate with her on the same day he was intimate with me. Leaving my bed and driving straight to her house. As someone who has experienced sexual assault and abuse, in and out of the military, his actions triggered some past stories I had about my self-worth and ability to trust. I felt violated all over again.
This is where I chose to view him as the teacher (hence his nickname), instead of the offender. I experienced some great moments of love with Teech. Those moments are what allowed me to keep letting him back in. By not taking it personal, I empowered myself to release the mind-numbing questions and also release the power for him to define my self-worth.
Clarity comes from engagement, not thought.
-Marie Forleo
2. Connect Through Compassion
So, no shit, there I was...hugging my boyfriend's naked ex-wife. Ha! That line never gets old. Sadly, it's true. The second round of cheating came to my attention one night after Teech turned his phone off after an argument. He NEVER turned his phone off, so I went to his house and brought over breakfast for him to eat the next morning. After not finding him tucked away in his bed, I used my military skills to acquire his ex-wife's address.
Note to men out there: Don't try and fool a military veteran. We got skills. Note to women: TRUST YOUR GUT!
I'll save you the details and fast forward to me walking up and seeing her standing in the kitchen naked. After knocking on the door and announcing myself, "Hi! Remember me? I'm Teech's girlfriend!," she approached the door, jaw wide open, shaking and with tears in her eyes. Something took over and I embraced her. I told her that no matter what happened, she deserved more. I truly meant that. I knew he had cheated on her when they were together. Whether they ended up back together or not, I wanted her to know that this behavior was not ok. After our hug, she grabbed a butter knife to unlock the door where Teech had locked himself inside. Standing in that room where they had just been intimate was hard, but I realized that there was a bigger picture. After kicking him out, the ex and I sat at her dining room table for more than an hour and talked. In that moment, it wasn't about competition or heartbreak...it was about compassion. It was about seeing another women in pain, while also honoring the potential for healing and growth in that moment.
"It wasn't about competition or heartbreak...it was about compassion. It was about seeing another women in pain, while also honoring the potential for healing and growth in that moment." -Dajon Smiles
3. Truth is truth.
You want the truth, but can you handle the truth? I heard this question many times. I was scared to face the reality of another failed relationship. I went through the phase where I felt like I wasn't good enough. There were selfish moments where I wanted to make him out to be the dirty ex-boyfriend and feel sad that he had replaced me with her. Here's the kicker...none of that is truth. Everyone involved was a human trying to do the best we could to deal with all of our crazy human emotions.
What's true? I want real and honest love. I want a lover who sees me in all my moments...the weird, the goddess, the processing, the healing...all of it! When Teech talked marriage with me, the young, insecure girl in me felt loved and wanted. I didn't stop and take a look at the truth about who I was and what I want in a partner. I'm not just some lonely girl waiting to be snatched up.
After telling my mom about the first cheating incident, she told me, "Your dad could never even think of doing that to me."Although it hurt to hear those words, I knew they were truth. It was time for me to let him go, but I chose to hold on and confirm his character. Turns out, I would get that confirmation nearly a month later. I was attending church a week after I had cut communication with Teech, when he walked in with her. The pastor's message that day was about fools. His #1 piece of advice was: "Don't Marry One!" He reminded the congregation that fools have toxic tongues and rarely apologize. Yes, a fool can change, but why roll the dice. I felt grateful to be single in that moment, to be free and to be stronger than ever before.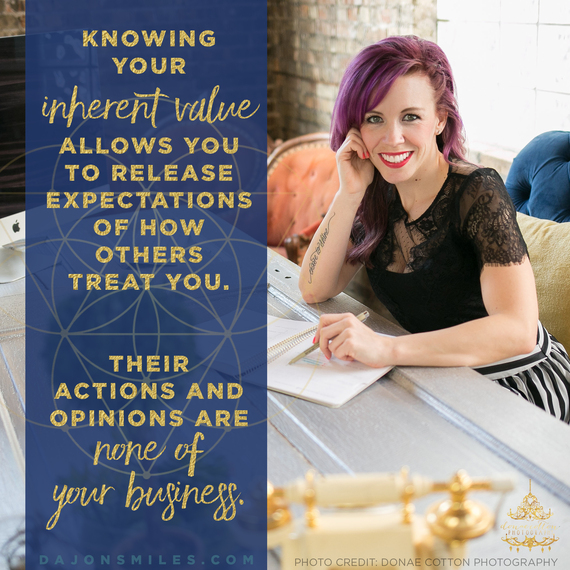 4. Find value in the experience.
The biggest awareness that I gained through this experience was my strength and where that strength comes from. When I was gutted, crying on the bathroom floor, I cried out to God. I surrendered myself over and begged for clarity. My clarity came in two forms; conversations and the visual confirmation of them together intimately...images burned in my brain. Ha!
I was able to keep my composure enough to have meaningful conversations with Teech, his mom, brother and ex-wife. Many of my friends said that their first reaction to finding their boyfriend with another woman would be to lash out, yell and some even said they would've entered her house a-swingin'! In that moment, none of those options came to mind.
I have no doubt that I was channeling a higher power. It was as if I was standing above this hot mess of a situation and able to see the bigger picture. My faith was strengthened. What a beautiful gift. Another lesson, I received was learning how hard it can be to leave an abusive and exhausting relationship when your heart outweighs your mind. I remember telling friends to put themselves first and that they deserved better. I knew this was a toxic partnership, but I had to ride it out fully, before having the closure I need to cut cords.
Finally, I realized how amazing and powerful my intuition is. The answers truly are within. I chose to hide from them at times, but other times, my intuition guided me to the smoking gun...or in this case, the naked truth. I was able to make a decision to cut ties with this chapter, after realizing that if he and wife had a chance of reconciling, I had no right to insert myself in the middle. Seeing my value allowed me to understand there is a wonderful and loving partner out there for me. I could turn the corner, send well wishes to Teech and the mother of his two beautiful girls. Whether or not they'll reunite and have a healthy marriage, or not, is none of my business. My business is speaking my truth and living life with as much grace, ease and compassion as possible.
"Focusing on anything that you could've, would've, or should've is a waste of energy."
Sunny Dawn Johnston
5. Don't lose yourself. Love you first.
I realized that I was so thirsty to find my 'happily ever after' that I put on blinders to protect the validity of our love, which in turn put a blanket of fog over my subconscious and my previously fail-proof gut. Well, it turns out that my gut was always fail-proof, but in forgetting to understand my inherent value outside of a relationship, I failed my gut.
After the first round of cheating, I reached out to friends that I hadn't seen in awhile. They were still there. I found comfort with my soul family. I received messages of support, love and encouragement. Even a few ex-boyfriends and their moms sent me digital love. Although, all of that felt great and was so very appreciated, I still had to find myself at the end of the day.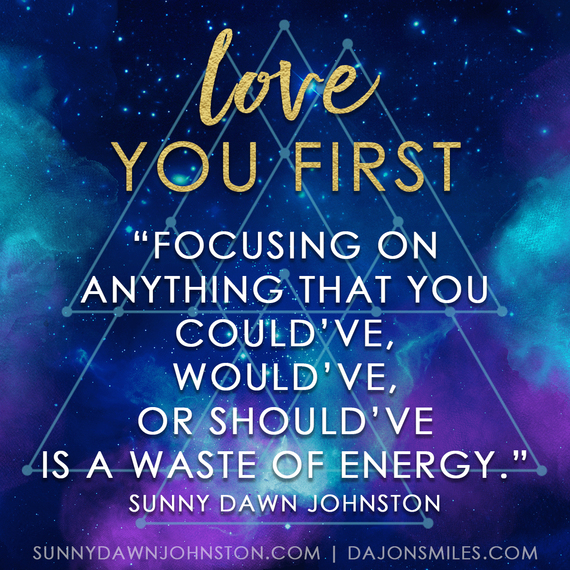 I found myself in the darkest places at night and in the morning. My mind wasn't wide awake and bustling with other details at those points. It was then that I had to feel the depths of the pain I was experiencing. I had to get vulnerable and honest. Before Teech, I had made a commitment to date myself. Going into our relationship, I felt so strong and ready. I didn't need a man to complete me! I was a unicorn! Upon the completion of our relationship, I realized I had totally given myself over. It became glaringly clear this was a pattern that I hadn't released.
The good news is...we're always growing and learning. This means I get another chance to put myself first. I've felt the sting of placing my value in another's hands. That was my choice, by the way. Choose you, sweet love! You are so very worth it. You have a purpose in this world and whether you're in a partnership or not, you can't afford to not chase that purpose with all your heart! Leverage the lessons from your relationships, both the love and the pain, to dive into the mysteries of you, so you can better share your gifts with the world. You are so very worth it, sister! Shine on!