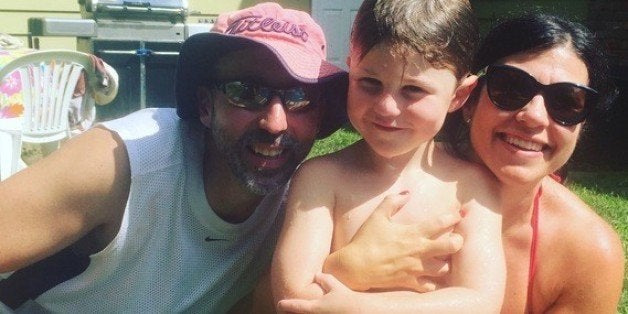 This week, my firstborn will start kindergarten. I have known this day is coming all summer, and now, with our lazy days dwindling, the reality is sinking in: we're in the Big Leagues now. No more leisurely 9 a.m. drop offs at preschool, no more afternoons spent reading together or making art projects (which truth be told, didn't happen that often, but the possibility was there!), no more freedom to plan play dates or impromptu stops for ice cream whenever I feel like it. Instead, the bus will whisk him away sometime around 7:30 a.m. and bring him back at 3 p.m. While the prospect of time to myself does delight me, it's also an end to the toddler years. Before I know it, he'll be off to college.
My son, Charlie, on the other hand, cannot wait to go to kindergarten. He's been talking about it all summer long. Who will be in his class, what they'll learn, how he'll get to ride the school bus everyday. "Are you going to kindergarten?" he asks practically every child we come into contact with. "Me too!" he joyously replies. He's clearly ready. And while I am excited for him, I'm also nervous about this new journey. Here's why.
I'm a bit of a control freak.
While Charlie has gone to preschool for the past three years, the hours away from me still didn't add up to a typical school day. The idea that he will be gone for eight whole hours is hard to wrap my mind around. (Although from the way other mothers talk, I'll be used to this, and even welcome it, by the time he's in first grade.) And then there's the school bus, which comes with its own concerns that I'm trying not to focus on.
The end of summer feels really final.
In the past, Labor Day served as a gentle reminder that the season was coming to a close, rather than a last hurrah before the fun was over. But with school starting the next day, suddenly summer's end seems finite, which makes me sad. Charlie, on the other hand, has taken to walking around the house wearing pants and long sleeved shirts and asking me when it will be fall.
Peripheral parenting issues are now front and center.
I always knew school lunches were in a sad state (are they really still serving French bread pizza on Fridays?) but when the menu arrived in the mail last week, I was as horrified as Jamie Oliver and will most definitely be packing lunch every day (and Googling lunch box hacks as soon as I finish writing this article.) And then there are the much more serious issues of bullying and academic performance to contend with. While I imagine these won't be too much of a concern in kindergarten, that old adage "bigger kids, bigger problems" does seem like a harbinger of things to come.
I have new school jitters.
After three years at the same preschool, I knew the ropes--and all of the teachers and parents. Now, we're the newbies again. Granted, we live in a small town and I know many of the families, but I'll miss my preschool "mom posse" as my husband calls us, and the confidence that comes with a familiar daily routine.
My baby is getting older.
Since Charlie turned five earlier this month, I catch myself staring at him throughout the day, wondering how it's been five years since I brought this little baby home from the hospital. I used to find it mildly annoying when people would say to me "Enjoy every minute. It goes so fast!" (Right up there with, "Is he a good sleeper?") but in the back of mind, I knew they were right. As much as I try to be present in each moment, I know they are fleeting. September 6 is yet another reminder of this.
But no matter how I feel, the first day of school is closing in on us. And so I'll do what so many other parents will no doubt be doing on that same day: I'll make a "first day of kindergarten" sign and have Charlie hold it up on our front steps while I snap photos of him with my phone -- and then Facebook and Instagram them, naturally. And then I'll put him on the bus and tearfully wave goodbye as it lumbers down our street on its way to the next stop.
Photo credit: Michelle Hainer
This piece was originally published by Michelle Hainer on Mommy Nearest. Michelle Hainer is a writer whose work has appeared in InStyle, Country Living, People, The Washington Post and Time Out Kids. In her spare time (ha!), she blogs about her favorite recipes on Made By Michelle.