Co-authored with Patricia Monticello Kievlan
How much media is too much for our children? When does involvement in our kids' digital lives turn from helpful to detrimental? How can we inspire our kids to make and create technology on their own?
These are the types of questions that WQED's Emmy-nominated show iQ: smartparent seeks to address. iQ: smartparent is another in Pittsburgh-based WQED Multimedia's storied history of national production, beginning with Mister Rogers' Neighborhood; as project manager Patricia Monticello Kievlan describes it, "iQ: smartparent is a community of parents, caregivers, educators, and experts who want to understand the opportunities and challenges of media as it relates to child development." As a fan of the show, I like to watch segments about everything from parenting in the digital age to using technology use in schools. When Patricia and her colleague Jen Stancil asked me and my co-founder (and husband), Felix, to join an upcoming segment, we were thrilled.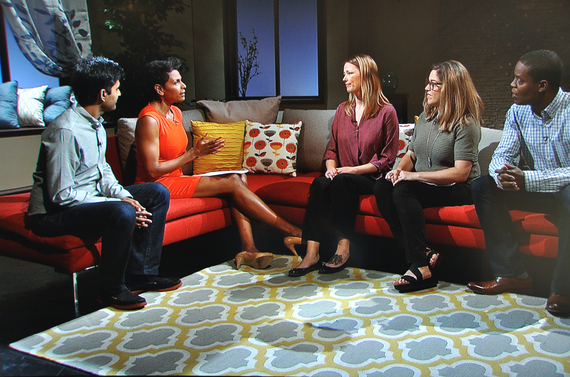 The first episode of iQ: smartparent's third season focused on "parent entrepreneurs," or parents who were inspired by their own kids to innovate and invent to reimagine childhood. The show featured me and Felix, co-founders of Zoobean; Pramod Sharma, Osmo's co-founder and CEO; and Tara Tiger Brown, co-founder of KitHub and co-founder of LA Makerspace.
At the very end of the show, we filmed a brief conversation among the four guests and their host, Darieth Chisolm, all about how digital media impacts parenting. The conversation was wide-ranging, but we noticed that one thread ran through all of the comments: Everyone there was focused on finding different ways to reimagine childhood. Each of their approaches were unique, but they all used technology to facilitate something transformative for their kids. It's empowering to know that any parent -- not just a parent entrepreneur -- can have that kind of impact. Our challenge to you is to think about how you can use technology to celebrate your kids' strengths and help them further explore their interests. Any parent can do this: Consider these 5 ideas our quick guide to help you get started with reimagining childhood in the digital age!
1. Encourage media and tools that resonate with your child.
Children are motivated by their interests. Do you have a sports fanatic? A LEGO fiend? A dance aficionado? Use these passions as starting points for finding media that is right for your child. Beansack helps families find media that works for their family, tapping into the vast knowledge of children's librarians. KitHub helps kids become makers by tapping into their curiosities. One of Jordan's favorite KitHub activities is the "Make Your Toys Talk Kit," because it allows her kids to make something that they love (their stuffed animals) into a hands-on maker project. When facilitating your child's discovery of media, try using their own interests as a starting point.
2. Help kids bring their imagination to life.
Draw, build, write, create. Repeat. Help kids find tools that help them visually or verbally create objects, environments or tools that address challenges or provoke wonder in their world. Try reading books that pique their interest, or using items around your house (or from KitHub!) to do simple experiments that stoke their curiosity. You can help give your children the tools, just make sure that their own curiosities are there to encourage their initial explorations.
3. Use familiar tools in new (and empowering) ways.
To get your child creating and dreaming, you need not find newfangled tools and gizmos. Jordan, Felix, Tara, and Pramod all built on top of existing technologies and institutions. Osmo uses simple technology to transform how kids interact with an iPad; KitHub is a mail-order DIY kit on maker movement steroids; Beanstack better connects families to their public library. The big idea here is to look to the places, people, and things around you, and then add your own small innovations to help make them work for your unique family.
4. Resist the handback.
Use play as a bonding activity, not a break from your kids. This one is tough. Of course we have to be realistic. Sometimes the iPad or a new LEGO pack does give you a break for an hour. Both Osmo and KitHub offer hands-on activities that beg for co-play with families. We know it's not always possible, but try to be intentional about play with your child, ensuring that you have some games and activities that are shared between you.
5. Continue the conversation.
Talk with your kids about the digital media they consume and help them learn to describe what they see and think critically about its intention, its impact, and its value. Ask questions like, "Why do you think there is only one girl in that whole game? If you spend all of your time playing -- and forego reading or playing with friends, how will things change in a few months? That's a really neat feature -- I wonder why the app developer added it?" Get them thinking about their own interactions and the media itself.
Want to join the conversation? Visit the iQ: smartparent website at http://iqsmartparent.org to find great resources from experts about parenting in the digital age. Join the conversation on Twitter @WQED_EDU with hashtag #iQsmartparent.
BIO FOR PATRICIA KIEVLAN: Patricia Monticello Kievlan is passionate about connecting people with knowledge that empowers them. A Texan recently transplanted to Pittsburgh by way of San Francisco, Tricia works in the education department at WQED Multimedia as the Manager of iQ: smartparent, a series about parenting children in the digital age. She also writes and edits for Graphite, Common Sense Media's website for educators. She's a proud member of the Pittsburgh education community as a member of the Remake Learning Network and as a team member of the Pittsburgh City of Learning initiative through The Sprout Fund.
Related