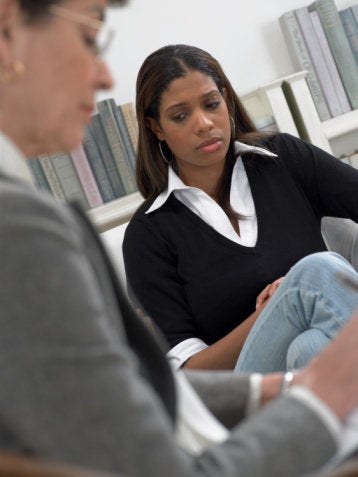 This week's list is inspired by the front page article in the New York Times Magazine a couple of weeks ago by Daphne Merkin, which provides an account of the author's life-long search for the perfect psychotherapist.

I have a feeling that this article could serve as another great example of the age-old "there are two types of people in the world...". On the one hand, there are undoubtedly people who will be turned off by this five-page, detailed meditation on Merkin's ongoing relationship to psychotherapy, using it as confirmation that psychotherapy really is just an extended exercise in (pointless) narcissism. On the other hand, there are people (like me) who -- while acknowledging the self-indulgent nature of therapy -- find both the process and analysis ... of analysis ... endlessly fascinating. Which is another way of saying that I couldn't put the article down.
If you're a therapy skeptic or just haven't felt the need to see a shrink, here's a layman's perspective on five ways talk therapy can help you (But be sure to read my "five things not to do in therapy" before you go!):
1. It gives you a narrative. Whether or not you actually pay someone to help you do this, most of us spend a good portion of our adult lives trying to figure ourselves out. Therapy is a useful tool in that process because -- if you stick with it long enough -- you gradually acquire a story that you can tell yourself to make sense of your past. At the risk of dumbing things down, think of this as a sort of "thesis sentence" (remember 9th grade English?) about your life. It might be something as simple as "I was put on this earth to accompany my sister" or "I was invisible to my parents." Whatever it is, having a framework about yourself is helpful for moving forward.
2. You identify patterns. As you begin to unearth your own narrative, you'll discover that you have a habit of repeating certain behaviors. In my own case, a shrink once casually observed that "freedom of movement" is a defining characteristic of who I am. And in one fell swoop, I made sense of about five different things going on in my life, from relationship issues to living overseas. It's not until you can clearly see the patterns that you can think about change.
3.You normalize your problems. "Ordinary Misery" or "Ordinary Unhappiness," (to generously paraphrase Freud,) is the goal here, folks. Which is another way of saying that if you stay inside your own head too long you run the risk of thinking that your problems are worse than they are. Conversely, by talking to someone else about your problems you come to see that a.) you aren't insane b.) lots of other people share your issues and c.) all of these things are fixable. This does not mean that you'll necessarily end up "happy" (whatever that is). But in converting your demons into ordinary problems, you'll be happi-er, which is probably enough for most of us mere mortals.
4. You change your life. Or at least you have the tools to do so. In my own case, I can point to several major life changes that wouldn't have happened without therapy, ranging from the profound (career change) to the seemingly trivial-but-in-fact-hugely-consequential (yoga). Provided that you do it the right way, therapy offers you a chance to take abstract insights about yourself and apply those towards concrete changes in your life.