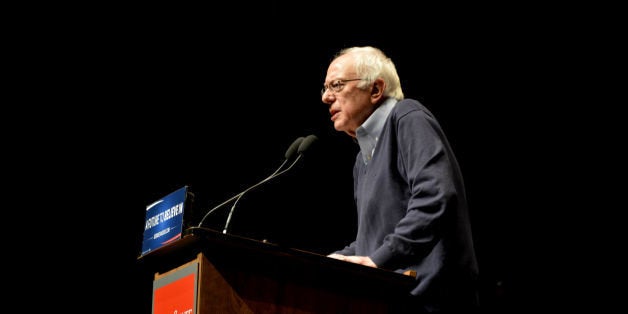 Bernie Sanders, having just finished two rallies in Texas with crowds larger than Hillary Clinton could ever dream of -- a 10,000-person rally in Austin and an 8,000-person one in Dallas -- called Clinton to concede the South Carolina primary and got on a plane bound for Minnesota, a state whose Super Tuesday vote the media hasn't bothered to poll, but which Bernie Sanders is likely to win. If he listened to any of the coverage of his dramatic defeat in the Palmetto State while en-route to Rochester, he probably wondered at its accuracy and cogency. Here's five reasons he'd be right:
1. In South Carolina, Sanders won many of the groups that will matter in the general election, making it puzzling that the media would declare Saturday's primary results solid proof of Clinton's viability in November.
If the future health of a political party didn't in any sense depend on its courtship of independent voters, young voters, new voters, or white males, the size of Clinton's spread in South Carolina would indeed have been an across-the-board endorsement of her candidacy. Instead, it somehow emphasized Sanders' vaguely Obama-like qualities in the midst of an election result so horrid for Sanders that we've rarely before seen its like in a two-candidate tilt whose national polling is essentially tied.
A month is a long time; in fact, a month is how long the voting portion of the 2016 presidential election has been going on. So whereas Clinton decimated Sanders among South Carolina voters who decided who to vote for well before the candidates got anywhere near the Palmetto State -- indeed, well before anyone in America, but staunch politicos was paying avid attention to the 2016 election -- among those voters who were actually open to persuasion Sanders lost by the same amount in South Carolina that he beat Clinton by (overall) in New Hampshire. This would be just fine for Clinton if South Carolina's Democrats were more representative of a general-election population than New Hampshire's Democrats; unfortunately, that isn't so.
In 2012, African-Americans made up 13% of the electorate. In South Carolina on Saturday, they accounted for 61% of the electorate. While exit polls in New Hampshire didn't include race as a demographic, 1.5% of New Hampshirites are African-American. So which electorate looks more like general-election America: South Carolina or New Hampshire? The truth is, it isn't close. For that reason, Sanders beating Clinton by 23 points in New Hampshire seems a more promising sign for general election success than Clinton beating Sanders by the same tally in South Carolina among those voters who were persuadable in the month before the election.
3. CNN consistently misstated the composition of the Super Tuesday electorate in a way that dramatically misled viewers about Clinton's prospects.
David Chalian, CNN's Political Director, crowed about Clinton's jaw-dropping success among the African-American community in South Carolina. It was, he implied, a powerful confirmation that Clinton will win all the Southern primaries on Tuesday overwhelmingly. The problem? Anyone listening to the pronouncement would have caught Chalian's funny math immediately; while saying that the Southern primaries boast African-American populations about the same size as South Carolina's (61% of the primary electorate), Chalian provided the following figures:
17% of the Texas Democratic electorate is African-American;
19% of the Arkansas Democratic electorate is African-American; and
30% of the Virginia Democratic electorate is African-American.
Two other southern states (Alabama and Georgia) boast African-American electorates closer to South Carolina's 61%; in both states, 51% of Democratic primary voters are likely to be black.
But whither Chalian's point about Texas, Virginia, and Arkansas? While the mix-up isn't likely to be conclusive on Super Tuesday, as Clinton will probably win all three of Texas, Virginia and Arkansas -- though by what margin is unknown, especially in the first two -- it emphasizes how much less powerful African-American voters are in a general election than they are in a Democratic primary. Seventeen percent of Texas Democrats being African-American a) Suggests that the results in South Carolina actually have little to do with the upcoming results in Texas, and b) Emphasizes that Clinton's strength among African-American voters does relatively little for her in a general election. This is especially true given that no core Democratic constituency, be it African-Americans or Jews or Catholics, would be likely to vote for Trump over (say) Bernie Sanders. In other words, Clinton's electability argument, as made against Sanders, isn't particularly dependent on the African-American vote in South Carolina or anywhere else.
4. John King's "Magic Wall" has dazed him into -- frankly -- incoherence.
More than a dozen times on Saturday, CNN viewers were treated to King using a large touchscreen to convince them that "most of Super Tuesday" takes place in the Deep South. King repeatedly used a finger to draw a line around the Deep South, as though wishing that Super Tuesday would indeed be merely an "SEC primary" could make it so. Here's a list of the states or other voting units that cast ballots on Tuesday but never made it into the geographic zone King identified as defining Tuesday's vote:
American Samoa
Colorado
Democrats Abroad (ex-pats)
Massachusetts
Minnesota
Oklahoma
Texas *
Vermont
* King repeatedly caught just the eastern-most edge of Texas in his finger-swooping, perhaps because he was trying to emphasize states with a large percentage of African-American voters. Texas has few of these, even in its Democratic primary.
If you're counting at home, this list is much longer than the list of states that King correctly identified as holding Democratic primaries on Super Tuesday (Alabama, Arkansas, Georgia, Tennessee, and Virginia). Now here's a list of the Super Tuesday states (and other political units) where Bernie Sanders is polling the best:
American Samoa
Colorado
Democrats Abroad (ex-pats)
Massachusetts
Minnesota
Oklahoma
Texas
Vermont
Notice anything? Yeah, I did too. So did tens of thousands of Sanders voters, many of whom probably felt like throwing things at their television screens on Saturday night.
The point here is not to say that John King is in the bag for Clinton -- as frankly, on a network that nightly manages to put three Clinton surrogates, four allegedly neutral commentators, and one Republican on its supposedly even-handed pundit panel for the Democratic primaries, King is actually one of the few largely objective arbiters -- but rather to note that Super Tuesday is not at all likely to give Clinton the sort of commanding delegate lead CNN is preparing its viewers for. Even if Clinton emerges from Tuesday's primaries and caucuses ahead of Sanders by 150 delegates, more than a third of that deficit could be made up by a strong showing in a single state: the very last one to vote, California. More importantly, if Sanders hangs on to the convention it's almost impossible for Clinton to secure the nomination by winning delegates at the pace even CNN's rosy projections assume. Indeed, on Saturday those projections had Clinton winning in several states where Sanders may well beat her: Maine, Utah, Kansas, Alaska, and either Michigan or Washington.
5. Almost no one has voted yet. No, really -- almost no one has voted.
After Saturday, 4% of all Democratic delegates -- the voted-upon ones, at least -- have been decided. Ninety-six percent of the primary season still lies ahead of us.
More surprisingly, whereas Donald Trump, in winning the South Carolina Republican primary, won fully 4% of the delegates he needs to secure the GOP presidential nomination, Hillary Clinton, in winning South Carolina by nearly five times that margin -- 47.5 points -- received just 1% of the delegates she needs to be the Democratic nominee for President. So when Clinton surrogates leaked to CNN, shortly after the South Carolina results were in, their expectation that the "race will be over" by March 15th, it seemed a little like lunacy. While Bernie Sanders can pack it in whenever he likes, and may one day do so if he thinks it's in the interest of a party that isn't actually his, the more likely scenario is that his presence in the race through May makes it impossible for Hillary Clinton to secure the Democratic nomination outright.
If Clinton is only able to win with the help of unelected "super-delegates" -- a cringe-worthy Pyrrhic victory -- it might necessitate her making Sanders her running mate. Or, something unexpected may go wrong -- Clinton gets indicted; she or Bill in some way reveal their seediness at an unexpected moment (a few more bad-optics run-ins with #BlackLivesMatter protestors might do it); or Sanders simply continues to make progress with Latino voters, who he won in Nevada, or African-American voters, who he can only do better with going forward -- and he actually makes things interesting in April and beyond.
After all, the main thing CNN and its Clinton boosters seemed to urgently stress on Saturday was that South Carolina, whose electorate is in no way representative of either general-election or Democratic-primary voting populations, is in fact an old Democratic bellwether. In actuality, most of the late-voting states have voting populations more similar, demographically speaking, to Iowa, New Hampshire, and Nevada -- contests in which Sanders got closer and closer to beating expectations. In other words, South Carolina, while certainly a setback for Sanders, could as easily be a speed-bump as a landmine.
Seth Abramson is the Series Editor for Best American Experimental Writing (Wesleyan University) and the author, most recently, of DATA (BlazeVOX, 2016).
Popular in the Community