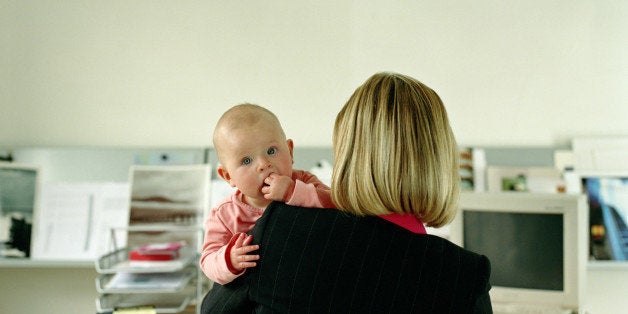 As the primary breadwinner for a family of four with two kids under the age of three, I understand how hard it can be to carve out quality time with your kids when faced with an overwhelming amount of work. Meeting the needs of home, family, work and career is challenging for any working mom.
Over the past two years, however, in the name of quality being more important than quantity, I've set a few ground rules as a mom that I don't break, no matter what's going on at work. Here they are.
Rule #1: Commit to regular, scheduled quality time with each child, come what may.
For me, that's bathtime and bedtime for each kid, separately, every night. Unless there's an emergency or an absolutely vital work event (see Rule #2), I take this precious time with each kid separately every single day.
I stick to this ritual even when I'm overwhelmed at work, and have been known to go back to work online as soon as the kids are in bed. As a result, my kids know that they can count on that special time with mommy every day.
Bathtime may not be your preferred quality time, but whatever you choose, commit to regular, reliable quality time with your kids, and protect that time like your most important meetings or client events, no matter what.
Rule #2: If at all possible, commit to never missing bedtime two consecutive nights in a row.
On occasion, a particularly important work event, speaking engagement or unexpected crisis keeps me away from home at bedtime. However, in my home we have a ground rule: I never miss bedtime for two consecutive nights in a row.
At times, this has meant that I've turned down an event I might otherwise have attended, or taken a round trip flight in the same day to get home in time, rather than spending the night in another city after a full day of work. The cost to me, however, has been far outweighed by what I have gotten in exchange -- including extra snuggle time with my kids, the chance to sing to them as they fall asleep, or a family meal. In the future, it will mean time to help with homework, and hear about the travails of the day.
Finishing our day by connecting with our kids before bed sends the message that no matter what is happening for us at work, that connection is priceless.
Rule #3: Commit to no technology at the dinner table.
We consider family meal time to be precious time to connect in our house. Even if we're all eating breakfast at 6:00 a.m., phones, iPads, and the TV are off until we're done.
And trust me, even the most critical email can wait for thirty minutes while you share a meal with your kids.
Rule #4: Commit to telling your kids about your job, why you do it, and why it matters.
One of the most important lessons I've learned as a primary breadwinner mom has to do with communicating the value of my job to our family. When one of my kids says "no work mommy!" on a given day, I usually respond with something like this:
"I know you don't want me to go to work today, and I understand why -- I love spending time with you too! Mommy is going to go to work today, though, to help women who need support in their jobs and with their families. Because of mommy's job, we get to eat great food, and live in this nice home, and we get to help other people have better lives! Aren't we lucky? And mommy will see you tonight for dinner and bathtime."
This is usually met with nods and smiles, and sometimes follow-up questions. The benefit of this approach is that I'm modeling a happy working mom to my daughter and my son, and reinforcing the benefits that work brings to our family and to the world.
Rule #5: Commit to remembering what matters most.
Remembering what matters most looks different for each of us, but fundamentally it comes down to remembering that our kids and our families are a big part of the point and the reason for our success, even when we're operating at our professional peaks.
Senior executive women are leading the charge here as role models for all of us when it comes to remembering what matters most.
Other powerhouse women I've known and worked with have taken a pause in a major deal negotiation, or even put a deposition on hold, to answer a phone call from a child in need -- and have done so despite a few questionable looks from colleagues. These are women who are remembering what matters most, and if they can do it, anyone can.
Remembering what matters most means knowing that no matter what we achieve in life, those we love are the primary reason why we do it. Staying present for your kids in quality ways whenever you can makes all the difference.
Elizabeth Cronise McLaughlin is a former Wall Street lawyer, an Executive and Leadership Coach, and the CEO & Executive Director of 40 Percent and Rising, an organization by and for primary breadwinner women worldwide. To learn more about Elizabeth, check out www.emclaughlin.com and www.40percentandrising.com, or follow her on Twitter.
Related