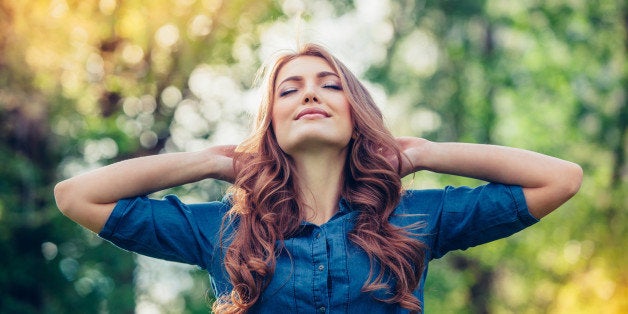 We all have insecurities and doubts that stand in our way. But letting those negative thoughts get the best of us can lead to serious consequences, like depression and anxiety, and even cause problems in our social and professional lives.
Putting aside our feelings isn't easy. Rather than trying to bury those feelings, attempt to incorporate positive actions into your daily life that will boost your confidence and silence your negative inner dialogue.
1. Smile more.
Sure, our expression is usually a reflection of our mood but the reverse effect is true as well. Next time you're feeling sad or stressed out, try forcing yourself to smile in order to alter your emotions (even if you don't feel like doing so). Smiling is associated with happiness so when we crack a smile it can actually lift our spirits and help us manage stress better. Studies have shown time and time again that people who smile are also perceived as more confident and approachable.
2. Turn up the volume.
Music does the mind and body good -- especially when you're in need of a pick-me-up. Athletes have long been known to amp up with some tunes before show time, and now research is backing their behavior with hard evidence. A study done at Northwestern University found that listening to music made participants feel more powerful and confident in their daily lives. Need some power playlist suggestions? Look for songs with a heavy bass, which were found to have the most powerful effect on listeners.
3. Spray on some good vibes.
4. Don't be a loner.
If you're in a bad mood it's totally normal to want to hibernate in your house but spending time with people is a much better cure than ice cream and reality TV. There is a direct relationship between friendships and our health and wellbeing. Those that spend time with friends have an increased sense of belonging, an improved self-worth, and function better when faced with trauma or struggles.
5. Don't let failures drag you down.
You can't change what happened, you can only learn from it. Don't let your failures put you down or impact your self-image. Your worth is not determined by how few mistakes you've made. It is derived from how many times you were knocked down and got up. Use failures as a means to reflect and grow in your personal and professional life.
Related