On March 4, 2016, I wrote about the Health Benefits of Taking a Vacation. These include reducing stress, keeping your heart healthy, and improving your mental health and relationships. But often, when we return from vacation we feel like someone doused us in proverbial cold water.
A WebMD article on how to bounce back after vacation describes post-vacation life this way: "The old routine may feel like the force of gravity after days of weightlessness -- a familiar burden that suddenly feels harder to bear."
To bring back that vacation feeling any time you need a little boost, consider these five "vacation-triggers."
1) Choose a favorite vacation photo as the wallpaper on your computer, the lock screen image on your phone, or the screen saver on any electronic device. UK professor and founder of the European Centre for Environment and Human Health Michael Depledge launched a study in 2012 determining the effects of "blue space", or images of landscape that contained greenery and water. Depledge's team found that people who see water and green landscapes (or who live near the coast) have improved health and well being.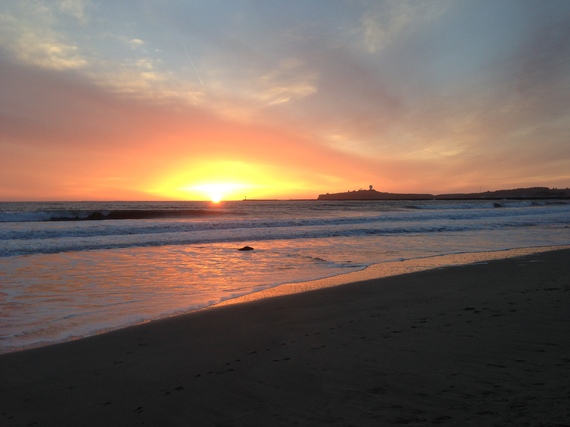 So changing the images on your electronics and gazing at the peaceful places you found serenity or joy will help you de-stress.
2) Bring home those little bottles of shampoo, body wash, and conditioner and hotel soaps. Our senses of smell are closely linked with memory. The Association for Psychological Science and others cite many publications and studies on this subject, and a popular Twenty One Pilots song even references this idea in their song Stressed Out("Sometimes a certain smell will take me back to when I was young...") Your brain will automatically associate the smell of the hotel soap and personal cleansing liquids with the vacation so all you have to do is breathe in the scent to feel waves of relaxation.
3) Listen to vacation-related music. Was your recent trip to Jamaica? Listen to some reggae. Did you car trip the American South? Florida Georgia Line, Lynard Skynard, or Alabama Shakes might be what you need to reminisce. Any time I want to be transported back to my wedding and honeymoon, I put on Café Tahiti's Bora Bora and feel myself transport to the turquoise waters and island rhythm.
4) Read a book set in the location of your vacation. Find a local author whose writing gives you a definite sense of place. The book could be nonfiction or historical; poems celebrating life and love at that location; or a fictional story set in the country, city, or state. A new app called Squirl helps you find story locations. Relive your adventures and stumble across scenery where you can say, "I was there," with a knowing smile.
5) Watch a movie set in the location of your vacation. If you don't know of any movies filmed in Timbuktu or Detroit or wherever you last were, check out Movie Locations. The site lets you search by film title, actors, or by locations around the world. Did you know, for example, that the movie Fargo was filmed in both Minnesota and North Dakota, but not in Fargo itself?
So the next time you are feeling stressed and you want to return to life on the beach or the open road but cannot get away just yet, trigger those memories of calm and vacation. They are just a sight or a scent away.