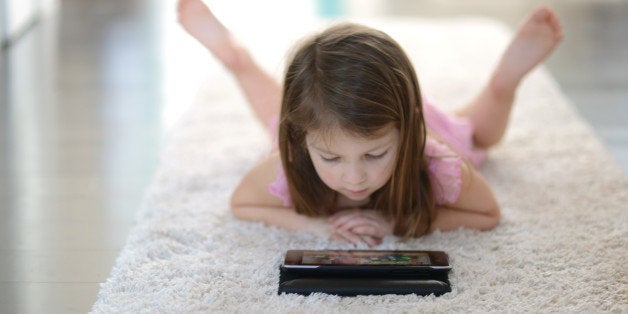 By Jessa Barron, NextAdvisor.com
For whatever reason, kids are fascinated with screens. But allowing your children to play with your electronic devices can lead to deleted contacts, accidental messages, loss of saved work or emails and even unwanted purchases. Apple knows this all too well; in 2013 the FTC required the company to issue $100 million in iTunes credit for unauthorized purchases made in its app store by children playing games on their parents' smartphones and tablets. And more recently, this past December, Google faced a similar lawsuit. Keeping your devices safe and secure is vital these days, especially when your children are using them. Here are five tips for child-proofing your electronic gadgets.
1. Sign out of shopping services
One of the first things you can do to make sure this doesn't happen to you is to sign out of shopping services and any account that stores your credit card information. Even if you close an application or a browser window before handing your device over to your children, these services usually keep you signed in. Signing out every time will help aid in preventing unauthorized purchases. You should also be sure to uncheck the "keep me signed in" box that most websites feature.
2. Use a power strip cover
A surge protector or power strip is ideal for plugging in multiple electronic devices, as it protects against voltage spike damage. However, this can pose a problem if you have children in your home. Children can easily turn off computers by flipping the switch on a power strip or pulling a wire out, potentially causing you to lose any unsaved work. Moreover, open outlets are dangerous for children and put them at risk of electrocution. Fortunately, there are products that cover the outlets and the switch itself to prevent these situations. Just as you would cover wall outlets in your home, using a cover for your power strip is equally important.
3. Set a PIN or password on all your devices
Some devices have an unlock pattern feature instead of a password. While this is easier to remember than a password, it's also easier for children to figure out. To prevent children from accessing your devices, you should set a lock password. Coming up with a strong password is key, and you can read more about how to generate a secure password on this blog post. For further protection, be sure to lock your devices when you walk away from them as well.
4. Use a sturdy case and screen protectors
This applies to mobile devices, tablets, keyboards and laptops alike. Even with password protection, children can do physical damage to electronic devices. Screen protectors help prevent scratches in general, but will also keep screens clean of kids' messy hands. Some of the more durable cases even have shock-absorbing capabilities, in the event that a device is dropped or thrown around.
5. Set up parental controls
Every operating system has built-in parental controls, but these options aren't always enough. If you're going to allow your children to use your smartphone, tablet, laptop or desktop, you'll want to disable websites that you don't want them to see, and prevent them from accessing work emails, banking information and online shopping websites. For more information about which parental control services best suit your needs, read our reviews of the top parental control options.