As you gear up for the upcoming holiday season, you're bound to start re-assessing the impression your home makes on guests. While this is a great time to declutter, you might also be tempted to rethink the decor in a few key spaces in your home. A great place to start your next makeover is the entryway. After all, it's the first space a guest sees when visiting. Whether you're lucky enough to have a grand foyer, or simply just have a little bit of empty wall space to call your "entryway," there are a few ways to revamp this often-overlooked area of your home. Here are a handful of ideas to get you started, from a few of Viyet's top designers.
Idea #1: Go dramatic on the walls.
If you do have the time and budget to completely re-decorate your entry, consider a strong pattern like the striped motif in this entryway by Antonino Buzzetta. The pattern also draws the eye up (all the way to the sculptural light fixture), which makes the room feel bigger and the ceiling seem higher.
Idea #2: Incorporate color through accessories (instead of having to repaint).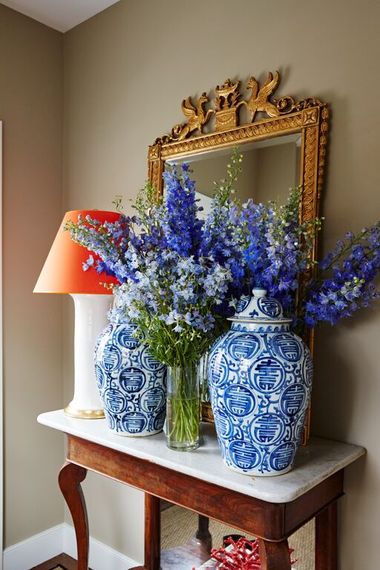 Without the fabulous blue-and-white ginger jars, the armload of blooms, and the white and orange lamp, this vignette by Sam Allen would still be gorgeous in a "timeless neutral" sort of way. But with these colorful accessories, the space has a personality all of its own.
Idea #3: Use a small cabinet to expand storage without sacrificing space.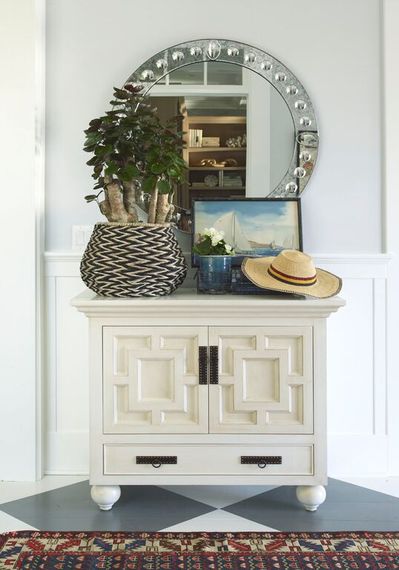 Betsy Burnham uses a smaller-scale white cabinet in this stylish entryway. Its top provides surface space for displaying beautiful pieces, while the doors and drawer help to conceal clutter.
Idea #4: Turn a square foot of space into a "gallery."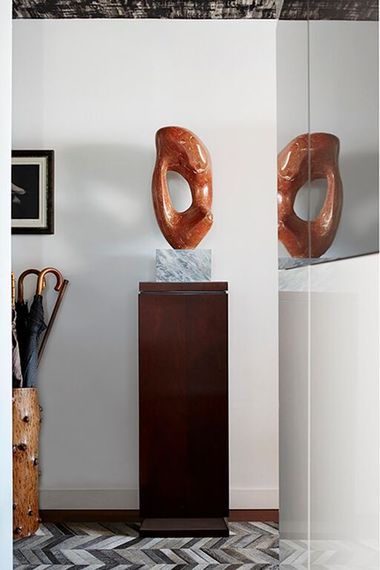 This is a great idea for those who have a beautiful piece of art, or even a decorative object (like a vase) that they cherish. Here, John Eason uses a column to display a great sculpture. The column itself takes up minimal floor space, but the effect is striking.
Idea #5: Bring in a bench.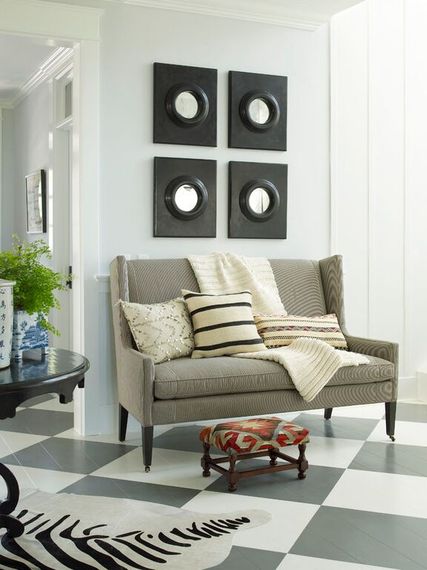 For those with plenty of space, a compact bench or settee makes a welcoming addition to an entryway, like in this design by Betsy Burnham. It provides a surprisingly stylish spot to take your shoes off, and it could also be moved with ease in case you need to clear out the entryway for bigger parties.