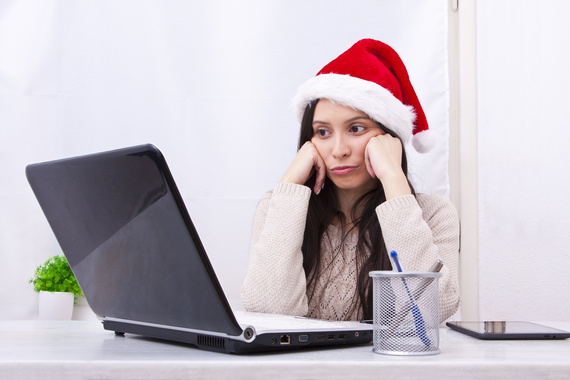 It's a time when many head overseas on merry adventures far away.
For those who stay at home or work through the season, it's a time when we often can't help ignore that others are enjoying the festive season, as our Facebook and Instagram feeds are overflowing with pictures of friends/people we follow flitting around the globe. Be it frolicking in the snow or laying on a beach sipping piña coladas somewhere, it can tend to stir something inside those who wish they too were off exploring this festive season.
Ever the wanderlust lover that I am, I've been on both sides of the equation. That is, traveling and wishing I was traveling at this time of year. The latter experience what I call: "Festive FOMO."
No doubt you have heard of FOMO or Fear Of Missing Out. This trend is common in todays digital age, when often we are so busy creating a life that looks good on the outside rather than a life that feels good from the inside. Appearances can be deceiving and social media posts that we see can make others lives seem like a dream. Therefore adding to a sense of missing out on something.
In order to beat festive FOMO and come out the other side of the Christmas holidays content and fulfilled keep these points in mind.
Have some down time. No email. No social media. I dare you to peel back and get back to basics -- actually connect with people face to face rather than just send them a text or glance at their status and think that qualifies you as being "caught up." Give the gift of your real presence this holiday season. Really disconnect so you can connect, for real.
2. Remember things aren't always as they seem.
From the outside looking in we can often think that other peoples lives are "perfect." This is often far from reality. Keep perspective when being an observer of other peoples lives.
3. Gratitude and remember the grass is greener where you water it.
Rather than comparing your life to others and wishing you were somewhere else these holidays use it as an opportunity to focus on yourself and what you really want in life. Be grateful for what you have in your life. Take in the moments you share with the ones you love. The holidays are an opportunity to be grateful for everything that you have in your life. When we are grateful our hearts swell and we quite literally can not focus on anything but what we appreciate in life. Our focus shifts from one of lack to abundance. Gratitude is also a well documented mood booster. So what are you grateful right now?
4. Use your pangs of FOMO to propel you.
Ask yourself what do you really want in life? And then take steps to go and achieve it. Book that holiday. Tee up that retreat. Take a bit of time off and have a stay-cation at home. Start painting. Move to London. Take up a dance class. Visit Thailand. Whatever it is. Use your pangs of FOMO as a clue of what you want for yourself and then make a plan to achieve it.
Realize that just because everyone else is on vacation in a far off destination doesn't mean you have to be. Airfares and accommodation prices shoot through the roof around Christmas time. The extra money that you have at this time can go towards the trip you are really craving. You'll have more money to spend on a vacation at a time when you wont necessarily have to pay through the nose.
Festive FOMO, much like its precursor FOMO, is based on the fear that you are indeed missing out on something. By following these five steps you'll be sure to ditch festive FOMO this holiday season and focus on what the season is truly about.
Alyce Pilgrim is a mindset coach, speaker and writer at Life On Your Terms. She is committed to helping people to find clarity, confidence and courage to live life on their terms - whatever that looks like to them. Alyce hosts workshops around the world that uplift, inspire and support people to live their best life and speaks on subjects such as tapping into creativity, cultivating courage, goal achievement and bringing your vision to reality. For a regular dose of inspiration and motivation subscribe to her free newsletter, follow her on Instagram or on Facebook.
Related