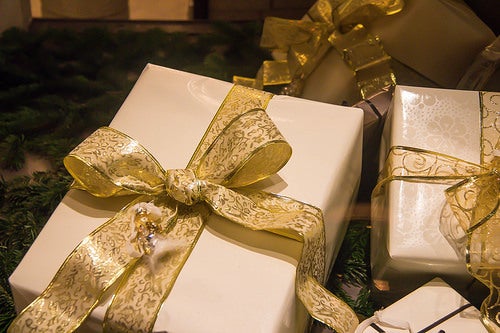 Even if you felt isolated during your marriage like I did, the transition from married to single life could still be jolting. Where you once identified yourself as a wife, you now face a different reality. And that can be overwhelming, especially around the holidays.
With Thanksgiving, Christmas, Hanukkah, Kwanzaa, and New Year's almost upon us, you may be wondering how to navigate family gatherings, office parties, entertaining, and gift giving as a single person, particularly if your financial situation has changed. You may even be tempted to skip the holidays altogether and hide under the covers. Of course, that is always an option, and there is nothing wrong with checking out for a few days or weeks if that is what you ultimately decide. But before you do, first consider my five suggestions for enjoying the holidays, single.
1. Set the stage. The last thing you may feel like doing is decorating for the holidays. If your old holiday ornaments and decorations make you sentimental about the past or bring up bad memories for you, consider changing up your décor by infusing it with fresh decorative elements, ones that reflect the life you envision yourself leading. Sometimes the best way to create a new reality is first to visualize it.
After my separation, I barely acknowledged the holidays – any holidays for that matter. Suddenly my house appeared vacant and lifeless as these important days came and went. In retrospect, ignoring them only made their passage more noticeable and the emptiness I was already experiencing more unbearable. The worst part was my kids saw my apathy, too, and it only underscored the change in our family, silently communicating to them and myself that life was worse not better as a result of my divorce.
Even if I don't go all out like I once used to, I am now conscious of giving special days an aesthetic nod. Flowers, potpourri, or scented candles are only a few of the small steps you can take that won't feel overly intrusive if you are not ready for more. If you do what makes you comfortable, you can never go wrong.
2. Open your door. Now that you have set the stage, it is time to welcome others. One of the positives about hosting is having the freedom to choose your guest list. That way you can surround yourself with only the friends and family members who love and support you. Because you are in the comfort of your home, you have the benefit of being able to step away from the crowd if you need a moment to yourself. You also remain in control, regulating the food you serve, background music, and overall atmosphere, limiting the triggers that make you uncomfortable or sad.
When I was married, I entertained a lot. For nearly a year after I first separated from my husband, I completely stopped, unable to summon the strength even to cook, let alone socialize. About eight months later, my mother asked me to host an upcoming holiday in my house. Reluctantly, I agreed. That year, I ended up cooking dinner for 12 guests. For the first time in a long time, I filled the chairs around my dining room table, while lively discussion and the welcoming smell of my favorite holiday recipes permeated the air, reminding me that my house was still a home despite the fact that I was no longer married.
3. Give. The holidays are the perfect time to say thank you to those friends and family members who supported you through the end of your marriage. Gift giving doesn't have to cost a lot either, so don't worry if money is tight. Cooking a favorite dish, baking, crafting, or giving your time are each sensible options to show your appreciation. There are also many ways to subsidize your holiday gift giving: buy gifts early and in bulk, use coupons, or auction your old engagement ring. With the proceeds, you can purchase gifts for those who have helped you, donate to your favorite charitable organization, or assist those who are less fortunate. The old adage that it is better to give than receive still holds true, even after a divorce.
4. Receive. Open yourself to the possibilities that your new, single life can bring. Allow others to give to you. Especially during holiday time, people tend to reach out to those in need, whether financially, emotionally, or otherwise. There is no shame in accepting a kind gesture from a friend, family member, someone in your community, or even a stranger that could potentially make your day or life better. You would do the same for them, wouldn't you?
5. Be present. There is no denying that the holidays are about looking back and reflecting on all we have to be grateful for. However, the holidays are also a time to live in the present and be present, whether you are living one second, one minute, one hour, or one day at a time. The point is, simply, to live. Remember, "[y]ou only live once, but if you do it right, once is enough." –Mae West
REAL LIFE. REAL NEWS. REAL VOICES.
Help us tell more of the stories that matter from voices that too often remain unheard.
This post was published on the now-closed HuffPost Contributor platform. Contributors control their own work and posted freely to our site. If you need to flag this entry as abusive,
send us an email
.