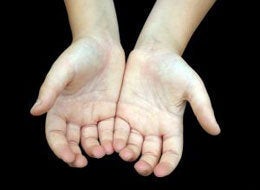 Is Thanksgiving catching you between a rock and a hard place, emotionally? Here are five ways to feel thankful (or thankfuller, if you're already into the T-zone), fast.
Each technique is named for the person, organization or canine who introduced it to me. Thanks to all of you, and happy Thanksgiving.
1) Write a Jen Macaluso Gratitude List: Open a new document on your computer, or grab a pen and paper. Jot down ten things you're grateful for. Big or small. Weighty or silly. You can keep the list as a daily diary, or connect with a group of friends to exchange gratitude lists daily. The process is quick. The uplift is incredible.
2) Take a Thich Nhat Hanh Bell Breath: In his live meditation workshops, Thich Nhat Hanh and his monks ring a small metal bell to draw awareness back from the hassle of the day to the simple beauty of the moment. At the end of his weeklong workshop, Thich Nhat Hanh offered a way to keep this thankful attitude toward each moment alive. The next time your phone rings, don't race to answer it. Let it ring three times, instead, using each ring as a "bell"-like invitation to breathe in and out, calming the body and allowing the mind to connect with the simple beauty of the moment on tap.
3) Give a Deepak Chopra Compliment: You're broke. You're stressed. You forgot to bring a hostess gift. You're fine. In The Seven Spiritual Laws of Success, Deepak Chopra invites readers to bring a gift to every situation by offering a compliment to everyone we meet in the course of a normal day - or holiday. The effect of giving, as he so rightly writes, is simple, profound and cumulative. Compliment the day, your fellow diners, the food at Thanksgiving and see what happens. With apologies (and thanks) to The Beatles, the joy you'll make will be equal to joy you'll take.
4) Follow The Street Signs: Credit for this fast path to thankfulness goes to the DMV, an organization that doesn't get too many thanks, normally. (Which is what makes this exercise so valuable in a harried-gotta-get-thankful-fast kinda way.) Thanks to basic training, drivers know to stop their vehicles at the red octagonal signs along the road. See each Stop sign as a mental invitation to Stop (freaking out, stop worrying, stop hurrying, or, to put things in a more positive context) - and chill out as well, look around for something you might have overlooked - a natural beautymark - before driving on.
5) bb Your World: If you're lucky enough to live with a pet, you're probably well-versed in this act of simple thankfulness. But if not, you're welcome to borrow mine. bb, my Brooklyn-born turned Rocky Mountain bichon, embodies thanks in fuzzy motion. Her approach to life (as far as I can translate it, and okay, if even I'm projecting upon it) is a blend of curiosity, delight and affection in the most ordinary and extraordinary situations.
Earlier this year, the beeb and I shot a photo that we used as a thank-you note to her puppy eye surgeon. "How did I see without you?" the photo's caption reads. I've kept a copy on my desk ever since. Her look, head titled, eyes bright, strikes me as Thanksgiving appropriate as well. (If I can figure out how to post it, I will...)
I'd love to hear your tips and steps for turning pre-holiday stress into fast-thankfuls. Happy holidays and thanks from me and beeb to you and yours.