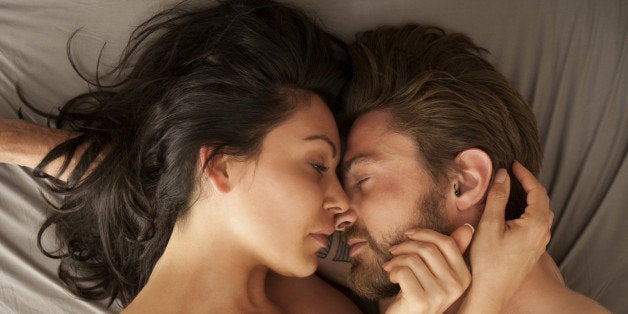 About two years ago, when I was staying with my then-boyfriend in Brooklyn, I hopped on his computer for some crucial online endeavor, like consulting photos of perfectly-poached eggs, and was greeted by several open browser windows, the most memorable of which was a shot of a redhead's ass that I swear you would need pliers to capture. After staring at the screen for a moment and noting the names of the clips in particular (involving lots of prepositions and body parts), I clicked the windows closed, because I felt like I was -- and I was -- intruding on his privacy.
I mentioned it to him in a jokey sort of way, ribbing him for his proclivity for particular orifices or scenarios, and so forth. In my mind, having indulged in porn myself on occasion, this was an attempt, albeit an awkward one, to open a dialogue. But in the following months, I noticed him furtively taking his, or on occasion my, laptop into other rooms, and returning with a wiped-clean browser history. The thing was, I wasn't angry at him for watching porn -- I was hurt that I was excluded from that part of his life. But in hindsight (and not just the kind that I experienced intimately with the redhead), I see that we allowed embarrassment in an interest in porn (on his part) and the threat that it represented (on my part) to drive a wedge of secrecy and shame in our relationship.
My experience is so common that there are innumerable articles online along the lines of "How to talk to your partner about porn." Unfortunately, the tenor of many of them is more geared toward how to stop your (usually male) partner from looking at porn. This reminds me of abstinence-only sex education. We humans are unfortunately largely powered by our baser instincts, and while we can control them to a degree, I find that as a woman seeking love in a heterosexual context, this approach is -- at best -- unrealistic. More likely, it's counter-productive, leading to lies, deceit and bafflement regarding your boyfriend's newfound interest in showering with his laptop.
Now, some of you ladies may be saying: "But I love porn! Don't perpetuate the notion that women are pearl-clutching prudes with suffocatingly narrow conceptions of healthy sexuality!" To that I say, keep calm and carry on. Vivid Entertainment thanks you. But it's more complicated than that, isn't it? We have the vast capacity to both love and fear things, to be both titillated and disgusted, to be excited and threatened, angry and liberated and so forth. Human sexuality is complex. And porn is a facet of it that still incites ambiguity in me -- I don't have it all figured out. So, in the spirit of exploration, I've decided to share some strategies that I learned from that relationship for how to find peace in the T&A-laden world in which we now live.
1.Face reality: The worldwide Internet porn industry is worth about five billion dollars. Despite our Puritanical beginnings, America is the #1 producer and consumer of pornography. There are 40 million regular consumers of porn in America. While porn site visitors are largely male, about 1 in 3 visitors are female. I offer these numbers because it's worth acknowledging that porn has become endemic in America. And further, the people who consume porn aren't fringe perverts, they are our friends and neighbors and colleagues and children and lovers (and ourselves!). The industry, like any, exists to make money, not to poison our relationships or warp our husbands. Vilifying the consumers of it, especially those with whom you share a bed, doesn't help, and while some types of porn (child pornography certainly) are despicable and criminal, if we treat this whole sector of our society less like a monster under the bed, it seems to me it might become less scary.
2.Do a self-inventory. Ask yourself, "Did those stats freak me out?" Are you horrified and disgusted? If so, figure out why. Does it have to do with a conservative religious upbringing, memories of childhood sexual abuse or a more innocuous, but nonetheless disturbing, encounter with porn in the context of a relationship (like mine)? Is it the prevalence of smut itself that bothers you, or does it conjure up bad feelings because of history? Maybe you can find a way to separate the thing itself from the association. In other words, to understand pornography in a different context: as a pleasure in which some people indulge, sometimes to excess (like alcohol or chocolate), but not a necessarily evil one. Consider this in terms of your partner's attitude toward porn, and if you don't know what that is, ask him or her.
3.Figure out what kind of relationship you can comfortably have with porn. We've established that porn is part of our society, whether we want it to be or not. But simply because it exists does not dictate how you, in or out of a relationship, must relate to it. I have realized that I can only be comfortable with porn-watching (on my partner's part or mine) if it isn't a secret -- if we can laugh about it, reference it or maybe watch it together occasionally. That is me. If it has been a malignant force in your life: your ex was addicted to porn, you had a harrowing experience in the industry and so forth, then be true to that experience. You can be open and frank with current or potential romantic partners that for you, there isn't a place for strange (online) bedfellows in a healthy relationship. There is a way to express this without judgment or condemnation. Maybe you are curious about your own and your partner's fantasies and desires as expressed via porn. Talk about it. In my experience, conversation is the best foreplay. And finally, do you have a potential porn addiction that is complicating your relationship? Be honest with yourself. As this becomes a more commonly acknowledged problem, like alcoholism, it begins to lose its stigma. Like any addiction, sexual addiction can gnaw away at trust and eventually erode a relationship. If you love someone, don't allow fear or shame to prevent you from getting help: a computer screen is no substitute for a human being.
4.Take action. After taking a candid look at himself and his relationship, a male friend of mine made the choice to eschew all porn -- and he's said his sex life with his girlfriend has gotten exponentially better. I have found that this is often true, in the way that eating Taco Bell before a lobster dinner may spoil things (and yes, in this analogy I am a lobster). There may be a time for both, but acknowledge if you are choosing one over the other. If the idea (of porn, not Taco Bell) doesn't turn your stomach, consider if there is a place for porn to enhance your relationship. Just as you would try out new recipes, explore new museums or movies, exploring sexually is an avenue to better engage and understand your partner. Maybe it could open up a window in your sex life to something interesting. And if that doesn't happen, you probably at least could share a laugh at oh-my-God-Becky-did-she-really-put-that-THERE?
You don't have to play a passive role, allowing it to act on you, whether that is through a fear of it or obsession with it, or more likely, some middle ground. Do you and your partner honestly feel that the sex industry is leading to the breakdown of the family unit and turning teenagers into sex-crazed maniacs? Then by all means, do something! You can better educate yourself in terms of sectors of the sex industry that are worth crusading against. Unicef and other organizations offer ways to join the fight to stop sexual violence against children. Likewise, If you are or your partner in the throes of a porn addiction, you can get help. Most importantly, talk. While we have evolved toward a much more open discourse about our STD status, our drug and alcohol habits, our relationship with food, our issues with family, even our most intimate health problems, porn somehow remains taboo. It is one of the last vestiges of shame in our society, and shame is a powerful weapon against fruitful dialogue and healthy relationship growth.
5.Acknowledge the fantasy. At the end of the day, the porn industry is one built on human fantasy. Besides the secrecy, part of what upset me about what I saw on my ex-boyfriend's computer was that he was indulging in fantasies I didn't feel prepared to or capable of making reality, for various reasons. When our partners seek out pornography featuring people of different ages, builds, races, genders (OK, that one's a little more complicated), and so forth, than our own, we are threatened because we cannot provide that experience. But studies and experts argue that superficial qualities are not ultimately what motivate us in selecting a partner. In short, our partners don't choose us for our superhuman endowment or sexual endurance; they choose us for our intelligence, our humor, our generosity - our spirit. Human desire is far-reaching, and none of us -- not Jenna Jameson or anyone else -- can satisfy every single one of our partner's desires. Just as we cannot be a wife, mother, psychologist and teacher to one person, we also cannot be his (or her) naughty French nurse, Japanese schoolgirl, ravenous MILF, bisexual blonde twins, etc. Well, maybe with brilliant costuming and an admirable imagination. But in short, we are human and should not feel inadequate for human limitations. Porn actors are paid to play at being superhuman, and they have a team of makeup artists, lighting experts, directors and so forth to keep up that fantasy. Of course, there are amateur films too, and in my experience, they reflect much of the physical flaws and bodily awkwardness that goes into real sex. Regardless, acknowledging that pornography is an outlet to indulge fantasy, and isn't a criticism of the viewer's reality ("Joan's a great mother and all, but I think I'd be happier with this hairless sadomasochist in a body stocking"), can help you find solace in your physical limitations. And couldn't it be a positive thing that we can explore fantasies in this way, without real-life repercussions of trying them out?
Now, as it turned out in my relationship, we had bigger problems than the Brazilian Barely-Legal Slut Sleepover. But it did teach me a few things about how to traverse confusing sexual territory: with sensitivity and nuance. Porn can have a polarizing effect, and has at its worst has made me question the possibility of finding a faithful partner in this age and at its best offered an entertaining Tuesday afternoon. Both of those feelings are legitimate. I can both be grateful to live in a country where women are free to express their sexuality in nearly any capacity they choose, but I also can call shenanigans on the charlatans who call self-exploitation new-wave feminism. I can be turned on by a sex scene and also consider the problematic message it sends about female objectification. There is room for ambiguity. I find that treating one's body with care, respecting its abilities and limitations and being open with your partner when it comes to discussing sexual appetites all lead to a general sense of peace with one's sexuality. A healthy relationship with porn mimics other facets of a healthy relationship: honest dialogue, a sense of humor and an open mind. Just don't let it become bigger (Hotter! Longer! Faster!) than it is. The monster under the bed isn't so scary when you invite him up for a chat.
Related
Popular in the Community