Time is the most precious thing we have in this world and it's the most valuable currency of life. Our time in this world is short, and our time as parents with our children is even shorter. Children grow up really fast and the window of opportunity for family travel gets smaller as they grow older.
But how can you actually find the time to travel for two weeks or even two months at a time, when children still need to be fed, and your careers still need to be maintained?
Let's look at some of the ways you can incorporate family travel into your life:
Travel for work. Bring your spouse and kids along and enjoy down time together, outside of work responsibilities, to see and enjoy the destination you're at. Plus, you'll most likely be staying at a nice hotel and all you have to worry about for extra expenses are flights and shopping.
Travel while working. Are you able to work remotely? In this day and age, most of us can afford to telecommute for at least a week or two. Do your work during the day and have the rest of the day to spend with your family, wherever you are in the world.
Travel on long vacations. Most people have about 15 days off from work per year. That is three full weeks of PTO (paid time off). Add-on compensation days, sick days, and holidays, and you could possibly string together more than a month off from work. Sadly, most Americans don't use all of their PTO days every year, mostly because of guilt. Not having the days off isn't the problem, it's the stigma of taking too long a break from work that people worry more about.
Travel when you're in-between things. Have a new job offer in-hand? Delay your start date so you can take a few weeks off to travel with your family. Recently laid off from your job? Use your severance and free time to travel for a bit. You can always apply for jobs online while you travel.
Travel for months of family time. Take a half-year sabbatical or take a gap year. We've done both. Before the kids get too old, this might be your one and only chance to really travel with your children. Would you regret not going on the trip? If so, then you probably should go. You can always come back to your normal life at home and career when you get back.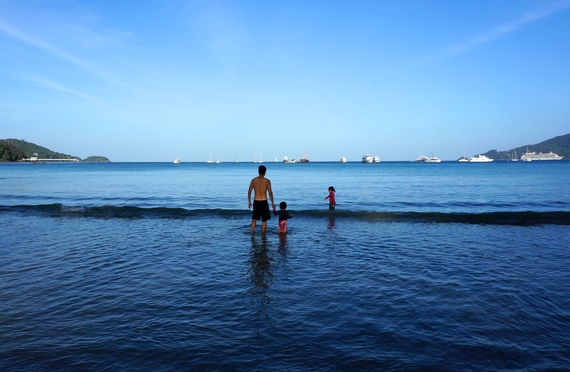 As long as you're flexible and open to change, you'll be able to create the time needed to travel together as a family. The moments you'll share together as a family while traveling will trump any sacrifices you make to travel together. Now it's up to you, as a parent, to find the time to make those moments happen.
Cliff Hsia is a father who is determined to live a better than normal life by traveling the world, slowly and purposefully, with his wife and two young daughters. He's currently on a gap year of world travel with his family. He writes about travel, family, love, happiness, faith, and everything else that life throws at him.