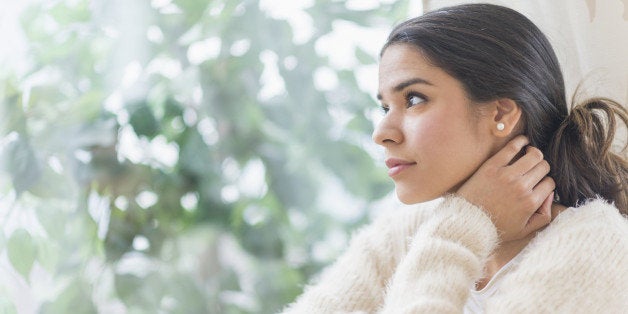 If you told me on my wedding day in May 2014 that I'd become a 34-year-old caregiver in a few months, I would've told you to lay off the vodka! I'd just gotten married that month to the wonderful guy I'd been with for seven years. We'd moved from Toronto seven months prior, and I was working hard to establish my health and wellness business in a new (and small) town. I was the farthest I'd ever been from friends and family but finally starting to enjoy quiet country life.
Then, my husband had a stroke that nearly killed him, despite taking medication.
It was, in fact, his third stroke that year, but the last one in Aug 2014 was the one that left him paralyzed on his left side.
In one moment, things were perfectly fine: checking our emails and winding down before bed. The next moment, my husband, who didn't know he was having a stroke, was being rushed to a hospital 45 minutes away in an ambulance, with me by his side.
I drove back and forth from the hospital everyday for three months. At one point, about four days in, I was told by the doctor that he had 48 hours to live and would never walk again if he did pull through. That was the point I knew my life would be changed forever. That was the point I realized that life was truly finite. Thankfully, he did pull through, and I watched him learn to eat and, slowly, walk again.
But, as he recovered, I had to jump from one crisis to the next. Within a couple of months, I had to buy a new car and find a new place to live in a new town (even farther from friends and family). By the time he was discharged from rehab, I felt completely untethered. I didn't know what I wanted to do or who I was now that I was transitioning into a new role, my "new normal." Now, I'm running a completely new business and am enjoying life more than I thought I ever could! Below are 5 questions that guided me back to myself:
1. Am I giving myself space to process?
When life takes a U-turn, it's easy to drown yourself in "stuff to do" and distractions. Oftentimes, you do have to keep the workflow going, especially if the crisis requires you to dip into your nest egg. But, carving out some "me time" will provide the space you need to process, heal, and rebuild the life you truly want.
2. Am I asking for help when needed?
A lot of us love the idea of going it alone, of doing it all by ourselves, particularly when our view of our "perfect" life crumbles. Sometimes, delegating and having to ask for help feels like we're losing control, but support may actually help us regain a feeling of control and joy quicker. If you don't know what kind of help to ask for, having an open and honest conversation with someone who cares about you will help your needs surface.
3. How can I view "the unknown" as an opportunity?
As a Type-A, this was the hardest for me to grapple with after my husband's stroke. The necessities were taken care of, but worry and fear-filled thoughts still flooded my system. With help and after about six months, I started to view limbo as an opportunity to explore things I've always wanted to try. Trying new things can actually bring clarity around what's missing in your life and what brings you joy. It was being open to and embracing the unknown which ultimately led me to start a new business!
4. Am I being kind to my body (and myself)?
Stressed? Bring on the carbs and sugar! If you're like me and load up on unhealthy foods when you're stressed or your self-esteem has taken a nose dive, try adding exercise or stress-reducing activities to your routine like painting or singing at the top of your lungs in the shower! Grab a good friend for a stroll or coffee if you need that extra push to keep the joyful version of you in mind.
5. Am I taking and celebrating baby steps?
When you're out of your comfort zone or your element, you'll most likely want everything to "get better" in a short period of time. Things rarely work out that way, and thinking otherwise will cause you to feel defeated pretty quickly. Big changes take planning, action, and time. Map out where you want to be in six months or a year, break down larger steps into baby steps, and celebrate each and every milestone to keep yourself motivated. If you don't know where you want to go, start with the things that pique your interest, and the answers will come to you if you welcome them.
It is possible to find yourself again and rekindle your joy when life takes a detour. Above all, it's a chance to shed unwanted layers, let go of what no longer serves you, and highlight the things that truly make you happy. Life ending up in a different place than you ever imagined can have a happy ending!
HuffPost's GPS for the Soul app is based on two truths about human beings. First: We all have a centered place of wisdom, harmony and balance within us. Second: We're all going to veer away from that place, again and again and again. What we need is a great course-correcting mechanism -- a GPS for the Soul -- to help us find our way back to that centered place, from which everything is possible.
Because no one knows better than you what helps you de-stress and tap into that place of peace inside yourself, it's important for you to create your very own GPS guide -- a personalized collection of whatever helps you course-correct. Email us at GPS@huffingtonpost.com and we'll set you up with your very own HuffPost blogger account to share your guide on the site. If you're already a blogger, we encourage you to upload your personal guide today. We can't wait to see what you have to share.