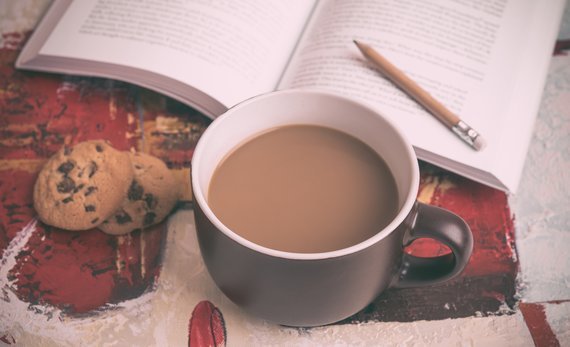 The aisles of all the local stores are packed with binders, dividers, lined paper, composition books, pens, pencils, crayons, and markers -- new school supplies for a fresh start.
The beginning of the school year has always represented a fresh start to me, more so than the new year. I have always loved the shift out of the expansive and free flow that the summertime energy offered into a time of routine and structure that the beginning of school and Fall brings.
When my daughter graduated high school this passed June, I graduated out of the tribe of mothers counting the days until school starts. With that, I graduated from a way of life, as well. This is the first year that I don't have children at home to guide me back into a more rhythmic way of life; now it's time to for me to navigate this shift myself.
So, whether you have children beginning school again this year or not, take advantage of this shift in the seasons to get yourself back on track to be able to finish the year with the intention you held in your heart at the start of the year.
1. Re-Ignite Your Intentions and Resolutions
What seeds of intention did you set at the beginning of the year? Have you followed through with those or your New Year's resolutions?
This is not a time to be hard on yourself; this is just merely a time for some simple reflection. Spending some time delving into why those intentions or resolutions were made gives you a chance to decide if those things are still important to you and, if so, why. Now pull out your calendar and give yourself some time commitments to work on the intentions that still mean the most to you. Intentions + Action = Manifestation. It is time to take action in the last part of the year so that your seeds of Intention can flourish by the end of 2015.
If you aren't guided into more routine this Fall by the upcoming school year, how can bring more routine and rhythm in your life?

Is there something you loved about the school year in the past that you can bring into your life now? What rhythms and routines did you let go of over the summer that you need to embrace again this fall? As one of my favorite business mentor, Marie Forleo, says, "If it's not scheduled it doesn't exist." Take a few moments and schedule your days and weeks to bring more routine in line with your own natural rhythm.
What things that bring you immense joy did you let go of over the summer that need to be re-ignited this fall?
Make a list of the things you love to do most in life, with a focus on creativity (whatever that means to you), since it's the perfect time to stock up on art supplies with all the back to school sales. Now take your list and your calendar. Schedule time to do the things you love the most in life at least once each month in Sharpie. If you write it in Sharpie (or the equivalent in your digital calendar), you are less likely to schedule over it later. Make this an act of Self-Care NNT (non-negotiable time). We live in a society that is over-scheduled, so let's use that inclination to over-schedule to build in down-time and use that time to listen to our inner voice and to create magic in our lives.
4. Set Your Priorities Straight
What are your priorities this fall?
As the seasons change throughout the year, so do many of our priorities. This fall, take a moment and make a list of your top 5 priorities. Is it time to start nourishing your body more deeply, going to bed earlier, spending more quality time with family, or carving more time out for yourself? Looking at your calendar, what activities that are already scheduled don't match your priorities? What can you politely say no to or reschedule for later in the year? After you clear out your calendar a bit, then go through and schedule time for your priorities, whatever they may be. And any future event, invitation, or opportunity gets accepted or declined based on your new set of priorities.
5. Start Your Morning Off Right
From the moment you open your eyes, are you starting the day mindful and focused on how you want to feel in the day ahead?
Beginning the day, slow and intentionally, can change the entire feel of day. Find your natural morning rhythm and weave in some of your priorities and joys. Each morning, think about your day ahead. If you were the creator of your own universe, how would the day ahead go? In an ideal magical world, how would the day play out? What would the prevailing feeling be in your day? Hold that feeling in your Heart and in the front of your mind, as you begin to move through your day and see what a difference a day can make when you start your mornings off right this fall.
My wish is that this fall you feel Ignited to take deep, nourishing care of yourself while embracing your natural rhythm to be productive with ease, and that you get some inspiring things done.