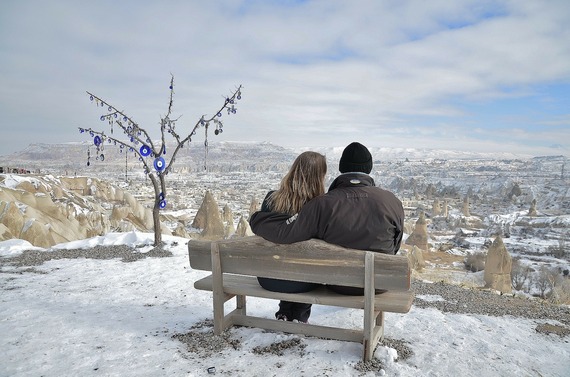 We were recently introduced to the awesome Norwegian word koselig, which means a sense of coziness. According to a Fast Company article, koselig is "like the best parts of Christmas, without all the stress. People light candles, light fires, drink warm beverages, and sit under fuzzy blankets." And according to recent research by a Stanford PhD student, koselig is how Norwegians make it through the period from late November to late January, when the sun never makes it above the horizon. Instead of bemoaning the season and succumbing to Seasonal Affective Disorder, Norwegians make the most of the cold and the dark.
And it's not just the Norwegians. Gezelligheid is the Dutch equivalent. Here's what Wikipedia has to say about that word:
A Dutch abstract noun (adjective form gezellig) which, depending on context, can be translated as convivial, cosy, fun, quaint, or nice atmosphere, but can also connote belonging, time spent with loved ones, the fact of seeing a friend after a long absence, or general togetherness that gives a warm feeling.

The only common trait to all descriptions of gezelligheid is a rather general and abstract sensation of individual well-being that one typically shares with others. All descriptions involve a positive atmosphere, flow or vibe that colors the individual personal experience in a favorable way and in one way or another corresponds to social contexts.

As this is a very vague and abstract notion, the word is considered to be an example of untranslatability, and is one of the hardest words to translate to English. Some consider the word to encompass the heart of Dutch culture.
Also in that neck of the woods, the Danish word hygge is very similar in meaning (etymologically, it's related to the Dutch word heugen, which means to remember). And the German word Gemütlichkeit and the Yiddish word heimishe both imply coziness and comfort.
So how can you get koselig this winter? Here are ten ways to get koselig it with a loved one; we'll follow up soon with advice on how to get koselig if you missed cuffing season and ended up single for the winter months.
1. Do the C.A.T. Under the Covers
Reverse Cowgirl position leaves too many body parts exposed; instead, take advantage of your partner's body heat and work on the Coital Alignment Technique, which is kind of like missionary position except with an extra-large dose of body contact. Here's your step-by-step guide.
2. Go Sledding Together
And we don't mind a sedate, grandmotherly slope. Find the steepest, baddest hill you can -- the one where all the local high school kids go to sled -- and be brave. The adrenaline rush will keep you warm and also jump-start a possibly sluggish winter libido. Bonus points if you share a sled and hold on tight to each other.
3. Binge on The Bridge Together
And we don't mean the crappy American version, which will just make you want to fly to Mexico for some sunshine. No, we mean the original Danish version, on Hulu (free if you don't mind the ads). The suspense will give you an excuse to cuddle, and you'll be reminded how stylish winter can be in the Nordic countries.
4. Make Cassoulet for Two
This traditional French dish, made in a Dutch oven, will make your entire house smell divine and cozy. Serve it with a hearty red wine and a crusty baguette, and, hey presto, it's a winter date night. Here's a great recipe. For vegetarians, make a gourmet mac-n-cheese instead. After dinner, warm up with a Hot Toddy cocktail -- or, if hot drinks aren't your thing, try a Penicillin, which is an incredibly delicious chilled version (plus all that ginger in the Penicillin is good for what ails you!).
5. Get Matching Robes
Wearing matching sweaters in public is kind of weird and may cause teenagers to throw rock-hard snowballs at you. But wearing matching robes in the privacy of your own home? We won't tell if you won't. Stay naked underneath your robes so you can tease each other with flashes of skin while reading the New York Times in front of a roaring fire. We like the hooded sweatshirt-style robes by L.L. Bean -- for him and for her.
Calling all HuffPost superfans!
Sign up for membership to become a founding member and help shape HuffPost's next chapter