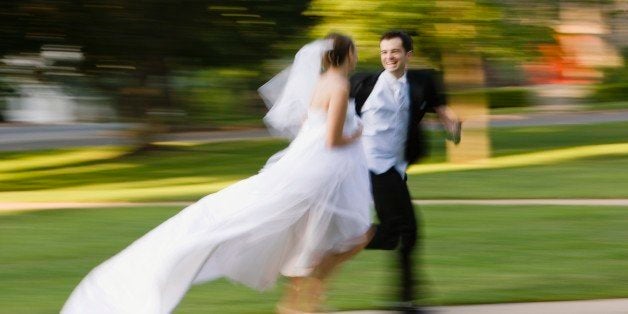 By Cindy Pearlman for GalTime.com

First comes love, then comes wedding planning! And now-a-days, green weddings are becoming more en vogue as we become more eco-conscious. "A green wedding goes hand in hand with the idea of marriage," says Kate Harrison, author of The Green Bride Guide, the nation's leading resource for green wedding ideas, products and services about how to be more eco-friendly. "It's about a long-term sustainable future together, and to kick that off with a bunch of disposable items feels contradictory to me."
So what can brides do to be kind to Mother Earth? Well, you don't have to wear a dress made out of oats or offer a cake made out of raw sprouts! "But you can be aware that every single part of a wedding has many eco-friendly alternatives, from rings to your honeymoon," says Harrison. Here are 5 ways you can go green as you plan your special day.
1. Save trees with your invitation choice.
The easiest way to go green is through the invitations. "You can do a digital invitation for casual weddings to a high end couture invitation on recycled cotton," recommends Harrison.
2. Pick a centrally-located venue.
The idea here is to cut down on wasting fuel. Choose a venue that does both the wedding and reception so guests don't have to drive to more than one location. You should also make the venue central to a majority of guests rather than wasting fuel to fly them in, suggests Harrison.
3. Opt for fresh local food and flowers.
Food and flowers are two of the biggest wedding expenses, according to Harrison. "First, find a caterer who will do as much local, seasonal and organic food as possible," she says.
You can only suffer through plastic chicken and dried out salmon so many times. "Offer something regional," says Harrison. "At my wedding, we had local, grass-fed beef and it was amazing with mushroom soup and roasted root vegetables because our wedding was in the fall," she recalls. "I went to a wedding in Maine where we had Maine lobster; a Southern wedding, we had barbecue." Fresh, local food is something your guests will always remember.
As for the flowers, she cautions against ordering roses from another state or country. "Most of the flowers in the U.S. are imported and covered in pesticides," she says. "The key here is to use what's available in your area. Those flowers are fresher, often less expensive and smell better." Harrison went one better at her wedding. "We bought our flowers from a local farm," she says. "All the flowers for our wedding cost $200 and then we had a local florist come in and do the arrangements. We saved thousands of dollars."
4. Consider an eco-friendly gown.
"The dress is personal, but you should be aware that there are eco-friendly designers out there," says Harrison. You can also look for a once-worn dress or recycle and donate yours after the wedding. "I donated my gown to Brides Against Cancer, which is a great place to buy a gown, too," she says.
5. Give out useable favors.
For your wedding favors, Harrison suggests edible ones or even something that can be planted. "Pick something people will actually use, so it doesn't end up in a garbage fill someday. That frame with your name on it will be tossed out," she says with a laugh.
Cindy Pearlman is the co-author of several beauty books including "The Black Book of Hollywood Beauty Secrets," "The Black Book of Hollywood Diet Secrets" and "The Beauty Cookbook."
Related