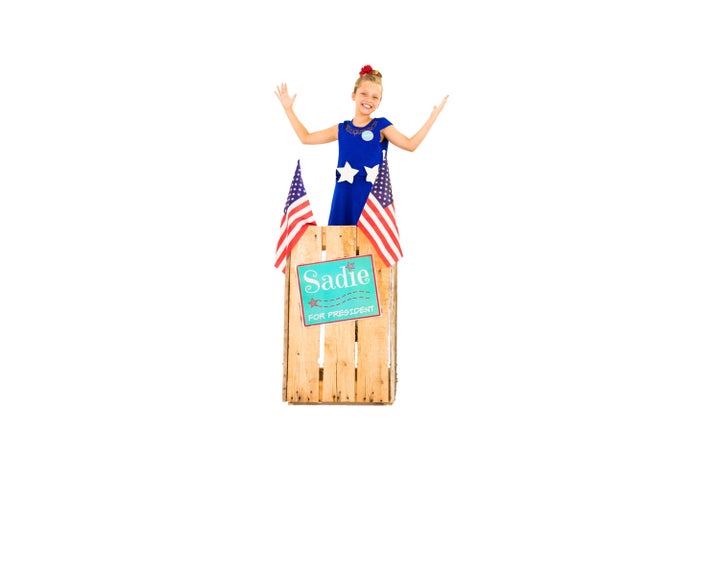 Raising the next generation of women leaders is important work, as we strive to achieve equality in the work force and grow the number of women leading from elected office. Building essential skills and opening doors to leadership opportunities can begin as early as preschool. Here are a few fun ways to help today's girls harness the courage and confidence it will take to set their leadership goals high and achieve.
1. Help her envision herself as a leader.
Start the leadership conversation early. Ask her questions to help her explore her opportunities, like the time-tested favorite, "What do you want to be when you grow up?" Celebrate her career ideas and help her think of new ones too. Explain that she already has leadership qualities like courage and persistence, and that she can start now building all the skills she needs to become successful and achieve her goals.
When you find her seeking solutions, remind her that problem solving is an important part of leadership. When she shows patience and focus, reinforce those too. Help her understand her skills and start honing them. Last, but not least, talk proudly about your own leadership. Kids are well-known for modeling behavior. Be sure to point out your own positives and let them see you in action.
2. Encourage her to express her opinion.
Sharing an opinion with confidence requires practice and reassurance. As she grows and enters new experiences, continued reassurance is essential. Ask for her opinion on a routine basis and thank her for sharing it. Encourage her to make public speaking part of her playtime, whether that involves being the teacher when playing school with friends or lining up her stuffed animals to offer a speech or presentation. Remind her that her opinion is important and should be shared, and that listening to others offer their opinions is also part of being a good leader.
For practice outside of the home, invite her to join in the conversation with other adults when possible. When you run into a friend at the store, ask her to tell that friend about a recent experience or something she's looking forward to. Validating that her opinion matters not only to you, but to others, is a great kickstarter to building a confident leader. It will help her speak up in school and in her future career.
Ask for her help and offer her a job title. Teachers leverage this in the classroom, assigning roles like "line leader" and kids swell with pride at the opportunities. So, redefine chores a bit. Instead of asking her to "feed the dog," tell her she has been promoted to "Puppy Patrol Leader" with responsibilities including filling the food and water bowls and making sure toys are picked up off the floor to protect puppy. Celebrate her job successes and help her see that her leadership is needed to make this important part of the family function properly. Offering her first title can also lead to fun and important exploration of the different job titles she may want to hold as a grown up.
4. Help her get comfortable with asking for support.
Finding success as a leader means being able to rally the support of your team. One of the best opportunities for a kid-driven project is helping out a local school or non-profit organization. Tell her about the different groups doing work in your community. Then, encourage her to take the lead on a project to support that work.
Collect canned goods from neighbors and friends and donate them to a local food pantry. Host a lemonade stand and donate the proceeds to an animal shelter. Organize a schoolyard cleanup. Make it a project she can lead (or co-lead with you), asking her friends for help designing signs, asking adults to support the project, and delivering donations to their final destination. Help her understand the impact of her work and ask her how it felt to lead the effort. Projects like these will require some parental support, but the leadership rewards are worth it and you'll build fun memories along the way.
5. Help her ignore the fear of making mistakes.
Making mistakes is how we learn. It's a sure sign of effort – a requirement for achieving success. Encourage her to try new things, to give her best effort, and to appreciate mistakes as lessons learned. Tell her about times you have failed and how those lessons lead you to different successes, making you a better leader. Bouncing back from disappointment is an essential leadership skill and being able to see the big picture – all of the positives she has to offer – will go a long way in helping her achieve her goals.
Read more about Mary Parry and her new children's book, Sadie McGrady Runs for President, encouraging girls to explore becoming candidates and leaders. Available for pre-order on Amazon, Barnes & Noble and Inkshares. Publication Oct. 4, 2016, just before Election Day!
Related
Popular in the Community