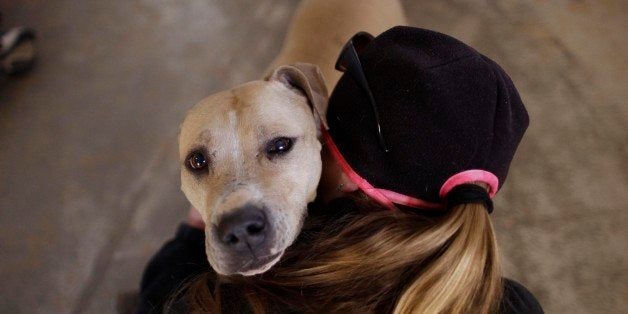 Pit Bull Terrier-type dogs are among the most popular dogs in America. They are beloved for their affectionate nature, their even temperament (they routinely out perform Golden Retrievers on the American Temperament Society scores), their fat heads and clownish behavior.
Despite their popularity and historic role as "Nanny Dogs," the sobriquet "pit bull" has come to mean a tenacious and aggressive individual and Pit Bull-type dogs with cropped ears and anchor chains around their neck were de rigueur for the gangsta rap set. That pit bulls have an image problem is an understatement and that translates into a shelter adoption problem that leaves many pit bull-type dogs to languish and perish in American animal shelters.
So how can you help? Here are five ways that you can help pit bull-type dogs in your town.
In many shelters around the country, pit bull-type dogs comprise a significant portion of the canine population. And because of the unfortunate stereotypes that still exist, many adopters are passing up these wonderful family dogs. So if you are thinking about acquiring a dog, I suggest that you get down to your local shelter, or search for one of these dogs online and give a family-friendly pittie a chance. If you're still not convinced, maybe this will help you to decide.
If you do choose to adopt a pit bull-type dog -- or if you're already a pit bull owner -- the importance of training and socializing your dog cannot be overemphasized. There's such a focus on the breed that any poorly socialized dog stands to undo so much of the positive work that's been done over the last few years.
Pit bull-type dogs are highly trainable because they want to please. Making sure your dog is a breed ambassador is one of the best things you can do not only for your dog, but for all the other dogs awaiting a home. We've got some handy resources that can help you get started.
As stated above, there are too many pit bull-type dogs already in the shelter system. So by fixing your dog you'll be helping to prevent unwanted litters. This holds for dogs of whatever description of dog you might have. Spaying or neutering your pet also helps to moderate unwanted behaviors.
If adopting just isn't in the cards for you at this time, please consider giving back to organizations that are working hard to save the lives of pit bull-type dogs. Giving of course could mean a monetary donation, but even a donation of your time as a volunteer is incredibly valuable not only to the organization but the dogs you would be working with. Here's a list of organizations that are working hard to save pit bull-type dogs:
Of course, your local shelter always needs help. Consider volunteering with them!
I've saved arguably the most important way to help until last. Right now, across the country at every level of government, there are people fighting to overturn archaic policies that are killing pit bull-type dogs. These could be breed discrimination laws that ban anyone from owning a dog of a certain breed. In some jurisdictions it is illegal to have a banned dog in your possession even if you are simply passing through. This means any resident found with a banned breed of dog is either forced to move (which is obviously incredibly difficult for many) or surrender their dog to the local shelter to be killed.
There are other towns where BDL bans are not written into the municipal code, but the local Humane Society or shelter operates with an antiquated adoption policy that prohibits the adoption of pit bull-type dogs to the public or places onerous management burdens on potential adopters.

Such policies are directly responsible for the deaths of tens of thousands of pit bull-type dogs that have done nothing wrong and guilty only of being born. So get active. Consider joining the Best Friends Action Network where we'll send you convenient email updates when something's happening in your area. You'll be able to easily send a note to the appropriate legislator who needs to know that you're one of millions in this country who want to see us do better by these animals.
In the final analysis, pit bull terriers are just dogs. Each is an individual and each deserving an opportunity to be part of a loving family. Together, we can save them all.
For the second year, The Huffington Post is holding a week-long, community-driven effort to bust the myths and raise awareness about pit bulls, a maligned "breed" that often bears the brunt of dated, discriminatory legislation that can make it near impossible for these dogs to find a forever home. You can follow along with HuffPost Pit Bull Week here, or on social media where we'll be using the hashtag #PitBullWeek.
PHOTO GALLERY
Your Pit Bulls
Calling all HuffPost superfans!
Sign up for membership to become a founding member and help shape HuffPost's next chapter