All businesses need to generate leads in order to grow their brand, however, improving sales is often a constant challenge that companies face. For many brands, "sales" is one of the most expensive departments to account for. The lead generation process is far from an inexpensive endeavor, and is quite costly in terms of the time and money you have to allocate towards it.
That being said, when you do spend the time and money to create digital advertisements or drive traffic to your website, it's critical that you use best practices throughout the design process, allowing you to maximize your conversions and decrease the amount of marketing spend you waste.
Below I've outlined some guidelines to keep in mind when creating both digital ads and landing pages. These tactics are applicable for increasing conversions from each of those platforms, and will certainly help you get more for your money.
The less text that you have, the greater the likelihood is that someone will read it. When you're designing a banner ad, don't try to fit everything you have on your website into one small ad. Instead use succinct copy and large text that is easy to read.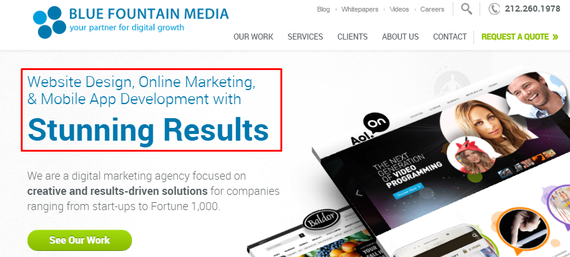 Similarly, when you drive visitors to your website, your core messaging should be simple and speak to the needs your visitors have. The average visitor doesn't want to comb through an excessive amount of copy to understand what your company does. The more concise you are with your messaging, the more effective it will be.
2. Use A Compelling Call-To-Action
Whether it's on your website or in a banner ad, CTAs like "read more" or "learn more" aren't very compelling and are quite generic. These buttons are how you encourage visitors to engage with your brand and if the language you use doesn't capture their interest, they won't click on them.

For example, if you're a travel company and offer special discounts or exclusive promotions on your website, a CTA that reads "let's go" like in the example above will be more likely to entice clicks than a CTA that lacks a unique or intriguing message.
3. Personalization Is Worth It
Customizing your marketing initiatives to the best of your ability can go a long way in terms of building a relationship with your users online. If you enable IP tracking on your website you can monitor where users are coming from and determine if they are a first-time visitor or return visitor. Sometimes it's helpful to have a slightly different message appear for visitors that are already familiar with your brand, or tailor the content that appears on your homepage based on past user behavior. If you have the budget, and especially if you're an ecommerce brand, this is a worthwhile investment.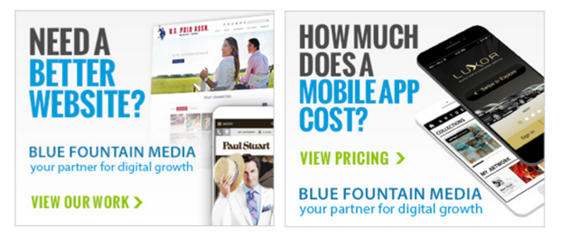 In terms of display ads, you shouldn't have one banner template used for all of your advertising. Crafting different campaigns that are tailored to individual users based on demographics or something as simple as time of day, can improve performance significantly. In the example above, we've customized different advertisements to meet the needs of specific users--those interested in mobile apps and those interested in website design. The more personalization and customization you can do, the easier it is to instill trust in the potential customer that your brand understands them as an individual.

4. Simple Forms
Companies that aim to garner sales or generate leads online should use online forms as a way to build engagement. If you're a B2B or a B2C, offering a form that allows potential customers to inquire within, ask a question, or request a quote can be incredibly beneficial if created with the user in mind. If you're designing a digital banner ad, it's suggested that you include no more than 4 fields for the user to fill out.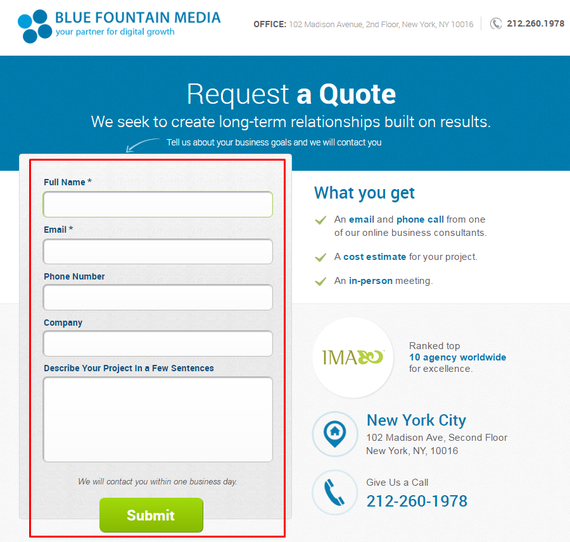 Form fields on your website should be easy to type into and clearly present the value your company offers. When asking users to complete a "request a quote" form on our agency's site, we do several things to instill trust, encourage visitors to fill out the form, and continue to provide value to users. We clearly and succinctly state what the user can expect upon completion of the form (an email, phone call, cost estimate, and an in-person meeting), we display a simple yet effective value proposition detailing how we are a top 10 agency worldwide, and we present the user with information about how to contact or find us so that if they have any questions during this process, we are easily accessible.
The objective of these forms on any platform is to capture user information and be the first real form of engagement with your brand online, so keep it simple!
Many users are being served with ads from your brand while they're on their smartphone, and likewise, many potential customers are accessing your site from their smartphone too. Always think of mobile users when you're in the design process and how everything from text to button size will appear on a screen significantly smaller than a desktop.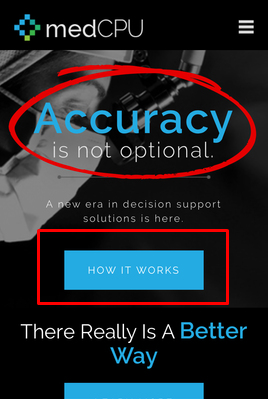 In the example above, the font is big enough so that users on their smartphone can easily read it, and the call-to-action button is optimized for the size of a thumb instead of a traditional mouse and keyboard that you would have on a desktop.
When reviewing your content, always do extensive testing from a mobile device to make sure that your designs are conducive to mobile and render appropriately. Chances are that at least half of your traffic is coming from mobile users, so if you fail to optimize your designs for those visitors, you're wasting your budget.
UX Design: Techniques For Your Users
The digital landscape is constantly changing and consumers want what they want on demand. It's important to keep with the growth of digital and stay knowledgeable about relevant trends to ensure that you're providing your users exactly what they expect. If you don't keep up, your competition will. Be vigilant with your efforts and ensure you follow best practices.
Popular in the Community