There are scholarship applicants, and then there are scholarship winners. Often, what separates the two is a little something extra.
Here are five of those "extras" that you can do to increase your chances of being a winner.
If you think ham radios and chessboards are for old folks, then you are missing out on some serious scholarship dollars.
Depending on your hobby, there may be tens of thousands of dollars' worth of scholarship money for you. For example, the National Association for Amateur Radio awarded over $90,000 to 70 students who held an amateur radio license.
Already have a hobby? Do a quick Google search to see if there are any scholarships available that pertain to it.
2. Make Friends with Teachers
I'm not talking BFF. But if you are applying for scholarships, then you will eventually need a letter of recommendation... or 2... or 10.
Scholarship providers love receiving thoughtful letters of recommendation from teachers who can talk about the applicant at length. Pick two or three professors on campus (preferably related to your major and the subjects that you enjoy the most) and really make an effort to connect with them.
Set up office time to chat with the professor about the class, your goals, and your intention of applying for scholarships. The more the teacher knows about you and your aspirations, the more compelling the letter of recommendation will be.
If you love baby seals and hate student loan debt, then you should do more community service.
Scholarship providers will often explicitly ask for or give brownie points to applicants who have engaged in community service activities. What counts as community service? A lot!
Traditional community service includes volunteering with nonprofit organizations; however, the sky is the limit. There are thousands of causes and organizations that offer opportunities for community service.
Find something you like (is it baby seals?) and get involved! You'll be doing something good and beefing up your scholarship chances at the same time.
Scholarship applications will often ask the applicant to "demonstrate leadership ability." One fun way to add some serious leadership experience to your résumé is to start a club on campus.
Think about something you are passionate about or something that you think would be useful on campus. It could be academic related (the biology club, accounting club, etc.) or something totally random (yoga, health and fitness, CrossFit, poetry).
Since you're in charge of the club, when it meets, and what activities it engages in, it'll be easy for you to balance club duties with class responsibilities.
I didn't want to put on my Captain Obvious hat, but it's true: If you don't apply for a scholarship, your chances of winning are exactly zero. So, get started!
What's your financial relationship status? It doesn't have to be complicated! Use this infographic for tips on managing your personal finance.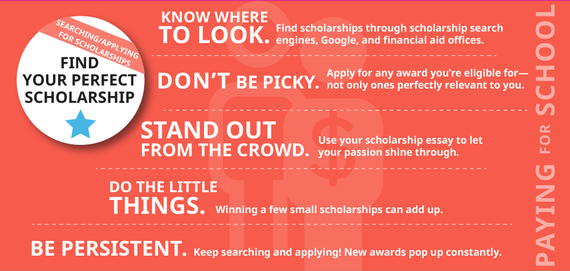 This post was originally authored by SALT contributing writer Diane Melville. Diane Melville paid for her entire college education with scholarships and is the author of "The Community College Advantage: Your Guide to a Low-Cost, High-Reward Community College Experience." ©2016 American Student Assistance.
SALT™ is a free, nonprofit-backed educational program that helps every student who wants a college degree to get it in a financially responsible way. SALT's neutral advice, practical information, and interactive lessons help students gain money knowledge for college and beyond.
REAL LIFE. REAL NEWS. REAL VOICES.
Help us tell more of the stories that matter from voices that too often remain unheard.