Money Management is not something that was shared at the dinner table in my household. My mother believed that you should enjoy every dollar you made. Which meant more spending and less saving. I did not learn or adopt positive financial habits until I hit rock bottom as an adult. When I mean rock bottom, I mean scraping the bottom of the barrel all the way to the welfare line.
As a mom of three small children I teach them the importance of money management and being financially responsible with their birthday money and allowances.
I had the pleasure to interview Samantha Porter, Founder of Kidz Count. Her company is doing great work helping parents teach money management to their children. These tips will help your kid learn how to save and manage money.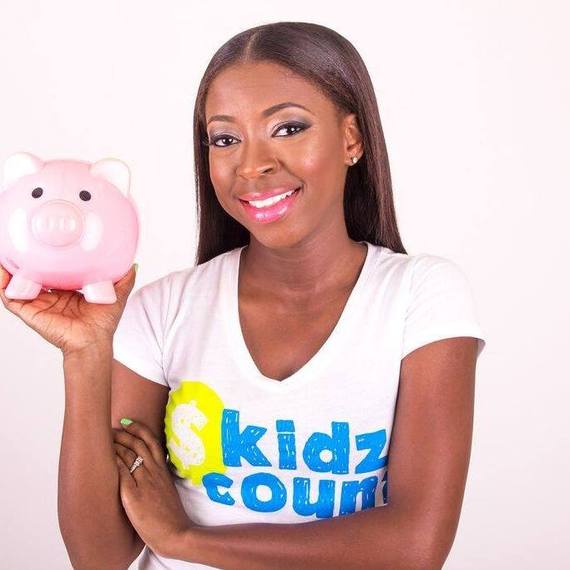 What are some ways parents can introduce finances and money management to their children?
It's never too early to teach your kids about money. There are many teachable moments that parents can emphasize so that kids can see the importance of Saving, Living, and Giving wisely.
1. Have the "talk".
Talking about money isn't always fun for kids, unless they are on the receiving end. It is important to find ways to bring your kids into the discussion about money and budgeting for priorities in the home. Once your children feel as though they are part of the process, they take ownership in helping to save in particular areas.
2. Make Change.
Teach them the value of saving, goal setting and delayed gratification. Grab a piggy bank, a jar, an empty water jug or whatever you can use to put loose change or dollar bills into daily so they can see that it is important to put money away consistently. They will understand the value of temporary sacrifice for long term gain.
3. Take them shopping with you.
Have them help you with creating a budget before going on your shopping trip. Remind them that it is important to stay within the allocated amount. Give them the opportunity to feel the exchange of real money for goods.
4. Teach the gift of giving.
Giving is a part of living. Training your kids to give their time or money to local charities or non-profit organizations will instill great character.
5. Live it.
More is caught then taught. Be sure that you are also saving, living (budgeting), and giving to others wisely. If you live out what you teach, in more than just word, those are the habits that will stick because kids remember what you do more than what you say.
What are some financial mistakes most parents make?
As parents, we have the tendency to want to make our kids happy... by any means necessary. In most cases we give our kids "allowances" instead of providing opportunities for them to earn "commission" when they complete items on the family tasks list. And while that may be great on one hand, on the other hand it causes kids to grow up not understanding the value of a dollar or hard work to obtain the dollar. When they understand the value of a dollar, they are more likely to save quicker than they are to spend it.
What is one major financial planning tip you would give to a parent whose child is showing entrepreneurship tendencies?
Don't let YOUR fear of failure deter them from dreaming BIG. Partner with your child so that they can be as educated as possible as it relates to their entrepreneurial venture. Be sure to research classes, programs, and or mentors that can assist them with executing their ideas. Always remember that their visions, their ideas #count!
Are there some resources you can share to assist parents with the money management conversation they should have with their children?
1. MONOPLY is a great family game. It also is a great way to see your child's tendencies as it relates to money.
2. www.moneymasterskidsclub.com.
Offers fun age-appropriate lessons on money basics, banking, investing, and starting a business.
3. www.themint.org/parents
Guide for parents, kids and money matters.
How often should money be discussed within the household?
There should be a weekly or bi-weekly household meetings. Whether you're out and about shopping or at home working on your household budget, involve the kids. There should always be time for teachable money moments with your kids.

Tell us about your book?
The Adventures of Penny and Dinero is a 4-part book series, for elementary aged children that puts emphasis on their journey through making good decisions as it relates to Savings, Business, Character and Integrity.
Book 1: Penny Saves the Day teaches the importance of saving money and how children can make sound financial choices.
Book 2: Dinero Gets Down to Business shows that starting a business isn't always easy, especially as a kid. He shows the readers that regardless of your age, hard work and dedication can truly payoff.
Book 3: Holiday Coloring & Activity Book created for children to utilize their creativity through coloring, while using their learning skills for reading, writing, and counting.
Who is Samantha Porter? And what imprint does Samantha want to leave on the world?

Samantha Porter is a youth financial strategist, speaker, author and founder of Kidz Count,Inc. Samantha helps children and young adults use the power of proper money management and entrepreneurship to build financially responsible youth that will in return become financially responsible adults. She specifically teaches youth how to build wealth, self-confidence, and start their own lucrative businesses, through her signature programs, products, and services. She has adopted the motto: "Educating youth. Creating Wealth. Changing Lives" and over 2,500 youth to date have benefited from her programs.
She wants to help youth nationwide form a solid financial education early so that they are equipped for a lifetime of smart financial decisions.
What's next for you and your brand?
The Biz Kid Academy cultivates the entrepreneurial mindset in our future leaders and helps students launch their own businesses. Through the program, students in grades 9-12 will learn the skills and receive the mentoring to help them turn their skills and interests into a profitable business idea!
"5-Cities, 5-Weeks, 5,000 lives CHANGED" Tour - April 2017
#TimeforChange Challenge - Jan 2017 (Challenging families, kids and parents nationwide, to work together to save towards a common financial goal in 6 weeks. Whether it's devouring debt, saving for car or putting money aside for an emergency fund, this challenge will help you to get closer to your desired level of financial freedom.
Single day and multi-day workshops at schools, churches, organizations, and conferences nationwide.
Leave us with one last piece of advice.
Teach your kids as early as possible about mastering money so that money doesn't master them!
FB, IG and Twitter: Kidz Count Inc & Samanthaoporter
REAL LIFE. REAL NEWS. REAL VOICES.
Help us tell more of the stories that matter from voices that too often remain unheard.