Getting yourself motivated while running your business may seem like a challenge.
What keeps you moving forward today might not be the same as the other day. It is not going to be easy to sustain motivation, especially when life keeps on making it difficult for you to do something.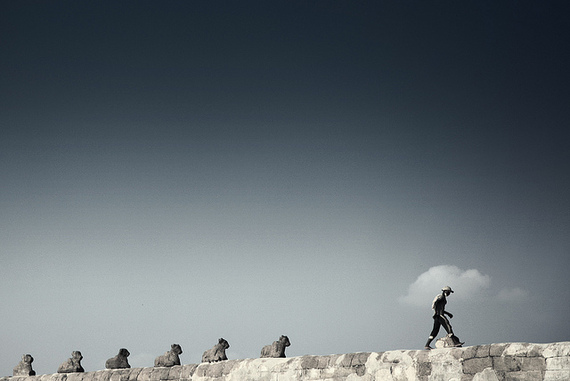 Image Credit: Vinoth Chandar
1. Refuse to give up
It may sound cliche, but it sure helps.
"The purpose of fear is to raise your awareness, not to stop your progress." -Steve Maraboli
Remember: risks are part of success. You cannot move forward unless you try. You cannot be on top unless you hustle. Picture life as an endless battle with many ups and downs. Don't just simply give up-know when to give up-because things will not remain unchanged anyway. Successful people would not be where they are today if they did not take the risks of getting ahead. So do not be afraid of failing; be afraid of not trying.
2. Listen to yourself
What you think about yourself should be more powerful than what others think about you. You can not please everybody. You cannot explain everything about yourself to somebody who does not bother to understand you. When you know what you want and don't want, when you know what is proper and not, and when you apply the knowledge you have accordingly, you will eventually be at the right place.
3. Work with what you have
"Things turn out the best for the people who make the best of the way things turn out." -John Wooden
There is always something unique in every person. You just have to take a look at yourself, your potential, and your strengths. Consider also your weaknesses and threats, but these should not turn down your utmost potential. Motivation does not come from the sweat of somebody, it usually comes from your own effort and set of skills. You are powerful. You are able. You will see what amazing things you can do when you start exploiting your talents creatively.

4. Find your purpose
If you are losing faith on what you are doing, try to look for the reasons why you started in the first place. Sometimes, we make decisions we don't merely understand. Eventually, we learn through experiencing its consequences. By finding out the possibilities, we bring the qualities to achieve things. Like, your vision might not be clear the first time you create it. But, somehow, along the way, you will figure things out.
5. Challenge yourself to improve
Spending your day in a typical manner might turn down your excitement and positive outlook in life. We tend to become active again when we experience new things that create feelings of enthusiasm. Look for better things to stay effective and efficient. Timing is also important when it comes to change such as transformation or switch.
Be aware about your decisions because there are things that can not be taken back once altered and implemented.
Calling all HuffPost superfans!
Sign up for membership to become a founding member and help shape HuffPost's next chapter