Every day there are more and more articles posted about Millennials and the confusion they bring to the workplace. Working in the largest youth-led organisation, AIESEC, has allowed me to understand that leading my generation is very difficult, especially when they are volunteers.
Millennials are very different from generations before us. Where our grandparents valued hard work and grit and our parents education and job security, we were raised to believe that we could be whatever we wanted and to dream big. These generational differences along with the rise of technology are, in the most general sense, where the disconnect stems from.
"Rather than chasing the money, they appear to want a career that makes them happy -- a job that combines the perks of Google with the flexibility of a start-up." - Emily Esfahani Smith and Jennifer L. Aaker, 2013
In February, AIESEC brought 250 young leaders to Youth to Business Forum: Top Leaders Edition in China to have a discussion on the future of leadership and what Millennials believe leadership should look like.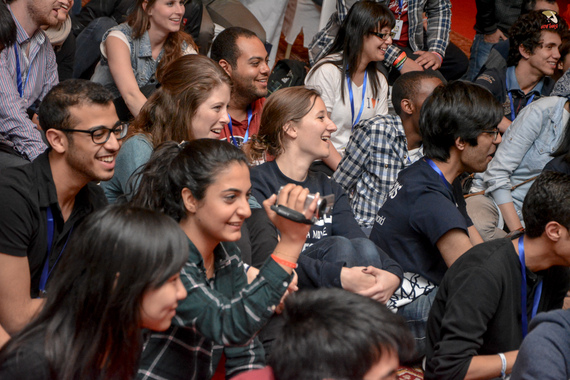 After having long conversations with our partner organizations, experts and each other about their best and worst experiences being led, the delegates came to some conclusions on what helps them be their best and what causes them to not reach their full potential as team members and employees. Here are some of the tips they have for leading Millennials:
In the social media age, being open and vulnerable is something that young people are very used to. They appreciate genuine leaders who promote honesty and transparency. Old, hierarchical systems are difficult for this generation to work within. They are motivated when they can contribute opinion, share feedback and have open conversations with their team and managers.
Youth today are dynamic and adaptable to change. They are innovative and creative, and they like to experiment and learn. If something doesn't work, they find a new approach to take. Give them responsibilities and hold them accountable, but let them figure out the best way to get to the result you want.
3. Create a Learning Environment
Young people today don't want to simply take a job - they want to build a career. Show them the learning opportunities they have in the position they are taking and within the company. Assign them a mentor to help guide them on the path they want to take. Have consistent dialogues with them to help them learn and excel in their role. The more you give them the opportunity to learn, the more they will put into your company.
4. Foster a Social Atmosphere
Connection matters to this generation. The more you foster an environment where they feel that they learn from the people around them, the more engaged they will be in the workplace. The most successful organisations we see working with millennials have policies and environments that are open, social and fun and it leads to employees being more productive during the day.
"Though their managers, according to the study, continue to think that millennials are primarily motivated by money, nearly three-quarters of the young adults surveyed said that "meaningful work was among the three most important factors defining career success." Career Advisory Board, 2011
Millennials seek for purpose in everything they do, especially in their professional life. Communicate with them the purpose of their large responsibilities and they will become more connected to their work tasks big and small. The "Why" is the most important thing to demonstrate to them.
To learn about more "do's" and "don'ts" on leading Gen Y from the generation themselves, read the full Future of Leadership Report powered by AIESEC.
Related