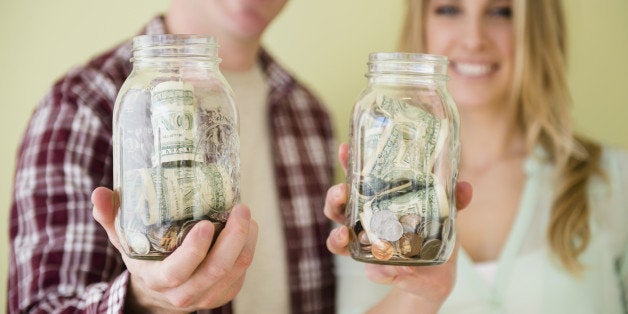 Handling money in the summer is like putting a load of socks through the laundry. Somewhere between the spin cycle and the dryer, you lose one, presumably behind the washing machine or through black magic, never to be seen or worn again. It isn't a big deal for the most part because it's just one sock and it was that holey one you didn't wear often and who really cares about hosiery anyway? But then you lose another couple, and another couple, and suddenly one day your feet are freezing and you are left to do without, sulking and sockless.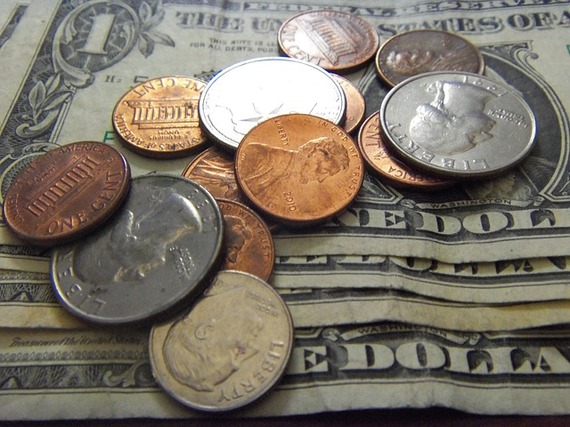 This is exactly how it goes with your dollars over the summer. What's a dozen George Washingtons on a bottle of red when it's going toward a couple of homemade pitchers of sangria, right? And with a glass of that punch, you can't help but toast to one long, glam, illustrious summer of fun and frivolity, and spending whatever amount of money it may take to achieve both. Suddenly, however, you've lost track of what exactly happened to your most recent paycheck (and the one prior), and as your summer vacay hits the halfway point, you realize you need to make extra money stat, or the entirety of the next school year is going to be a big ole' broke bust.
So avoid college bankruptcy and tap into HC's financial advice for how you can make a little extra money before the summer's over. Wouldn't you like to have your sangria and drink it, too?
You may be unqualified for some of the jobs you've desperately applied for (cruise boat captain? really?), but tutoring is one gig you've got in the bag. You don't have to be an education major to tutor a younger student in a subject of your expertise. A website like tutor.com invites college students to apply for online tutoring positions through the completion of several introductory placement tests. Since their tutoring services are provided online through chat-style windows, you can work from anywhere with an Internet connection (Starbucks, anyone?).
Also, you're only obligated to be available for as few as five hours a week, and you have complete control over those hours. However, according to the website, highly active tutors "earn anywhere from $800 to $1,600 a month." And having held a tutoring position, even for a couple of months, will look great on your resume when applying elsewhere in the future.
2. Teach another language
Speaking another language is not only an impressive skill but also a bankable commodity. If you are a fully fluent speaker of another language and feel confident in your ability to teach it, why not put your linguistic skills up for sale? Advertise your services in places likely to garner a response, such as libraries, childcare centers, tutoring agencies, and in the online classifieds of any colleges around your area.
If local advertisements aren't receiving many bites, expand your pool of possibilities and check out Verbalplanet.com, which is a website that links up language teachers and students from all over the world via Skype for video classroom sessions. Signing up is free, and if you're accepted as a language tutor, you can start immediately and receive payment via PayPal. All you need is an internet connection and Skype, which is free to download at its website.
From Irish Gaelic to Urdu, Verbal Planet has students who want to learn your language. You determine how much to charge for your services and keep 100 percent of what you earn, which for English tutors, for example, falls around $30 per lesson!
Beth, a graduate of University of Toronto, even used her knowledge of American Sign Language to find a tutoring job:
"After I finished teachers college, I was looking for a way to set my résumé apart from the rest, and out of personal interest, fell upon learning sign language, which I picked up quickly and fell in love with. Teaching it to others is not only lucrative, because fluency in ASL is so rare, but I gained teaching experience too, which was instrumental in finding a job post-grad."
Like speaking another language, knowing how to play and teach an instrument is a seriously marketable skill. Advertise in music stores, daycare centers, and local classifieds, and contact school band directors from elementary and high schools near you with your contact info to pass on to their students. The best part about giving lessons is that most people won't seek more than a single lesson a week, meaning picking up a music teaching gig will bring in a little cash flow without placing huge constraints on your time.
Furthermore, teaching an instrument will incite you to practice yourself, which, be honest, you probably haven't been doing as much as you should while away at school. We understand -- drum kits and dorm rooms do not a happy marriage make -- but with a money-making opportunity on the line, you have no excuses left! Most music teachers of conventional instruments like guitar and piano charge a standard of $20 per 30- to 45-minute lesson, but the rarer your instrument -- didgeridoo? -- the higher the value of your tutoring! Look into what independent music teachers in your area charge per lesson and gauge your fee based on that.
Claire, a student at McGill University's Schulich School of Music, spent last summer teaching several high school students how to ace their upcoming music school auditions:
"Having been through the rounds of auditions myself, I knew the ins and outs of what the judges look for in a performance. Tutoring others about to go through the process themselves was a really great experience because it was a short-term commitment... and I got to do what I love, which is play music!"
If you're outgoing and/or have a large following on social media, getting onto the promotion team for events can be a great way to earn extra money in a non-traditional setting.
Alayna, a student at Stetson University, touts event promotion as a great way to make cash over a single weekend. "Most jobs will pay $14 an hour or more for these types of events. The best events that worked out for me, for example, have been NASCAR events. Definitely search the internet for promotional jobs in your area."
Best of all, event promotion is only on an as-needed basis, meaning that it requires no long-term commitment from you if you're already juggling one or more work schedules.
Look for event promotion opportunities in your local classifieds and online job listings. Promoter opportunities may include anything from festivals to concerts to club events to simply advertising products (think: Red Bull Girls) and will likely entail such varied tasks as handing out flyers to advertising on Twitter and Facebook. Contact the advertising and PR teams for upcoming events in your area and ask how you can get involved. Even if you can't get involved with the PR team, you may be able to score some free event tickets if you sell a bundle first.
Dog walking is not only profitable, it's also the most adorable way you could possibly make money this summer. Also, other perks include being paid to exercise, not having to wear a uniform, not having to work in an office, and cute dogs (did we mention already how cute dogs are? We weren't sure.)
Most people can manage letting their dogs out several times a day on their own, but for those with limited mobility, or those who are just plain busy, relying on a dog walker to take Fido out for an extended jaunt every day is a favor worth paying for. Expect to charge approximately $10 to $20 per dog, per week. Taking into account the fact that you can feasibly walk four to six dogs at a time, (or at least per day), you could be making a cool $120 a week for the rest of the summer.
Courtney, a student at the University of Western Ontario, got into dog walking because she thought her own dog was looking lonely:
"I had to walk my dog Maggie a couple times a day anyway and figured I may as well walk a few others while I was at it. As long as all the dogs you're walking are fairly obedient and genteel, walking several at a time is no biggie. Maggie made some new friends and I made some extra cash -- about $20 per dog, per week."
REAL LIFE. REAL NEWS. REAL VOICES.
Help us tell more of the stories that matter from voices that too often remain unheard.