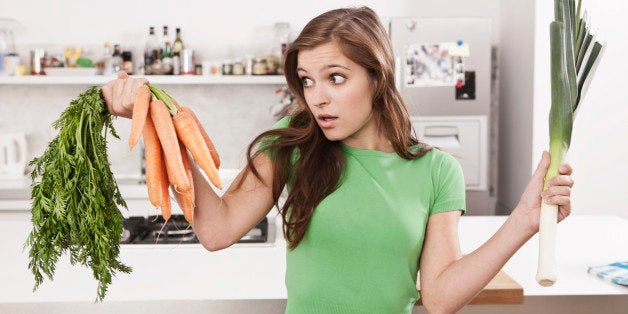 It's no secret that a little time spent in the kitchen can benefit your healthy lifestyle goals, but for many people, the thought of cooking can be downright overwhelming. Rest assured: Even the most seasoned chefs can fall victim to a case of the kitchen jitters, especially when they're presented with a new ingredient or technique. So, are you curious how you can tackle your kitchen fears and make cooking feel fun and approachable? Here are five tips that will make whipping up a healthy meal much less scary.
1. Keep it simple. You can make a truly tasty and satisfying meal without spending hours in the kitchen, so toss that notion out the window. Whether you're an amateur cook or looking for some motivation, a great place to start is a recipe with only a few (less than five) ingredients. Choose a recipe that uses familiar ingredients, as it will lessen your fears of the unknown. The key is keeping the experience manageable so you can attack it with a "can do" attitude.
2. Embrace mistakes. Like most things in life, the idea of perfection does not need to overrun the stove. Approach meal time preparation with a sense of humor and curiosity instead of pressure. If you're a beginner or trying something new it may be a good idea to experiment outside of meal time. That way, if your recipe flops you won't end up missing a meal - yet, if it turns out well you enjoy your efforts come lunch or dinner. Is there a new-to-you ingredient, cooking method or technique you have been curious to try? Give it a go, and consider it a science project to help reduce your expectations. Our fears are often a result of unrealistic expectations, so keep them in check and be open to the idea of a total flop!
3. Prepare. There is a ton of truth in the well-known quote, "Preparation is the key to success." Get familiar with the recipe you're looking to create. Read it through. Make notes. Ask yourself questions, and find your own conclusions prior to giving the recipe a go. Make sure you have all your ingredients on hand. Pre-cutting vegetables and measuring out ingredients ahead of time is a great trick that will keep you feeling prepared as the directions advance.
4. Don't go it alone. A cooking class or supportive friend or family member can make all the difference when it comes to easing your anxieties. You may find that creating a recipe once, with a little help, provides you with the confidence to give it a go on your own. Plus, cooking with a group is fun and lighten up the experience.
5. Quality counts. A surefire way to ensure your food will taste good is to start with really good ingredients that can truly speak for themselves. Take a tomato, for instance. A ripe, summer tomato can practically stand alone on the plate and can be dressed up with some fresh basil, olive oil and sea salt. Take the same preparation using a tomato that isn't ripe or in season, and the results will be very different. The more flavorful and fresh the ingredients, the less work you have to do!