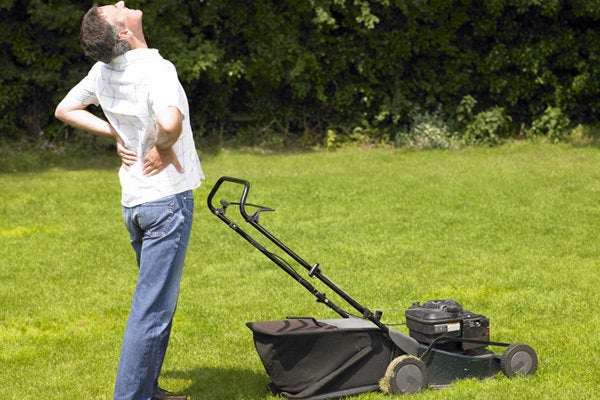 What happened the last time you felt pain in your body? Did you reach for an ibuprofen or go to your doctor for a prescription drug? If so, you may have suppressed your single most essential bodily function for healing. Too often we think of inflammation as something to get rid of and instead choose to medicate our pain, swelling, or stiffness with drugs like Advil or Celebrex in an attempt to relieve the discomfort. However, what you might not know is that inflammation is, in fact, a critically important defense mechanism. It's our natural siren to alert us that a body part needs attention -- much like the call from the firehouse, which moves firefighters to action.

Inflammation works in two main ways: primary and chronic. The primary pathway works on detoxification and repair. This is a symptom-less pathway when it is efficient. Every day when you walk, exercise, eat, or breathe the body needs to cleanse and eliminate the build up of toxins and repair any cellular injury that has occurred. When primary inflammation is hard at work, you will not experience any pain or even be aware it is occurring.

When the primary pathway of inflammation falls short, then the secondary pathway steps in. Secondary inflammation, or what you may know as chronic inflammation, is a pathway of protection. It protects your cells from rapid destruction by allowing the tissue to change and adapt to the on-going stress in the area and can cause pain, swelling, stiffness and loss of function that signals to us that there is a problem that needs to be addressed. This is when most patients will self-medicate or come to the doctor for help. Unfortunately, when chronic inflammation remains for long periods of time and is not addressed adequately, it will cause the expression of genes that lead to degenerative conditions such as coronary artery disease, arthritis, cancer and others.
While in many cases, anti-inflammatory medications are prudent and potentially life saving in patients with certain conditions such as cardiovascular disease (for example aspirin has been shown to prevent heart attacks) and auto-immune inflammations (when treated with anti-inflammatory medications, these patients can experience improved quality of life), it is still very common for doctors and patients to take a rather cavalier attitude toward prescribing and consuming these medications. It is important to note that anti-inflammatory medication is not without side effects. One problem is that in suppressing inflammation, the medicine is disabling the body's ability to detoxify, repair, and protect itself. In addition, the medication itself is a toxin that needs to be eliminated through the pathway of primary inflammation, when that pathway would be better spent taking care of the body's natural needs.

Anybody on a prescription anti-inflammatory medication is required by their physician to take periodic liver function blood tests. Why? Because the drugs are suppressing not only the chronic inflammation which causes pain, but also the primary pathway of inflammation, which, as you know is responsible for detoxifying our cells. When the liver is unable to detoxify expediently, then the cells of the liver will become damaged. The result? Liver toxicity. Other common side effects such as internal bleeding and drug interactions must be closely looked for.

It's not that I am suggesting that you live your life in pain. But you can now see, every time we use a medication that suppresses inflammation, we are effectively suppressing detoxification, repair of the cells, and protection of injured tissues. What I am suggesting is that you become a responsible advocate for your own good health. Relying on a lifetime of medication alone will not improve your health. Optimizing your health depends on understanding the mechanisms that are responsible for your body's need to maintain a chronic inflammatory approach. Often, an integrative physician who combines traditional and holistic principles to treat patients can identify these reasons. By ordering certain lab tests as well as examining the patient's diet, lifestyle and environmental influences on health, many mechanisms can be uncovered and addressed.

So what can we do to help our bodies heal without suppressing inflammation? The answer is to decrease the need for chronic inflammation in our bodies.

*Here are just a few suggestions for reducing chronic inflammation:


1. The primary pathway of inflammation is built primarily from Omega 3 fatty acids. Taking supplements rich in these natural nutrients assists the body in having a more profound primary inflammatory response and at the same time, it minimizes the chronic inflammation responsible for pain and suffering. (Nordic Naturals - 1000 mg 3x a day containing a minimum of 300 mg EPA and 200 mg DHA)

2. Taking supplements rich in plant enzymes such as bromelain assist the body as catalysts for the repair of our cells. Taken on an empty stomach, these enzymes can break down the byproducts of inflammation thus clearing the way for cellular repair. (Bromelain Plus 6 - 250-500mg 3x a day)

3. Efficient inflammation depends on a healthy immune system. 70% of the cells of our immune system are found in the gastrointestinal tract. These cells are fed by short chain fatty acids (that do not exist in nature), which are the result of fermentation of complex carbohydrates -- whole grains, vegetables, beans -- by the friendly bacteria (probiotics) of our intestinal lining. So it is essential for anyone suffering with inflammation to take an ample supply of probiotics on a daily basis. (Theralac Probiotic - 20 billion CFU daily)

4. Consuming a diet low in Omega 6-rich foods like meat, dairy, baked goods, flour products, and grains (basically the standard American diet), is also helpful when looking to relieve inflammation. Although Omega 6 fatty acids are essential in any diet because they are the building blocks of chronic inflammation (which helps the body protect itself when it can't repair itself efficiently), it will cause the immune system to bypass primary inflammation and default into chronic inflammation, when consumed in excess.

5. Since we require water to serve as the vehicle for all chemical reactions in the body as well as to flush out toxins, proper hydration becomes paramount (the daily requirement varies from individual to individual, consult your physician for what's right for you). I am not talking about dehydrating liquids such as caffeinated beverages and alcohol, but rather, clean, fresh water preferably filtered, distilled, or from a reliable spring.

There are many things that influence inflammation and many other things that you can do (in addition to these 5 recommendations) to keep inflammation working efficiently in your body and minimizing the uncomfortable and often disabling effects of chronic inflammation.
My next blog: 5 more things you need to know about inflammation.
*If you are taking any prescription medications or anti-coagulants, check with your physician before following any of these recommendations.
Support HuffPost
A No-B.S. Guide To Life
Related
Popular in the Community