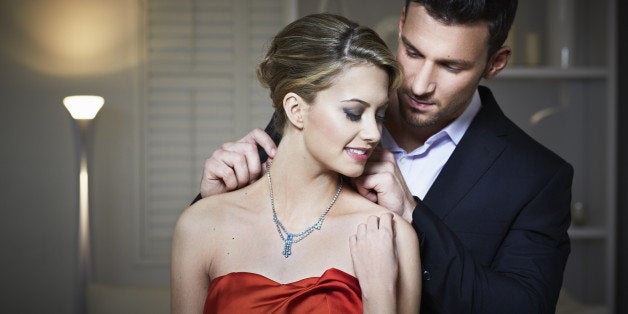 Remember when you used to feel just like the woman in that Enjoli perfume commercial from the 80s? I'll bet you used to dance right along with her, singing: "I can bring home the bacon, fry it up in a pan...and never let you forget you're a man, cause I'm a woman!"

When did that bold, powerful inner vixen leave us? Add in the stresses and responsibility that come with having bills to pay and kids to raise, and falling into a routine can take the vixen right out of you.

The good news: you can get back that sexiness you used to feel between you and your partner, and even the passion you used to feel for life in your younger years!

Here are five ways to get back in touch with the powerful, sexy woman you truly are:

1) Spend some time shopping for you (even if you're just window shopping!)
Even if you're not buying anything, go try on something that makes you feel good -- inside and out! Head to a lingerie boutique and slip into something made out of silk or satin. Don't choose the same style that you normally would -- you're here to break out of your routine, remember? If you're feeling self-conscious, ask one of the store's employees to suggest a cut that's flattering to your figure. Take advantage of the store's expertise and try on something new. Look good to feel good, girlfriend!

2) Look at yourself in the mirror
When was the last time you stopped to really take stock of all your wonderful features? It's so easy to focus on that one wrinkle that sticks out against the rest of your beautiful complexion, or the waistline that you wish was a few pounds slimmer. But what about all of your other fabulous assets? Take a look at yourself in the mirror, and find at least three things about your appearance that you love -- whether it's your long, toned legs or your big bright eyes. Admire your stand out features, and compliment yourself over and over again. If you love you, everyone else will love you too.

3) Watch your favorite chick flick

What better way to get back in touch with your inner vixen than to spend some time watching your favorite sexy, confident ladies right on your TV? Pop in your go-to girl power movie (the Sex and the City movies are my favorite!) and pour yourself a cocktail. Throw on a pair of high heels for good measure, and don't be afraid to rock out to the movie's soundtrack!
Even if you think you have no rhythm, moving your body is a great way to get back in touch with your body. If you're too shy to go alone, take a friend along with you and try a dance class in your area. Feeling bold? Pole dancing fitness classes are all the rage right now -- they even have beginner classes! Trust me, I did it at 50 -- you can do it too! Nothing brings out your inner vixen quite like taking a creative dance class where you learn how to use a pole.

5) Explore alternative remedies
In my line of work, I treat issues such as stress, anxiety and, yes, even loss of your sensual side with flower essences -- a practice widely accepted in Europe, which is lesser known here in the states. Your body's energy gets out of whack all the time, by the common disappointments we face -- and feeling as if you're trapped in a mundane routine can definitely feel like a setback. Flower essences, in my experience, can work to counteract that imbalance, through the use of personalized remedy blends to treat the specific challenges you're up against. The goal is to reverse negative feelings and beliefs and bring positivity, peace, confidence and calm to your life, and the right flower remedies will do this for you. For unleashing your inner vixen, I recommend that my clients use Elder, which promotes confidence and self love, Little Flannel Flower, to awaken your playful side, and Bush Gardenia, to renew passion with your partner.
"Inner vixen" is a state of mind. We all have it inside us, but only you can bring it out, let it surface, and get back in touch with it!
If you or someone you know is suffering from grief, anxiety, or stress, visit StrongestMinds.com for a free consultation on how flower remedies can help.
Calling all HuffPost superfans!
Sign up for membership to become a founding member and help shape HuffPost's next chapter