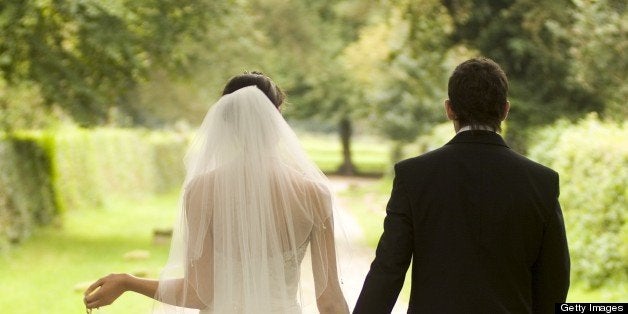 For many couples, photography isn't an area where they want to skimp. After all, your pro photographer will be the person cataloguing the day that you want to remember for the rest of your life.
While the average couple paid $2,379 for their photos, according the The Knot's annual Real Weddings Study, that doesn't have to be you. Instead, use these tips to save some serious cash on your wedding photography:
1. Start with someone in your budget. The place to start is with your actual wedding budget. How much can you afford to spend on a photographer? Experienced pros will charge you the average amount or higher, so if you're on a tighter budget, look for newer professional photographers or even a photography student.
Don't fool yourself into thinking you can talk an amazing professional who regularly charges $5,000 for wedding day photos down to your $1,000 budget. So begin by finding a photographer who is closer to your budget from the start.
2. Book early. Some photographers offer discounts for booking early, so try to secure one as soon as you set a wedding date. Even if you don't get an actual discount, though, you could still be getting a discount in practice.
Up-and-coming photographers' rates are likely to rise exponentially as they build up a reputation year by year. And even established photographers have to keep up with inflation. If you sign up for your photographer right after your engagement, or at least many months before the big day, you could skip your photog's price hike. Another option is to make the full payment up-front, for a possible discount (pay with a rewards credit card and you could get cash back for your hefty purchase).
3. Opt for digital. One good way to save on your photography prints is to ask about a digital package. On the surface, buying digital rights to your photos can seem more expensive. But once you have that disc full of wedding pictures, you're free to print off photos when you want.
The advantage here is that you can print off much more affordable photos for friends and family members, or even email them copies so that they can print their own. Heck, you can even print off a low-quality photo on your home printer if Grandma wants a copy for her fridge.
4. Hire a photographer for less time. Don't book your photographer for as much time, and you can dramatically reduce the cost of your photography contract. The person will have fewer photos to process and will charge you fewer overall hours.
For example, consider having your professional photographer skip out on the pre-wedding festivities. Have your bridesmaids and groomsmen take these photos, instead. You can also trim time off the back end by having your photographer stay only until you cut the cake - or by just having bridesmaids with decent digital cameras take reception photos. The less time you require a professional photographer, the less money you'll pay.
5. Ask about referral discounts. Many wedding photographers offer referral discounts -- even after you've signed the contract. In fact, some will offer discounts on your final payment if you get a referral to them based on your wedding proofs.
You'll need to talk up your photographer to convince at least someone you know to use your his or her services. This may work by sharing your photos on your social media sites, letting your newly engaged friends know about him or her, or letting other people you know about the photographer's family portrait options.
Whether you're on a super-strict wedding budget or you just want to spend more money on your dress and less on your photographer, these tips should help keep you on track.
Related