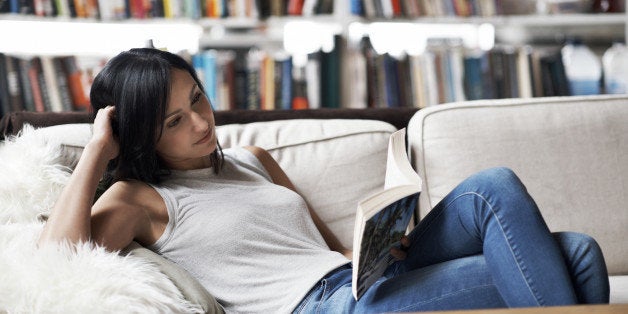 Arianna Huffington would like you to shift your definition of success to expand beyond money and power and focus more on cultivating a deeper sense of well-being. Her new best-selling book, Thrive: The Third Metric to Redefining Success and Creating a Life of Well-Being, Wisdom, and Wonder, argues that many of us are approaching our lives the wrong way, focusing too much on earning more and climbing the career ladder instead of more meaningful pursuits.
Huffington, the co-founder of The Huffington Post and an overachiever herself, says she spent years of her life making the mistake of prioritizing her to-do lists over her health. When she fell in April 2007 and hurt her face and eye, she realized she had to radically change her lifestyle. Now, she's on a mission to help others do the same. Her message echoes similar appeals to slow down and take in the moment -- much of it in reaction to a fast-paced, plugged in world.
Given the popularity of Huffington's message, we decided to turn to other lifestyle, career and money experts to ask them how to navigate the balance between getting ahead and slowing down. Is it possible to have the best of both worlds -- financial success as well as meaningful work; a sense of satisfaction and fulfillment as well as relaxation and a good night's sleep? Here are five of their suggestions about how to balance ambition with tranquility:
1. Start the search for meaning in your work early. Christine Whelan, director of the Thriving through the Life Course initiative at the University of Wisconsin-Madison, says that historically, purpose-seeking has been the domain of older adults looking to leave a legacy toward the end of their lives. But she says there's no reason to wait so long to get started.
Young adulthood, in fact, is a pivotal time for answering big questions about the type of life you want to lead and work you want to do, Whelan says. She also notes that studies suggest young people who set and achieve goals in their 20s are more likely to report "a sense of purpose, mastery, agency and well-being in their 30s." Her own research has found that most young people feel they are still searching for a sense of purpose and life's meaning.
2. Think big -- and small. Finding meaning and purpose in your work often involves working on a project or challenge that addresses some kind of need in the world, Whelan says. One mistake young people make, often at the encouragement of the adults in their lives, is to move from one task to the next without giving themselves enough time to think about why they are pursing those goals, Whelan says. "Most of the time we ask young adults to jump through hoop after hoop, goal after goal, without allowing for time to reflect on why these goals are important and encouraging them to ask big questions about what lights them up inside and makes them want to set the world on fire," she says.
3. Embrace the purpose-focused trend. Making a difference in the world is a celebrated and popular goal right now, says Christine Hassler, a life coach and author of the forthcoming book, Expectation Hangovers: Overcoming Disappointment in Work, Love, and Life. "Society, especially the millennial generation, is moving away from the more ego-based goals because we saw previous generations not be satisfied with the 'status quo,'" she says.
Like Whelan, Hassler has found that many millennials pursue goals that are actually not their own but the goals that others, such as parents, encourage them to embrace. That leads to what she calls an "expectation hangover," where disappointment follows the goal because it's not what the person really wants. "Expectation hangovers are an epidemic in our culture and are often the catalyst for people ditching the old formula for success and pursuing a life of more meaning," she says.
4. Listen to your intuition, and keep learning. Instead of following the path suggested by parents or mentors, Hassler urges young people to listen to their gut feelings about the type of career they want to pursue, even if it changes over time. "Education doesn't stop at college or graduate school. ... Seek out mentors and only take advice from people who are acting and living in a way that is in line with your own values and dreams," she says.
5. Embrace change when necessary. Laura Simms, a career coach and author of The Purpose Paradigm: A Primer on Your New Career, says toiling away at the wrong career, where you feel unsatisfied, can lead to exhaustion, depression and damaged relationships. "That's a lot to trade for a paycheck," she says. She urges people to explore shifting into a career that feels good -- finding the right career for you, she says, feels like 'coming home.'"
Simms encourages people searching for the right career to start with their passions and purpose. "Identify what causes, values or beliefs you have a strong connection with, and then explore what activities, subjects and talents could support that purpose. Articulating what matters most to you is a great place to start," she says.
As for that paycheck, it doesn't have to be compromised by this pursuit of purpose and meaning, she says. "You can absolutely have both," she explains, although your career might take unexpected twists and turns. "You must find something that's rooted in your personal sense of purpose that others are willing to pay for."
As for Huffington's top tip, it's to start getting half an hour of more sleep each night. Go to bed earlier, unplug and store your smartphone away from your bedroom. Getting enough rest, she says, makes facing the rest of our goals so much easier.