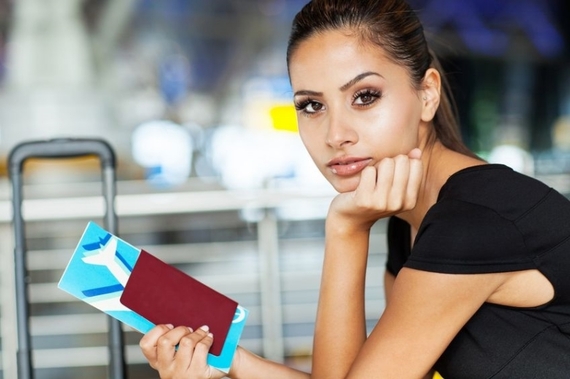 If you're waiting for a delayed flight or layover, just think about how much boredom you'll have to endure on that long flight if you race through the film and book you brought along before you even step onto the plane. Save any entertainment you can enjoy sitting down for the ride. Because once you're seat belted in, you'll be sorry for curling up and binge-watching that new series and not moving around more in the terminal. So save sitting for the flight and make the most of your airport downtime.
Check out Travelle's 5 great things for you to do during a layover or flight delay that will get you up, moving, and feeling better about your flight status:
1. Take Advantage Of Amenities
Go explore your terminal. Now is the time to find a satisfying, healthy meal and grab some good snacks so your grumbling belly doesn't force you to eat less than appetizing plane food later on. Relax with a hot stone massage or facial at the spa, stop in for a fresh manicure, or spend some time looking around the duty free shops.
2. Do Some Airport Friendly Exercise
With very little personal space and only the narrow length of the plane aisle to move about, the opportunity for a really good inflight stretch is rare. Use your time while waiting for a delayed flight to work in airport friendly exercises. Depending on your travel outfit, lunges, squats, jogging around the terminal, treating staircases like stairmasters, treading on the moving walkways, and completing a series of yoga poses are all easy ways to keep your body moving and feeling good.
Whether they're of flights taking off or families saying goodbye, taking photos during your layover or flight delay will give you time to work on your photography skills while capturing beautifully unique moments (and forgetting about how terrible your flight status is). Wander the airport, challenge your creativity and get inspired.
Have a ridiculously long layover? Turn it into a mini day trip. Many airports in or in close proximity to cities will provide easy transportation from airport to city and luggage storage so you don't have to drag along your carry-on. If you don't mind going through security again and have enough time (say, 5 hours or more) to do some local sightseeing, leaving the airport during a layover is an adventure not to be missed.
5. Get Stuck At The Right Airport
If you can, choose flights that leave from airports with one of a kind amenities. This way it will be hard to complain about getting stuck due to a flight delay or layover in an airport that has an aquarium (YVR), a yoga studio (SFO), gorgeous gardens (SIN), a museum (AMS) or live music (AUS). With options like those to pass the time, it's understandable if you're a little sad to part ways with the airport when it's finally time to board your flight.
Finally, a layover you can enjoy (at least a little)!
Support HuffPost
A No-B.S. Guide To Life
Related
Popular in the Community