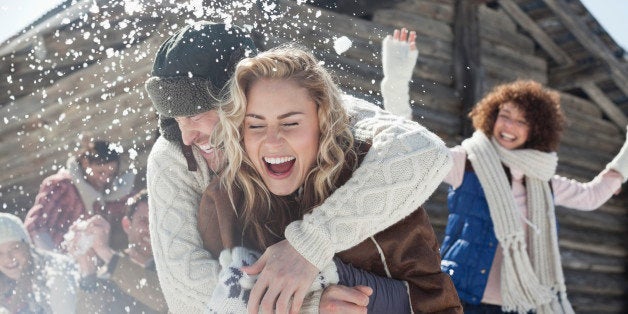 You know that whole "every summer has a story" quote, and how it sounds really romantic, bringing ideas of youth, night swimming, and hanging out with friends? You know what doesn't sound young, romantic or remotely cool in any way? "Every winter break has a story." It's really hard to romanticize winter break. You just got finished with finals and will head back to school in about a month. You're probably spending a lot of time indoors, maybe watching funny YouTube videos to de-stress from the semester or catching up on your TV shows that you neglected during the semester. You're also likely seeing distant relatives, which can call for the ever-so stressful question: "What do you plan with doing (insert major here)?"
Even though winter break bucket lists don't exist like they do for the summer break, there are definitely ways to make these three week memorable and productive. Here are five ways to spend your winter break! (Maybe you'll even come away with a "winter break story!")
1. Volunteer- So, maybe with all that end of the semester stress, you've forgotten to take some time to give back. The holidays are a great time to volunteer. You can look into local community service opportunities, such as food pantries and soup kitchens. Or, if you can't find any nearby places that need help, check out DoSomething.org. This site is filled with great ways to give back, and some- like making Valentine's cards for those in nursing homes or collecting first aid supplies for homeless shelters- can be done from the comfort of your own home.
2. Save up- Maybe you bought one too many Starbucks coffees during finals, or maybe you broke the bank trying to get good gifts for every person on your list. The holidays are an expensive time; you buy gifts for your family and friends, go to restaurants to catch up with high school friends, and go to the movies to finally see that one film you've been dying to watch but never got around to. In order to avoid starting your spring semester broke, you can try to find a job back home. A good place to start is your old summer or high school job. Even if you normally work during the semester, you could ask for more hours or if anyone needs their shifts covered. We all know that the whole "broke college kid" is inevitable, but the less broke you can be, the better.
3. Work out- OK, so a little disclaimer here: I live in Arizona, where the winters are like 60-70 degrees in the daytime so it's totally still possible for me to go on a run, or even drive to the gym without having to worry about snow or rain. (For everyone not from Arizona, no one here is really capable of driving in the rain. Literally, not a single person, and I am including myself in this.) So, I understand that my goal to get outdoors and be active is much easier said than done for all you out on in the Midwest to East Coast. But, I'm including this on my list of activities for winter break because in the midst of finals and essays, you likely found yourself living on caffeine, eating junk food, and definitely not getting eight hours of sleep per night. This is just a reminder to spend this winter break taking care of yourself and spend this break focusing on your health.
4. Apply for whatever you need to apply for- Chances are, there is at least one application that you need to knock out, whether it be for a scholarship or a job. So, personal example: in the Math World, they're really big on these things called REUs, where you go to another university over summer and participate in a math research project. The applications are typically due in February to March so I'm hoping to make a dent in them before returning to school.
5. Read!- I actually really like reading things that are not BuzzFeed lists or Fantasy Football team expert advice (shout out to the realization that I should finally drop the 49ers defense/ special teams from my roster). It's just that sometimes I get too overwhelmed with my classes and job (read: I forget how to smartly time-manage my life) that I postpone reading or finishing a book I'm halfway through. I'm a big believer in reading for fun (it's become a subject of my HuffPo posts on more than one occasion) because it's wonderful to learn and to appreciate literature without a teacher making you. For this winter break, I'm hoping to read The Alchemist, The Other Wes Moore, and Reign of Error.
What are your plans for winter break? More specifically, I'm actually always wondering what people do in the Midwest and East Coast with the weather being freezing. (To me, "freezing" means anything below fifty degrees.) Let me know in the comments below!
Related
Popular in the Community