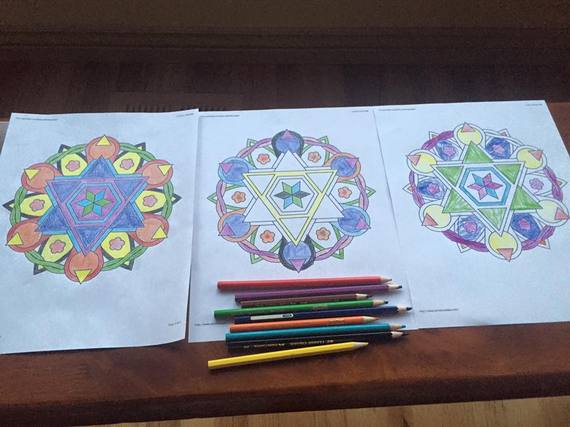 Growing up in a world with an ever-increasing number of influences, fast-paced changes and technological bombardment, even without our choosing sometimes, there is a critical need for us, as parents, to stay connected with our kids.
Summer often brings a reprieve from crazy routines and the non-stop crashing waves of "Hi-s" and "Bye-s". However, with the start of school, comes those busy long days that make us forget the little, but important, parts of our parent-child relationships.
As the baby in my family enters full day kindergarten this year, amidst sobs from me, I realize that I need to come up with a plan. A plan that keeps it realistic for me and yet filled with quality. The following are some ideas that I have already started trying. This list shall be my bare minimum commitment to myself and my children this school year.
The mandala coloring craze has been hitting the streets so I decided not to mock it before giving it a go (trying it). I have been trying this with my girls, twice a day, skipping a day here and there. I have been using it as a form of meditation to learn to enjoy the calm and quiet together. I have to say, it has been eye opening! We have learned that working together and taking turns with the colors is beautiful. It doesn't matter what the person next to us is doing as long as we are doing our best and enjoying it. And from the mouth of my profound 8-year old on the first day, "isn't it amazing that we are all using the same colors but creating different designs. It's like, we are made of the same things, we are one and yet we are unique." She blows my mind, this little one.
The Plan : To color for 10 minutes in the morning before we leave for school and then again for 10 minutes as part of their bedtime routine at night. I hope that this will calm the morning tension of getting ready and out of the door in record time. Coloring at night will send them to bed with a sense of warmth and peace.
2. Reading a Book Before Bedtime
I have conveniently outsourced this activity to my husband for a long time. It is only now that I realize the benefits of reading a book to my girls. The joy of being able to enter a world of make believe, and yet at other times, a world of possibilities is incomparable (uncomparable).
The Plan : To spend at least 5 minutes with each child or a combined 10 minutes if I am reading the same book to both of them.
I find this time to be crucial for communication and understanding what a child is going through. I spend 10 minutes, usually on the drive home, talking to my girls about their day. Often, events that occurred at school are fresh in their minds. They have not had enough time to process the day so I get the information in raw form.
The Plan : To continue as I have been doing, but to hopefully avoid the often "I can't remember" answer by drawing them out more.
Play Time can be as simple as sitting around playing with toys, going for a short walk or "tickle" time.
The Plan : To remind myself to have this time daily, possibly as soon as they return home from school.
This can be anything from dancing together, watching a TV show, reading a book or even just sitting in the backyard and doing nothing. It is just a matter of being together.
The Plan : To spend 10 minutes at least doing one of the above.