After struggling with infertility for three years, my husband and I were ecstatic to welcome our twin boys, Micah and Zachary, into our family. Unfortunately, our boys were born three months prematurely and were hospitalized for months before coming home for the first time.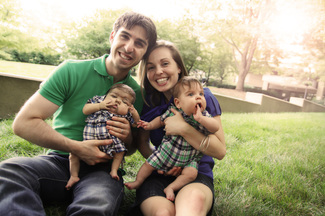 While Zachary thrived, Micah struggled with life-threatening complications of necrotizing enterocolitis. Tragically, Micah passed away when he and Zachary were 11 months old.
Losing a child shakes your foundation. Your entire being is changed forever. There is no moving on or getting over the depth of child loss. The loss is for a lifetime. No other child will ever fill Micah's place. Micah will always be our baby and Zachary's twin brother. We will carry him in our hearts, every day, always.
Just over a year after losing Micah, we were stunned to learn that we were expecting. Unfortunately, the pregnancy ended in a miscarriage. We were still learning how to cope with our loss of Micah as we struggled through the lost pregnancy.
A few months after the miscarriage, we were amazed to find out that we were expecting yet again. While we were overjoyed, we were also incredibly nervous. I was sure that the pregnancy would not last. I kept waiting for the worst to happen, but the bad news never came. My pregnancy kept progressing, uneventfully and beautifully.
When we shared with 3-year-old Zachary that there was a baby in mommy's belly, he promptly asked, "Mommy, is Micah in your belly?" With some gentle nurturing, Zachary learned that his twin brother Micah lives on in our hearts and that his baby brother is in mommy's belly for now.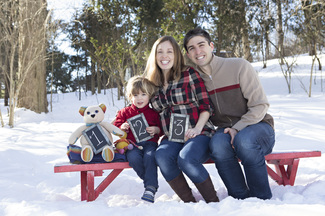 We waited until I was 28 weeks along before finally sharing the news with our wider circle of friends and family: we were expecting our third baby boy, Elijah Micah.
Along with a ton of love and support, came some well-intentioned questions and comments:
"I am soooo excited for you!!!!!"

I am deeply grateful for this rainbow baby, but I am also heartbroken and terrified. Pure excitement doesn't capture this experience of grief, fear and joy.

"Will you have more children?"
I cannot even think about having more children right now. I am just grateful for this pregnancy and the babies that I do have in my heart, in my belly and in my arms.
"Now you'll have two babies!"
"Will you try again for a girl?"
I cannot even respond to this. Fortunately, other people have.

Without having experienced infertility, child loss or a miscarriage, it can be difficult to know how to support a loved one who's expecting a rainbow baby. Everyone has the best of intentions, but some questions and comments are better left unsaid. Still, there are gestures that can provide peace, comfort and support.
Here's how you CAN support a family expecting a rainbow baby:
This new rainbow baby will not erase the pain of the lost baby. But, just like real rainbows, this rainbow baby will bring joy, brightness, and light to a family who's suffered a tragic loss. A rainbow baby blanket, rainbow onesie or rainbow baby carrier will let this family know that you're remembering their lost child while also celebrating the new baby on the way.
2. Say and write the lost baby's name.
It is music to our ears to hear someone speak the beautiful name that we chose for our precious child. Speak and write the name often, warmly, and without hesitation, just as you would for any of the family's living children.
Death does not change birth order, simple as that.
4. Give space, time and empathy.
Time and closeness are sacred for families who've lost a child. Just like mourning the loss of their angel baby, all families will experience the birth of their rainbow baby in different ways. Ask the family how they want to be supported. They need space to grieve their loss, celebrate the new life and bond as a family.
5. Find ways to celebrate the whole family.
Recognize that this is a time filled with intense joy, fear and heartache. Gratefulness and grief coexist. Instead of a traditional baby shower, consider a more intimate gathering of loved ones who appreciate the contradictory experience of welcoming a rainbow baby to the family. Personalized children's books, jewelry or artwork that include all of the children can be beautiful ways to celebrate this growing family.
If you know a mama expecting a rainbow baby, one of the most beautiful things you can do is sensitively validate her feelings, and empathetically follow her lead. I am so grateful to my family and friends who've done just this, and in doing so, have allowed me to celebrate the rainbow in my belly, honor the angel in my heart, and cherish the sweet child in my arms.
Related