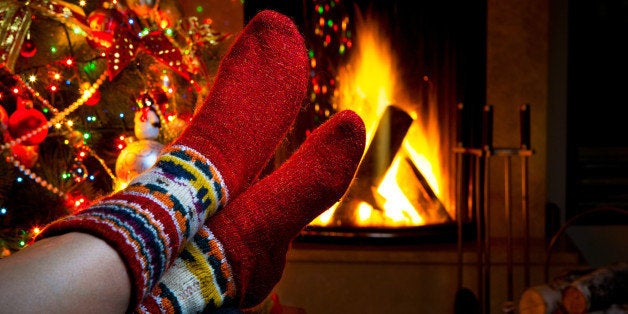 Another year is coming to an end and, with that, comes the annual hustle and bustle of the holiday season.
Buying gifts. Baking cookies. Traveling. Cooking dinners. Mailing gifts. Mailing Christmas cards. Tying up loose ends before the year ends. The list goes on and on.
Even though the Holiday season is marketed "to be jolly," it can very easily become anything but jolly. Stressful? Sure. Road range? See it all the time. Crazy shopping? Totally!
The good news is that the holiday season doesn't have to be so stressful and draining. With a few little changes, it is possible to turn your exhausting holiday experience into one filled with joy and cheer -- it just all boils down to how you take care of you. Here are five ways to do that:
1. Set boundaries with others -- and yourself. You don't have to do everything for everyone all the time. Nor do you have to get everything done right here right now and not a day later.
The reality is that some of those things we are so urgent about getting done so quickly can, in fact, wait an extra day or two. Just like some of the things you think you need to do for everyone else, could be easily taken care of by that same person or by asking someone else (who has some extra time) to do it for you.
So the key here is to set boundaries for yourself. Ask yourself: Realistically, what can I get done today that won't make me feel completely overwhelmed and stressed?
Anything that goes beyond those limits you've made for yourself you can do one or two things: 1. Say no, or just don't do it (like, seriously, are getting all of the Christmas cookies made this year really necessary if it's going to make you freak out?) or 2. Ask someone to help you.
2. Give yourself a break. When it's colder outside and the days are shorter, it is only natural for us to want to stay inside, bundle up in some blankets, and just relax. Be sure you give yourself time to do that. Not only will it reduce your likelihood of getting sick and reduce stress, but in doing so you're accepting what you body is being naturally drawn to.
So curl up in some blankets, have a cup of hot chocolate, watch some of your favorite movies and just enjoy!
3. Give yourself some gifts too! Even though it's only natural to think about all the gifts that you have to buy and give to others, don't forget about another special person who deserves a gift from you: yourself!
So sign up for that massage you've been waiting for or spend an afternoon in a sauna or hot tub. Maybe even get a manicure or pedicure. Think of something that you've been longing to do and give that gift to yourself. After all, with all that hard work you've been putting in this holiday season you totally deserve it!
4. Reflect on the past year -- and your true desires! When the days are shorter, it's colder outside and the year is coming to an end, it is natural for us to go into a state of reflection over our past year. The only problem, however, is that we may find ourselves so incredibly busy that we forget to sit down and really reflect.
So get out a journal and ask yourself the following questions about this past year: What events happened? What was life changing? What worked? What didn't work? How did you grow? What did you learn?
Once you have that done, then go ahead and look to the upcoming year. How do you desire to feel during this new year? What would you like to change? In what areas of your life would you like to grow and become better? Is there anything new that you'd like to try?
5. Trust that all that needs to get done will get done. The single most important thing to remember is: Be easy on yourself. Everything that needs to get done will get done in due time. If you're a little late or delayed with something, try not to stress about it. We are all late on things and make mistakes sometimes, so don't let it get you down.
Make that your mantra this holiday season: "Even if I don't get everything done, I still love and accept myself."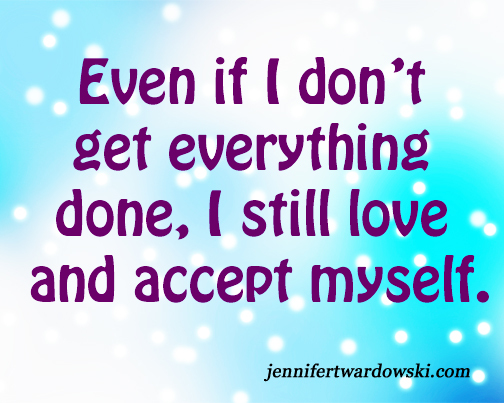 Take action now! What do you feel that you most need to do this holiday season in order to take care of yourself? Share it in the comments below!
Jennifer is a self and relationship coach and teacher. She helps women worldwide create fulfilling relationships and lives by helping their hearts' true desires to become a reality. Click here for her Free Self and Relationship Healing Meditation.