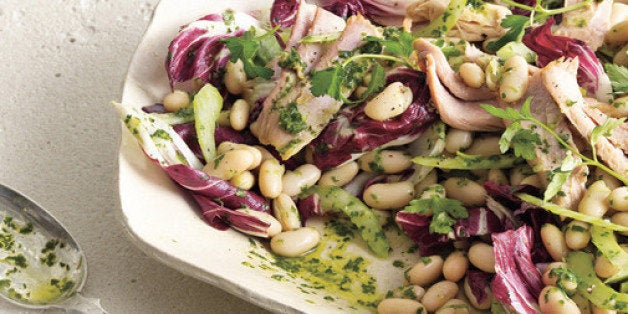 By Katherine Sacks, Epicurious
If I need to get dinner on the table fast, I'm looking to pantry all-stars to help get me there. One of my favorites? A can of tuna fish: easy, cheap, and shelf-stable, I always keep a few cans around for last-minute meals. And while my go-to tuna salad sandwich is always delicious, there are so many other ways to turn that can into tonight's dinner. Here, five tuna combos to get you started.
For an instant boost of filling protein in your carb-loaded pasta night, add a can of tuna. For a cold take, stir together the classic tuna-mayo mix, then combine with fusilli and some chopped raw vegetables for a light pasta salad. To keep it hot, mix a can into your pasta sauce; we love it in a classic tomato sauce, but you can also go simple with a no-cook sauce, combing tuna with olive oil, capers, olives, and herbs for a salsa verde approach. Or you can stir it into mac-and-cheese for a creamy, tuna casserole.
It's just one step away from a tuna salad sandwich, but oh how that layer of cheese in a tuna melt makes all the difference. The classic--with red onion, celery, and cheddar--is a favorite for good reason, but we like to switch the flavors up a bit, subbing the celery for chopped fennel, which adds light refreshing flavor.
You can also go burger style, and pack that tuna into a patty. Keep it simple by adding the tuna with breadcrumbs, mayo, and egg, or turn the niçoise salad into a burger by combing basil, capers, olives, and mashed potato into the patty mix. This will work for burger recipes that call for tuna steak, just make sure to drain the can well before adding. Try the recipe here.
Opening two cans is almost as easy as one, and it's worth the extra effort--tuna and white beans combine into a powerhouse of protein, fiber, and vitamins. It doesn't hurt that the combination is also delicious. Add them together in a salad with radicchio and chopped celery for a quick weeknight dinner; toss with cucumbers and tomatoes for a filling side; or stir tuna into a chunky Italian white bean soup instead of sausage.
What's better than avocado toast? Tuna avocado toast. Mash up an avocado with olive oil, salt, and pepper, then gently stir in a can of tuna for a delicious double whammy of omega-3s. (We'd add a few slices of bacon and tomato for the ultimate BLTA.) Or ditch the toast completely, and serve that tuna salad inside an avocado half.